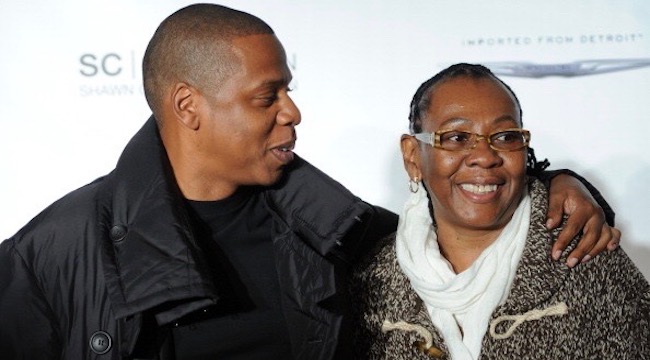 Jay-Z's most recent album 4:44 found the New York mogul in a surprisingly confessional mood. In addition to offering profuse apologies to his wife Beyonce for his promiscuity and taking aim at his one-time friend and collaborator Kanye West, Jay also spent some time on the song "Smile" addressing his mother Gloria Carter's sexuality with total empathy, giving her space on the track to come out to the world.
In the song, Jay raps, "Mama had four kids, but she's a lesbian / Had to pretend so long that she's a thespian / Had to hide in the closet, so she medicate / Society shame and the pain was too much to take / Cried tears of joy when you fell in love / Don't matter to me if it's a him or her / I just wanna see you smile through all the hate."
During a recent appearance on the D'USSE Friday podcast, Gloria opened up about how and why she decided to finally come out to her son. "I just finally started telling [Jay] who I was," she said. "Besides your mother, this is the person that I am, this is the life that I live. So my son started actually tearing. 'Cause he's like, 'That had to be a horrible life, Ma'. I was like, 'My life was never horrible. It was just different.' So that made him want to do a song about it."
She also talked about the trepidation of reciting and recording a poem she wrote for Jay as the coda to "Smile."
"I was never ashamed of me. In my family, it was something that was never discussed…I'm tired of all the mystery. I'm gonna give it to 'em. I don't have to worry about anybody wondering if I'm in the life or not, I'm gonna tell them. So now that I told you, what do you have to talk about? So now maybe you can focus on the phenomenal things I do, so focus on that…Now it's time for me to be free."
You can listen to her entire conversation below.