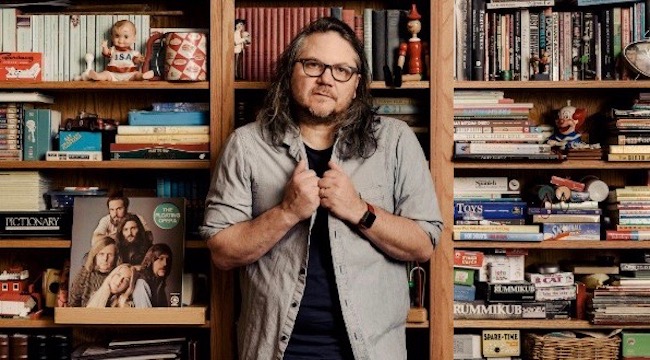 As one of the most well-regarded rock musicians of his generation, Jeff Tweedy has logged an untold amount of miles on the road, but never quite like this. No, instead of touring behind a new album with Wilco, or with his other band Tweedy, the singer-songwriter has announced a variety of appearances across the country this fall to promote his new memoir, Let's Go (So We Can Get Back).
The subtitle of Tweedy's autobiography reads, A Memoir Of Recording And Discording With Wilco, Etc., so you already know he's probably ready to offer interesting behind-the-scenes anecdotes and keen insights about creating classic albums like Yankee Hotel Foxtrot and A.M., his earlier years in Uncle Tupelo up to the present day. Each date on the tour, Tweedy will talk about the book, and his life. Everyone who purchases a ticket will also receive a signed copy.
Let's Go (So We Can Get Back) is set to hit the shelves on November 13. You can check out the full list of dates for Jeff Tweedy's upcoming book tour below and find out information about tickets here.
11/13 — Brooklyn, NY @ Murmrr Theatre with Community Bookstore
11/14 — Boston, MA @ Wilbur Theatre with Brookline Booksmith
11/15 — Philadelphia, PA @ Free Library of Philadelphia
11/16 — Cincinnati, OH @ Walnut Hills High School with Joseph-Beth Booksellers
11/17 — St. Louis, MO @ St. Louis University High with Left Bank Books
11/18 — Chicago, IL @ Music Box Theatre with The Book Cellar