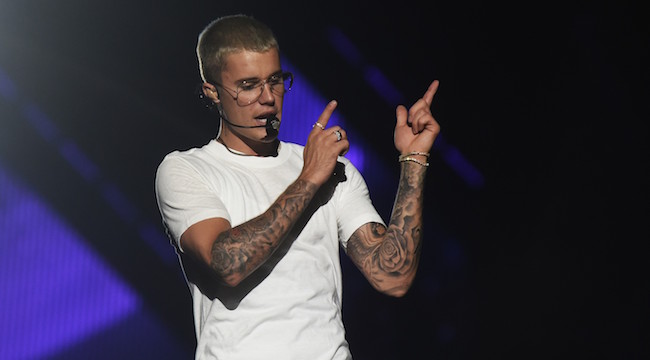 Justin Bieber, Luis Fonsi and Daddy Yankee broke a musical record earlier this week when Bieber hopped on the remix of "Despacito." In 24 hours, the trio broke the record for the biggest YouTube debut in 2017 — 20 million views in one day. And on Tuesday night, Bieber took that collaboration and put it on stage during the Puerto Rico stop on his Purpose World Tour.
Bieber invited Fonsi into the the spotlight for a live rendition of "Despacito," which name checks the country in one of Fonsi's English verses. "This is how we do it down in Puerto Rico," he sang, much to the delight of the screaming crowd.
"Thank you so much. This guy, thank you so much for letting me get on the record. It's amazing," Justin said after the performance. "I know you guys love this guy. Give him a round of applause. I appreciate it."
"Despacito" has Bieber kicking off the Latin track with a verse in English, but when it comes to the chorus, Bieber switches over to español. "Despacito / Quiero desnudarte a besos despacito," Bieber sings sexily. The translation? "I want to slowly undress you with kisses." Very JB.
While the "Despacito" remix made the biggest YouTube debut of 2017 (and sits on top of the Billboard Latin Songs chart), the original tune isn't doing too shabby either. So far, it's racked up 980 million views on YouTube.
In an interview with Billboard, Fonsi said that the song "celebrates our Latin culture and who we are; movement, dancing and rhythm are engraved in my bones."
"The genre I listen to the most is salsa, so people look at me and see this guy who's done mostly romantic ballads, but there's always been this other side. It captures the best of both worlds, and I think that's helped the success of the song."