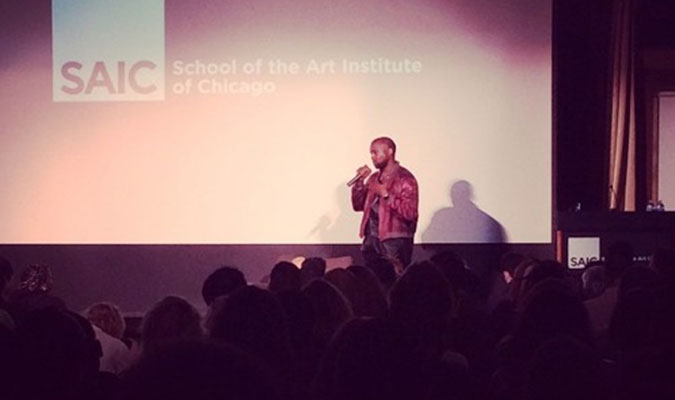 Kanye West spoke at the School of the Art Institute of Chicago on Sunday night, and, as you can imagine, it was very Kanye West. The lecture was somewhat of a Q&A, with Kanye taking questions from the students and giving them answers, including, "But I'm motherf*cking Kanye West."
On Monday, Kanye will be receiving an Honorary Doctoral Degree from SAIC, which has frustrated some who don't consider West to be a "fine artist." Corinna Kirsch, an SAIC alum and senior editor of art magazine Art F City, had this to say about the rapper receiving the degree: "As an alum of SAIC, I am offended that the school's exorbitant tuition and fees will help fund this nonsense." Oh well, Kanye shrug. He's still come a long way since being a college dropout.
One hard-hitting question led to some breaking news about Kanye: Despite almost all evidence pointing to the contrary, he is capable of smiling.
Listen to the full lecture, and check out some individual highlights below.
https://instagram.com/p/2hjyETFQf1/
https://instagram.com/p/2hjAoqlQdK/
https://instagram.com/p/2hiprNFQbg/
(Via Chicago Tribune; h/t Stereogum)