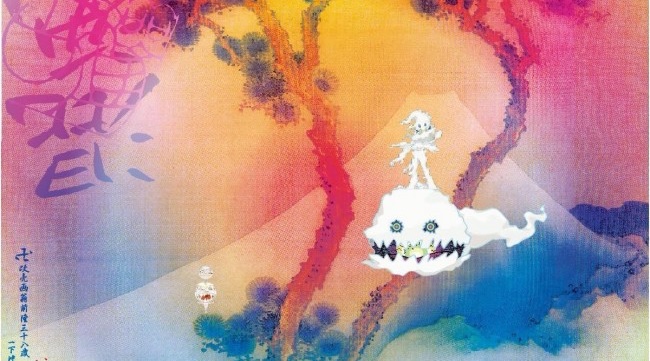 It's odd that two artists best known for taking creative risks would settle for treading familiar territory on their first official collaboration in years, but that's exactly what Kanye West and Kid Cudi have done with Kids See Ghosts. That may not be a bad thing; by playing it relatively safe creatively, they can return to form and tiptoe around certain recent missteps that both have made in the not-so-distant past.
In Kanye's case, his seven track solo album, Ye, was marred by half-hearted stabs at addressing the controversy he generated with his comments about slavery and Donald Trump and "free thinking." That album was creatively unadventurous as well, but traded in a lot of its goodwill by sloppily grafting disparate pieces together at the 11th hour. It doesn't help that it tried to buy some back by basically bribing cultural influencers that are Kanye's last truly diehard supporters when he flew them out to Jackson Hole for the listening party. For what it's worth, the listening party for their latest streamed from a far less remote location, but experienced far more technical hiccups, breaking the WAV app before more than a single song played.
For Kid Cudi, Passion, Pain, & Demon Slayin', itself a sort of musical mea culpa for Speedin' Bullet 2 Heaven was criticized for being overlong and repetitive. After patching things up with his GOOD Music mentor, Cudi clearly brought his influence to some of Ye's better tracks, but Kids See Ghosts represented, if nothing else, an opportunity to put himself in the driver's seat for a full project, bringing his unique brand of not-quite-surface introspection to the forefront, hopefully sublimating some of the more abrasive aspects of their previous works — the parts Kanye himself brought, for the most part.
Toward that end, Kids See Ghosts does what you'd expect from the two: Great beats, decent hooks, a lot of humming. The pairing of Kid Cudi with Kanye West for a full project highlights their strongest ideas and mitigates the weakest, sounding exactly like you'd hope for it to have sounded around 2009, when both artists seemed to be at their creative peaks. That's a gift and a curse — while the nostalgia they evoke on tracks like "Freeee (Ghost Town Pt. 2)" and "Reborn" will certainly satisfy fans' desire to hear the classic style the duo established with Man On The Moon and My Beautiful Dark Twisted Fantasy, the adventurous spirit that made both of those albums game changers isn't really in evidence.
The Cudi's moody moaning anchors the majority of the seven tracks, again utilizing his greatest, near mythologized, strength. Kanye's production sounds about as fresh as it ever has, hearkening back to the Jon Brion-assisted synth embellishments of Late Registration as his raps sound sharper and more refined, touching on social issues without the MAGA-ish finger-wagging that threatened to overcome Ye. Like that album, Kids See Ghosts is packed with guests, from Pusha T on "Feel The Love," the Yeezy-esque intro, to an unexpected Yasiin Bey on "Kids See Ghosts."
The lack of their hallmark experimentation is highlighted on the former by Kanye's use of ridiculous, shouted ad-libs, a tactic that makes a bizarro reappearance on "4th Dimension," with a clownish laugh that sounds just as jarring and out-of-place right as the track is in the middle of its groove. Where before, he may have found something clever to fill out the production, here he just kind of wings it — a strategy that hasn't done him many favors, judging from the reception of the slapdash Ye. Another unfortunate side effect of the guest verses is the attention they draw to Cudi and Kanye's raps, which, though sharper than usual, still aren't much to shout about.
Kids See Ghosts winds up having more replay value than either of the paired artists prior efforts. It's more bold and less irritating than Ye's trollish, wounded affect, and less long-winded and more forceful than Passion, Pain, & Demon Slayin'. It's probably not the work of genius either artist advertises it as, but it is the first truly satisfactory output that directly involved either from GOOD Music's 35-track experiment so far — Pusha T's Daytona being the exception that seemed to rely more on its primary vocalist's singular focus than on its producer's reputation for sonic experimentation and creative "genius." Ultimately, the biggest takeaway from Kids See Ghosts might be that this is the new GOOD Music status quo: Projects that are just good enough to satiate the label's hardcore fans, but probably not enough to justify the hype surrounding them.
Kids See Ghosts is out now via GOOD Music/Def Jam Records.