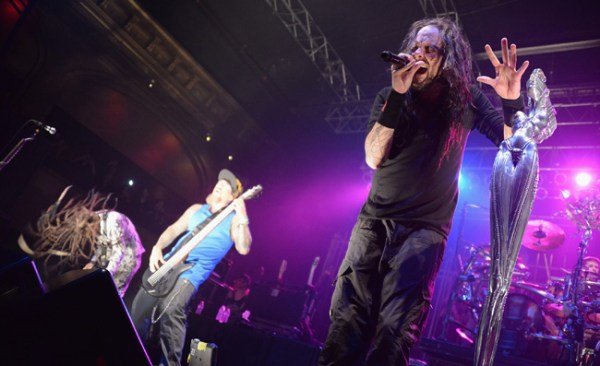 It's been an interesting few weeks for nu-metal as well as musicians sharing their thoughts about the already endless-seeming race to the White House. At the intersection of these two phenomena stands Jonathan Davis. The Korn frontman is quite clearly unimpressed with anyone vying for the top spot in the United States government, and he let it be known in an interview with Death And Taxes.
Davis didn't exactly mince words.
"They all suck. The f*cking candidates, they all suck. Why can't there be anybody good?"
Davis' next lament was straight out of the Donald Trump campaign, but he's no fan of the boisterous candidate (something he shares with other nu-metal frontmen).
"I just want the America I had as a kid growing up, and it's not that no more. I like Rand Paul, but that's never gonna happen. Ron Paul should have been president, but that would have never happened. I believe presidents are chosen, not elected. Why is every president f*cking related? You tell me that. No little guy is gonna make it. It's all so corrupt."
Of course, Davis isn't up for the job himself. He pointed out how the job is obviously stressful, noting the toll it took on President Barack Obama.
"No, I don't want that job. Look at Obama. He's like aged 50 years. Every president when they get that job, look at them from when they started to when they ended. It's gotta be hell."
For more Korn, check out their decidedly JNCO-ed take on both "Bitch Better Have My Money" and "Sabotage."