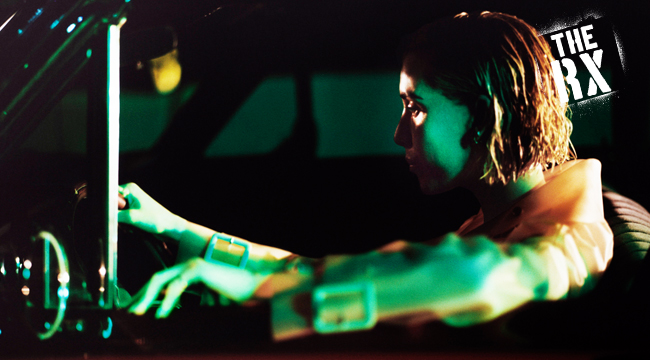 The RX is Uproxx Music's stamp of approval for the best albums, songs, and music stories throughout the year. Inclusion in this category is the highest distinction we can bestow, and signals the most important music being released throughout the year. The RX is the music you need, right now.
A couple weeks ago, British post-dubstep piano crooner James Blake took to social media to respond to a Pitchfork track review that brushed off his latest song as just another "sad boy" entry into his catalog. In the post, Blake took umbrage to the term "sad boy," saying "I've always found that expression unhealthy and problematic when used to describe men just openly talking about their feelings." And regardless of whether his statement is valid or trying to earn sympathy points to undercut criticism, the point does stand that "sadness" is often used in a pejorative sense in our society, with small contingencies like Emo Night's "Sad AF" sloganeering in an attempt to reclaim the term. Whether sadness is a sign of weakness or a badge of honor depends firmly on where you're standing.
For Swedish indie pop star Lykke Li, no one has ever needed to tell her that sadness is cool, a flaw, or anything other than an intrinsic part of her being. It's her blessing, her curse, her motherf*cking boyfriend. But even before she claimed to be sadness' girl on the 2011 stunner "Sadness Is A Blessing," it bubbled below the surface on her 2008 debut Youth Novels, a collection released by a 23-year-old still entrenched in the indie world and discovering that her fully-formed voice and perspective could work over a variety of sonic canvases. But where a song like "Tonight" would set the bar for torch songs to come, it was the deceptively peppy "Let It Fall" that would best establish her emotional interests. "I like it salt / I like it wet / Like my makeup in a mess / So I cry hard / Let it fall / And I won't stop until my tears are all shed," she sings over feathery production that begs the audience to dance with her. Even early on, sadness wasn't something to dwell on in isolation. Like a graduation or a new job, it could be celebrated.
For the next couple of albums, she took pride in reinventing herself and following whatever interested her musically, intellectually, and emotionally. 2011's Wounded Rhymes found her entering a pop-witch phase, cloaked in drapey black garb and delving further into heartbreakers for the dance floor. It was decidedly more grown-up for a singer whose voice always tilts toward youthful innocence, with lines like "I'm your prostitute, you're gonna get some" bathing in the majesty of contrast.
In a recent interview with The Fader, Li explained that the album that would follow, 2014's gorgeous and devastating I Never Learn, was born of out a desire to produce the unexpected. "Wounded Rhymes had so much energy and touring that album, I felt like people wanted to me to jump up and down," she said. "After that I was like, for the next album [2014's I Never Learn], I just want to sit down on a f*cking chair and just sing." The resulting collection was her third stellar effort in a row, full with Phil Spector-esque orchestration and lyrics that delved head first into a dark pool of heartbreak. The album is the personification of catharsis, but with the caveat that dying is a prerequisite for rebirth.
Four years later, Lykke Li offers up her fourth career album in the form of So Sad So Sexy. Putting sadness front and center in the title feels like Li turning the wheel straight into the most consistent element of her art, sitting comfortably next to the cavern of reverb that cradles her voice as the parts of Lykke Li that are eternal. In press leading up to the release, Li spoke about the pains (the death of her mother) and the joys (the birth of her first child) that occurred during the album's creation, and both of those emotional pillars factor into the collection prominently. In fact, the record's closing moments on the song "Utopia" see death and birth existing in the same space, and Li went the extra mile to release the song on Mother's Day with a video that paid tribute to the familial generations on both sides her.
It's a stunning song with a video to match, where clips of a young Lykke reveal a mother that was likely behind the lens, while present-day Lykke dances with her own child. It's also a glimpse into the personal life of an artist who often leaves that element behind-the-scenes. Motherhood for a female musician is taboo in some circles, but Lykke Li is showing that it can sit comfortably in the same space as her own sexuality. Neither one necessitates the denial of the other. Much like the way her aesthetic can hop from lily pad to lily pad, her subject matter is just puzzle pieces adding up to the image of a complete person.
So Sad So Sexy is also notable in that it embraces contemporary pop and hip-hop like never before. Lykke has always felt more at home in the indie world, but on this record, trap-inspired beats, sleek arrangements, and even a stray verse from Portland rapper Amine find the songwriter pushing herself further into the pop realm than she previously dared. And whether or not it is a particular listener's preferred iteration of Lykke Li is beside the point — she is convincing and comfortable in this form, and it's enough to think that she might be able to do anything musically that she sets her mind to.
While it's hard to find a through narrative for So Sad So Sexy, particularly with regards to the romances she laments and the heartaches she bemoans, instead each song offers glimpses into moments and scenarios that have inspired her, like a pile of polaroids strewn on the floor. "Two Nights" finds Lykke home alone and suspicious of where he lover is, while "Bad Woman" turns her own insecurities inward. Together, these songs present a full picture of how people beat themselves up in the name of love. But Lykke is always best when she's at her most vulnerable, which makes the title track and the weepy "Last Piece Of My Heart" such magnificent moments. The latter, which works sort of like a reflection of the Janis Joplin classic, soars as the singer places every bit of her yearning on the table. On an album that holds little back, in a career that's done much of the same, it ranks highly among her most emotionally bare and honest compositions.
When the title track hammers home the equating of sadness and sexiness, it's a reminder that sadness is many things in the hands of Lykke Li. It's her muse, the ghost that haunts her, her meal ticket, and her oldest friend. And it's nothing to be ashamed about or grow tired of. Sure, this might be another collection of sad songs from a songwriter who's dwelled in the state, but it's where Lykke Li feels most like herself. That's why "Utopia," a song of full of gentleness and optimism, is such a fitting closer. Lykke Li's world is more than just the lyrics to a sad song. But the sadness makes good things that much more vibrant. In her hands, it is indeed a blessing.
So Sad So Sexy is out now on RCA Records. Buy it here.