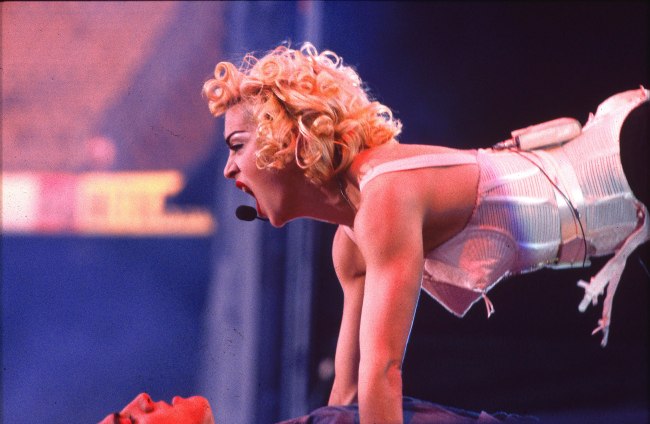 Madonna has been in the public eye for over 30 years now, and in that time, she's given us quite a few memorable moments. She's never shied away from controversy, proving herself quite adept at doing things that make some people very uncomfortable. In honor of today, her 56th birthday, let's take a look at all the moments that proved Madge was the ultimate bad girl.
Performing 'Like A Virgin' at the 1984 MTV VMAs
After experiencing a fair amount of success with her debut, Madonna truly became huge with release of her sophomore effort, Like A Virgin. The title track became the album's biggest hit, and arguably her most iconic song. A big part of why was this legendary performance she gave at the 1984 MTV Video Music Awards. Performing a song in a wedding dress is always going to be an attention-grabber, but performing a song about virginity while wearing a whiter-than-white wedding gown? Now, that's gonna get people talking.
The controversial video for 'Like A Prayer'
The video for the title track of Madonna's 1989 album Like A Prayer made quite a few people uncomfortable. Among the images we see in this video are a cross burning, a woman being murdered by white supremacists, and a dream in which Madonna kisses a black saint. The controversy didn't seem to stem from the statement the video was making (since that was fairly difficult to decipher), but rather from the mere sight of so many discomforting images. After the Vatican denounced the video, many religious groups chose to boycott Pepsi, who had hired Madonna as a spokeswoman at the time. As a result, Pepsi quickly dropped Madonna from their ad campaigns. Of course, a year later we would find out that Madge was just getting warmed up. Which leads us to….
The even more controversial video for 'Justify My Love'
Probably the most controversial video of Madonna's career (which is really saying something), "Justify My Love" was banned by MTV, and on December 3, 1990, an entire episode of Nightline was dedicated to discussing it. The video featured graphic depictions of bisexuality and sadomasochism, which, suffice to say, a large portion of the public was not prepared for 25 years ago. Of course, controversy and outrage tend to work out well for Madonna, and this was no exception. The song spent two weeks at the top of the charts in January 1991.
Her 1992 book Sex
In 1992, when Madonna was at the peak of her powers, and offending every group under the sun left and right, there was only so much she could do to shock people. So, what did she do? She released a coffee table book featuring photos of herself in various sexually explicit positions. The book was mostly viewed as a failure, albeit a fairly interesting one. It also led to a hilarious Saturday Night Live parody, with Phil Hartman (as Charlton Heston) recording the book on tape.  If you're looking for a copy now, it'll cost you; the cheapest price for a hardcover on Amazon is $95. Still, it was a huge moment in Madonna's career, and whether you liked it or not, a perfect encapsulation of her "I'll try anything once" spirit.
Her legendary Letterman appearance in 1994
One of David Letterman's most memorable interviews, and an example of Madonna at her most raw and honest. At about three minutes in, Madonna calls Dave a "sick f*ck," and the audience is stunned. This, however, was just the beginning. A few minutes later, she reveals that she gave Dave a pair of her underwear, and wants him to smell them. The whole thing is quite a spectacle to watch; Letterman was known for being one of the most unphaseable interviewers in the game, yet it's clear throughout that he's not quite sure how to handle what's going on.
When she kissed Britney Spears at the 2003 VMAs
Yeah, you all knew this one was coming. After many of Madonna's biggest shockers came in the '80s and '90s, she proved she could still leave us completely stunned when she planted one on Britney 12 years ago. This was all anyone talked about for a solid month. It acted as a coronation of sorts; Madonna passing the pop-star torch to her most obvious successor. When we consider all of the stunts that Britney has pulled in the past decade, she was clearly a worthy choice.
When she kissed Drake at Coachella this year
Twelve years later, Madonna's proud tradition of smooching celebrities way younger than her lives on. Unfortunately for Madge, Drake seemed decidedly unenthusiastic about this experience. He has a visceral look of disgust on his face, and when it's all over, he says "oh sh*t, what the f*ck just happened." Maybe kissing someone half your age isn't always a good idea, even if you are Madonna.