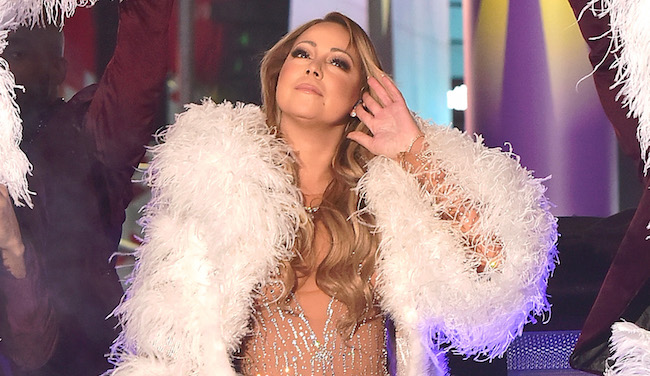 Mariah Carey's awful New Year's Eve performance is being blamed on something other than bad timing. The 46-year-old "elusive chanteuse" hopped on social media following that cringeworthy set and shrugged off her disastrous lip-syncing by filing it under "sh*t happens." Well, that "sh*t" was technical difficulties, according to a rep for Carey.
"Unfortunately there was nothing she could do to continue with the performance given the circumstances," Carey spokeswoman Nicole Perna said Sunday in response to all the ridicule Carey's receiving for bombing the performance.
Revelers and viewers at home witnessed the singer pace around, complain about missing background vocals, and soundcheck rehearsals. At one point, a frustrated Mariah moved the microphone away from her mouth while her track played, revealing that she had been lip-syncing. The singer also spent lots of time playing around and fidgetting with her earpiece, giving some support to Perna's claim of technical difficulties being the cause of Mariah's god-awful performance.
Call me crazy, but I think that total bomb of a performance beautifully captured 2016 and I wouldn't have wanted it to end any other way. Plus, it was pretty much destined to be a fail when days before the performance, Carey's camp reportedly asked organizers what time the ball would be dropping.