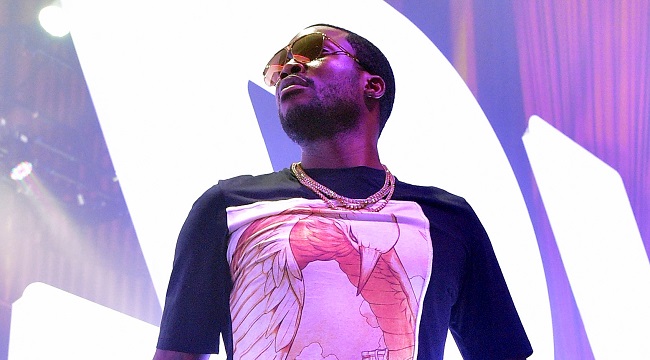 Last week, Meek Mill filed an emergency motion to get out of prison on bail, but was promptly denied the ability to wait for his future court dates outside of prison. Today, in a previously scheduled bail hearing with his usual judge Genece Brinkley, he was again denied the opportunity to be released, this time with Brinkley calling him both a "flight risk" and a "danger to the community," according to TMZ.
In addition, Brinkley called into question the validity of Meek's recent clean drug tests, suggesting that the rapper used a product called "Flat Flush" or something like it to get a passing result. Taking into account the accusations against Brinkley for being biased against Meek and requesting bizarre things like getting a shoutout in a Boyz II Men song and changing his management, this latest decision only seems to back up claims of unfairness.
Meek Mill is currently facing a 2-4 year sentence for violating his probation stemming from an incident of whipping a mini-motorcycle on the streets of New York City. The length of the sentence has received criticism from the likes of Al Sharpton, Jay-Z, Drake, and Colin Kaepernick, even resulting in a Philadelphia rally for his freedom. In many ways, Meek has grown to represent many of the systemic issues of our prison system, which only grows with each event like today's bail denial.