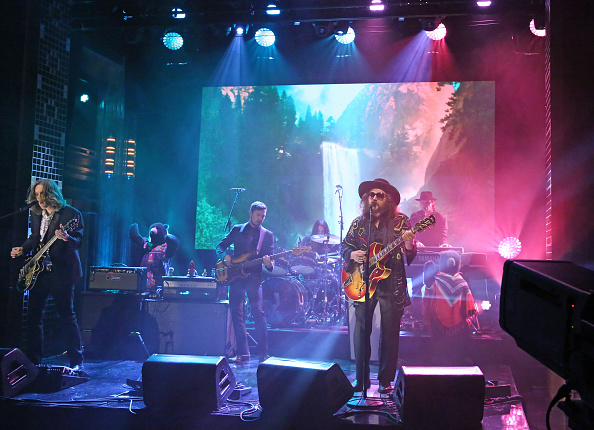 My Morning Jacket released their seventh studio album, The Waterfall, today, and you might be wondering how it stacks up against classics like Z and It Still Moves. Well, that's where we come in to help! We're ranking every My Morning Jacket studio album from worst to first. We're *sure* everyone will agree with this ranking wholeheartedly, and there won't be any outrage in the comments. Now then, onto the fun!
7. Evil Urges (2008)
Again, this isn't necessarily a bad album. It's just a tad uneven. MMJ made a conscious decision to go out of their element here, adding a funkier sound to the proceedings. It works on some songs, most notably the killer title track, which sounds like Prince if he were a bigger fan of reverb. But elsewhere, on songs like the two-part "Touch Me, I'm Going To Scream," it feels a bit awkward and directionless. Overall, Evil Urges feels like a noble failure, even though it added a few classics to the band's canon, most notably "I'm Amazed," which may be their best-known song.
6. Circuital (2011)
After the experimentation of Evil Urges, this one brought the band closer to their classic sound, although they branch out a bit, most notably on the adventurous "Holdin' onto Black Metal," which is unlike any other song in the MMJ catalog. This album's best moments are the beautiful ballad "Wonderful (The Way I Feel)," and the ironic-yet-anthemic "Outta My System," where Jim James jokingly sings about being told "not to smoke drugs." This album didn't quite reach the heights of the band's best work, but it was a solid return to what made them great in the first place.
5. The Tennessee Fire (1999)
Unlike so many other bands, My Morning Jacket was surprisingly fully formed on their debut. They would become a bit more ambitious on later releases, but the reverb-drenched Radiohead-meets-The-Allman-Brothers sound that has defined them over their career was already firmly in place, resulting in a confident, self-assured first album. There's a lot of great stuff here, but particularly strong is "Evelyn Is Not Real," an excellent ballad that would point the way to the best material that we would hear on At Dawn and It Still Moves.
4. Z (2005)
When Stan Smith of American Dad first heard James' angelic vocals on "Wordless Chorus," he was permanently hooked. It's not difficult to see why, as that's one of the most beautiful, moving songs in the band's catalog. That song tends to outshine the other songs here, but this is a very consistent album. There's "Off The Record," a slightly reggae-ish tune that works far better than it should, along with "It Beats 4 U" and "Dondante," the latter of which is one of their best to hear live. This was the album that introduced My Morning Jacket to a wider audience, which makes a lot of sense, being that it's their most immediate, accessible album.
3. The Waterfall (2015)
Admittedly, it's early to have a firm opinion on this album, but based on first impressions, this is a killer record, and the best thing MMJ have done in more than a decade. "Compound Fracture" feels like a better version of the attempts to integrate a funk sound on Evil Urges, while lead single "Big Decisions" is an anthem that will surely shine in the live setting. This album runs the gamut from big, weighty numbers ("Like A River"), to subtly brilliant ballads ("Get The Point"). Anyone who thought MMJ had lost their fastball will surely be pacified by this wonderful album.
2. At Dawn (2001)
This is a solid evolution from The Tennessee Fire, as the band was still realizing just how ambitious they were willing to get. It features the hypnotic "Phone Went West," which makes for a great doorbell, along with "The Way That He Sings," a gorgeous anthem that pointed the direction their sound would take on It Still Moves. At this point, My Morning Jacket was still growing as a band, and they were one album away from their best work, but this is still a fantastic album and excellent introduction to their music.
1. It Still Moves (2003)
Like so many other great bands, MMJ made their masterpiece with the third album, when everything they've built came to fruition in one glorious record. Honestly, there's so much brilliance on this record, from the ethereal ballad "Golden" to the soaring "One Big Holiday" to the guitar rush of "Run Thru," and countless others. This is the culmination of My Morning Jacket's powers as a band, and 12 years later, it remains the best thing they've ever made.