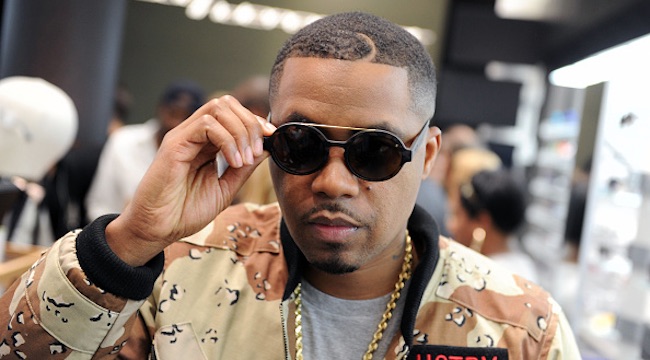 Nas and Ms. Lauryn Hill have done a joint tour before, way back in 2013. Four years later, the "If I Ruled The World" pair have announced a second tour titled PowerNomics. The 17-date tour kicks off tonight in Chicago and has some very special guests throughout. Dave Chappelle will pop up Friday night in Detroit, returning the favor for Hill, who performed during his recent Radio City residency. Hannibal Buress will play six dates along with Chronixx and emerging acts such as Nick Grant, Lakim and Fefe will play supporting roles along the way as well.
The concept behind the tour comes from Dr. Claud Anderson's book, PowerNomics. PowerNomics is a plan intended to produce economic enfranchisement for the African-American community in America. Both Ms. Hill and Nas will use the tour to raise funds in support of education, health, agriculture, technology, and community-based businesses. Donations from ticket sales will be made to support initiatives worldwide including The Harvest Institute, Yes We Code, Equal Justice Initiative, Soronko Academy, Nas' Initiative, Al Noor Charitable Agency, Hasheba, International Peace Initiative and many more.
"My interests have always centered around encouraging empowerment, and focusing on ways to help heal, repair, educate and promote enfranchisement to the disenfranchised," Hill said in a statement. "I'm excited to share this platform for community, creativity, and progress, helping to expose, educate, and magnify the beauty of cultural amalgamation."
Nas echoed her sentiments. Even if a certain Los Angeles Laker isn't calling him the future, the Queens legend is certified in hip-hop, forever. "PowerNomics Tour is our way of being a part of the solution," Nas said in a PR statement about the tour. "We are here to lend a hand where it is needed and hopefully to inspire. I'm a part of a mission to help build a more diverse tech industry and to encourage my people to see beyond what they believe is in their reach. Music is spiritual, and we are a musical people, so what better way to contribute to our situation than to bring some spirituality. It is an honor to be on this tour with MLH, and what better time than now, in the midst of the devastation of Hurricane Harvey as well as the dire situation of many African-American communities."
Tickets for Lauryn Hill and Nas' PowerNomics tour are available now through LiveNation. See the full list of dates below.
09/07 — Chicago, IL @ Huntington Bank Pavilion Northerly Island (^&#)
09/08 — Sterling Heights, MI @ Michigan Lottery Amphitheatre at Freedom Hill (%^&#)
09/10 — Toronto, ON @ Budweiser Stage (^&#)
09/12 — Boston, MA @ Blue Hills Bank Pavilion (^&#)
09/14 — Camden, NJ @ BB&T Pavilion (+&#)
09/15 — Bristow, VA @ Jiffy Lube Live (+&#)
09/20 — Raleigh, NC @ Red Hat Amphitheater (^&)
09/22 — Miami, FL @ Bayfront Park Amphitheater (+&@)
09/23 — Jacksonville, FL @ Daily's Place (^&@)
09/27 — Houston, TX @ Smart Financial Centre at Sugar Land (^&@)
09/28 — Dallas, TX @ The Pavilion at Irving Music Factory (^&)
09/30 — Austin, TX @ Austin360 Amphitheater (^&@)
10/03 — San Diego, CA @ Cal Coast Credit Union Open Air Theatre at SDSU (+&)
10/05 — Los Angeles, CA @ Hollywood Bowl (+&@)
10/07 — Mountain View, CA @ Shoreline Amphitheatre (+&@)
10/10 — Seattle, WA @ WaMu Theater (+&@)
10/11 — Vancouver, BC @ Pacific Coliseum (^&@)
%with Dave Chappelle
^with Chronixx
+with Hannibal Buress and Chronixx
&with Lakim
#with Fefe
@with Nick Grant