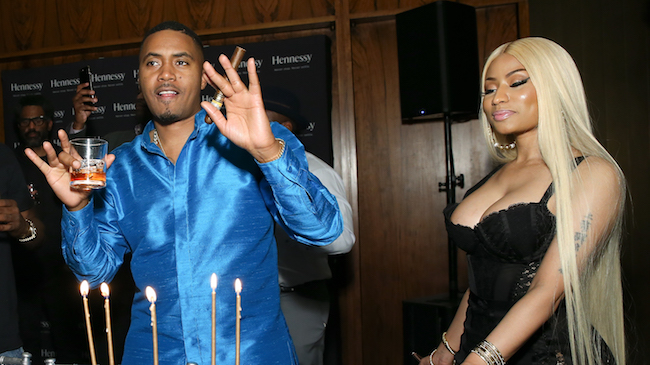 In the music world, there are rarely coincidences. But the latest news of Nicki Minaj's romantic life coupled with the escalating expectation of an imminent new album seems like just an unfortunate bit of timing. TMZ is reporting that the maybe, probably, definitely a couple of Nicki Minaj and Nas have called it quits.
According to TMZ's report, the couple decided to end their six-month long relationship in part because of the long distance between them living in different cities. TMZ also denies rumors that Nicki is pregnant, but goes on to say while the split was amicable, "they won't be hanging out as friends either."
The timing of the report is notable, as rumors have surfaced that Nicki will be releasing an album as soon as tonight, but time will tell if that comes to fruition. Nicki has been busy, popping up on songs for guest verses left and right, but unlike Drake and Future, there hasn't really been any indication from here that an album is imminent. Whatever the case, it appears that with the Queens couple now done, they can both focus on their flourishing business careers, and the albums that they've both told us will be on the way soon but still haven't arrived.