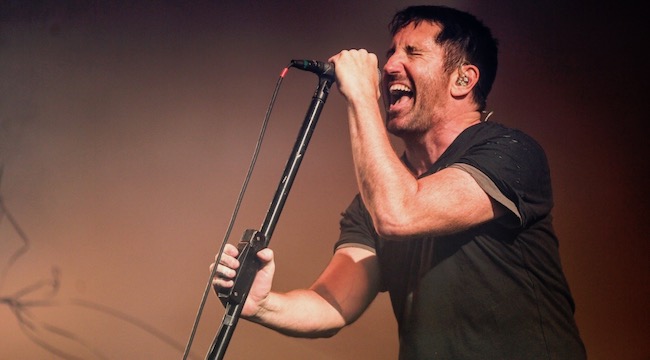 Your first concert is powerful, unforgettable experience. Nearly everyone has their story about the first band they ever saw, and can usually recall in exact detail what they wore, who they were with, how much the tickets cost, where it went down, what the stage looked like, and what songs they played. If the performer was someone who rode the zeitgeist at the time, but has since fallen out of cultural favor -– your Vanilla Ice's or Smashmouths for instance — they might relate the tale with some sheepish resign or "can you believe I was into that" self-deprecation. If it was someone badass however, someone iconic, the story is typically relayed with raised eyebrows, widened eyes and huge smiles. I live to hear these stories.
My first concert falls squarely into the realm of badass. September 28, 2005 at ARCO Arena in Sacramento, California. Nine Inch Nails were touring behind their new record With Teeth, and brought Queens Of The Stone Age and Autolux with them. Thankfully, I spent the summer mixing up Blizzards at the local Dairy Queen and had enough money saved up to spring for GA tickets with my friends. The show itself was incredible; so incredible in fact, that it threw off my perception of what a merely "good" concert looked and sounded like for years afterwards.
I didn't cut class too often in high school, but one of the few occasions I bailed was to purchase a copy of With Teeth the day it came out at Dimple Records on San Juan Avenue with my buddy Nathan. The band's sophomore album Downward Spiral was absolute gospel, and to me, the only sin of their double-CD The Fragile was that it wasn't long enough. All that's to say, I was in pure, frenzied heaven as soon as the lights lowered in the basketball stadium and the band emerged through a dense, manufactured fog.
The raw intensity that Trent Reznor and company brought totally shocked me. I had seen clips of their mud-drenched performance at Woodstock in 1994 and owned the Closure video on VHS, but it was an entirely different thing to see this animal in person. I was in the pit, moshing out to cuts like "Terrible Lie," "Burn," and "Reptile," and you could literally see the veins popping out of Reznor's neck as he leaned in, white-knuckling his microphone and screaming out the gigantic choruses of some of my all-time favorite songs. I left that night a changed person and have been chasing the dragon of that euphoric feeling for years ever since.
Unfortunately, for many different reasons, that chase has not included Nine Inch Nails themselves. In the dozen years or so since that first gig, for reasons that range from economic, geographical or just plain bad timing — I had tickets to a show in 2013, but had to cover a Drake concert instead at the last minute — I have not been able to see them again. Then, a few months back, Riot Fest unveiled their lineup and I almost dropped my phone. Not only were Nine Inch Nails included on the bill, but the next night was headed up by the opener that night, Queens Of The Stone Age. It was kismet. Fate. Destiny. There was no way in hell I was going to miss this.
"Yes, everyone seems to be asleep." The roboticized voice of Trent Reznor rang out across the vast expanse of Douglas Park. An undulating hum soundtracks his words, which are delivered in near total darkness, with only his band's iconic, white NIN logo displayed on two different screens to provide any semblance of illumination. Tens of thousands of people cheer and strain their eyes to see what is happening through the yellow cloud wafting toward us. Suddenly, a drum machine kicks to live. Then a guitar. Then a synth. And there he is: Hands clamped tight around his mic, Trent Reznor in the flesh, spitting out the furious first few lines of a newer song "Branches/Bones." Despite their legendary status and 30-year history, Nine Inch Nails has no designs of allowing themselves to become a pure nostalgia act.
I was fine through that first song; swept up in the pure joy of simply seeing one of my all-time favorite bands again. I lost it on the second number though "Wish." Admittedly, "Wish" is a curious cut to get deep into your feelings – "I'm the one without a soul / I'm the one with this big f*cking hole! — but I couldn't help it. As I jumped and screamed and danced along to the bombastic chorus, I started thinking about who I was at 16, my friends, my family, the places I've been and the experiences I've had, and my face started getting hot. Tears formed at the sides of my eyes. One managed to eke out and roll down my cheek. It was all I could to do to scream the emotions out.
The set progressed and I was happy to discover that Nine Inch Nails remain one of the best live performing entities in the world today. Reznor might be a little older, a little thinner on top of his head, but the burning rage, the seething angst still remains. I can't tell you how happy it made me when he casually tossed his guitar twenty feet across the stage at the end of a song in the middle of the show. He did it again at the end of the set as well.
I was also amazed at how well the newer material from Nine Inch Nails two most recent EPs, Not The Actual Events and Add Violence stacked up against older favorites. I recently ranked the 15 best songs in Nine Inch Nails discography, and only one entry from the last decade made the cut, "The Background World" which received its first live airing ever at Riot Fest. It's a slow burner to begin with, but by the "Are you sure? Is this what you want?" segment, the crowd was eating it up.
The real mania and moshing was saved however for ragers like "March Of The Pigs," "Head Like A Hole," "The Hand That Feeds," and of course, the grungy, swank classic "Closer." There was also a heady tribute to David Bowie, a reimagining of his Blackstar album standout "I Can't Give Everything Away," that stunned the crowd into a silent reverence. For the encore, Reznor reached back to the Fragile one-two opener, "Somewhat Damaged" into "The Day The World Went Away," before ending the show with arguably his greatest composition, "Hurt" that induced one of the most cathartic singalong of my life.
After it ended, I made the long walk back to my car with the echoes of the music I just heard swimming around inside my head. I thought about calling one of my friends who went to that first Nine Inch Nails gig with me back in the day to tell him about the show, but something stopped me. It was late by this point and we aren't super, super close anymore. I didn't know what to say. He was someone else. I was still right here.