Leonard Cohen provided a nice positive critique of Bob Dylan's Nobel prize win according to The Australian, joining the chorus that couldn't help by praise a man who has spent most of his career being praised and honored at some point. He noted that the Nobel win was like "pinning a medal on Mount Everest for being the highest mountain." There's something in there about how every award is basically meaningless, but it does perfectly sum up the positive camp for Dylan walking away with the award and not really caring about it.
The negative camp seems to be in the Nobel camp itself, with some academy members sitting around upset that Dylan is ignoring them and their award. According to The Guardian, Dylan is putting them in an unprecedented spot by giving them a cold shoulder over their award while still performing:
"It's impolite and arrogant," said the academy member, Swedish writer Per Wastberg, in comments aired on SVT public television.

On the evening of 13 October, the day the literature prize winner was announced, Dylan played a concert in Las Vegas during which he made no comment at all to his fans.

He ended the concert with a version of the Frank Sinatra hit "Why Try To Change Me Now?", taken to be a nod towards his longstanding aversion to the media.
It's Dylan's choice to ignore the award, that's cool. But at the same time, this is a guy who just did a Super Bowl commercial and has accepted plenty of public awards in the past. Here he is accepting the Presidential Medal of Freedom and doing the bare minimum while doing so. He didn't say a word, but he was there and he showed some appreciation for the award.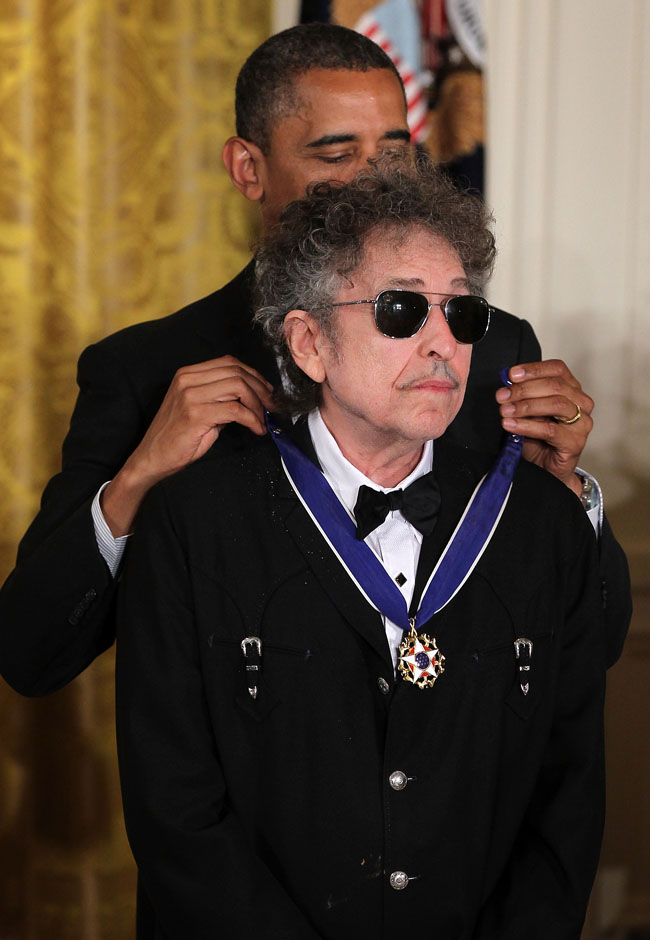 As Vincent Vega might say if he were real and still alive, a thank you would be nice. Bob Dylan fans are quick to take up for his genius and I'm able to look at the influence he has placed on music over the years. I also like what he did at Live Aid that sparked the idea behind Farm Aid, which was a cool movie in the middle of a charity event for Africa. But at the same time, Dylan has his critics and Dylan fans are insufferable. Look at some of the pieces that were written after he won the Nobel Prize, saying how much he deserved it. If he didn't deserve and thought he didn't deserve, this criticism would be a non-issue. But it was featured on his official website and was recently taken down according to The Guardian, showing he at least knows and just hasn't said anything.
A thank you would be the bare minimum from the guy. It would also look better for all those people who aren't Bob Dylan and might actually enjoy winning a Nobel Prize. Also maybe we can get an explanation for this look? It looks like he was trying to hang with Justin Bieber and failed — or succeeded, depending on how you look at it.
(Via The Guardian)