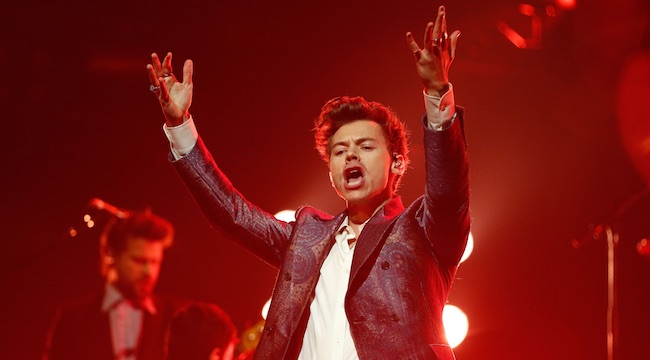 It happens in every field, to even the most optimistic and kind-hearted person — you get fucking sick of hearing about that one band. It's pretty inevitable that press, exposure, and praise get distributed unfairly, and perhaps, quite frequently, undeservedly. But what is it that makes us call someone "overrated"? Is it the level of fawning? How bad they actually suck? The behind-the-scenes politics of a genre or an industry that seem all too obvious if you work and live inside of it?
Whatever the reason, there's nothing that goes as well with end of the year applause as complaints about who didn't really deserve that standing ovation. While we make it a priority to pursue kindness and even-handedness here, everyone has their breaking point, and their petty moments. So, onto the overrated albums! There were quite a few this year (in my humble opinion) but we narrowed it down to the ten most egregious offenders. Remember, oftentimes this has nothing to do with the artist themselves, but the conversation around them. Oh, and sometimes it definitely does have to do with the artist.
Harry Styles, Harry Styles
Harry Styles' heart was in the right place. In the aftermath of the disintegration of One Direction, he could have easily hooked up with, say Max Martin or another shiny super-producer of his ilk, and produced a perfectly arranged piece of pop-puffery, guaranteed to sell in the millions. He didn't do that. Instead, he decided to follow his classic rock-loving muse, assembled a real band, decamped to Jamaica, wrote original material and in 2017, made an actual rock record. I personally loved the move and think if he maintains this course going forward, there are some rich dividends to be gained. That being said, let's not pretend that Harry created Rumours here or anything. The songs, especially the lead single "Sign O' The Times" are lovely, but amount more to an exhibition of as-yet-untapped potential, than the genre-realigning masterpiece that some have tried to paint it as. Harry Styles is a good record that far too many people convinced themselves was a great one.–Corbin Reiff
LCD Soundsystem, American Dream
LCD Soundsystem's American Dream is not a bad album. In fact, it is a pretty good album. But when you've released three previous stone-cold classics, it's hard to buy this new record getting the same sort of praise that those ones received. Where James Murphy's prior work contained lyrics that landed like stingers and were filled with moments where the record-collecting guru could shine a light on his own musical knowledge, American Dream sounds like an album from an artist well aware that he can't reach his own previous heights. If anything, a lot of the attention seems to come from relief that the band did not tarnish their own legacy in their return, and that their bungled breakup and reunion actually served an eventual purpose.
But the best parts of the band, the piece that tapped into the existential longing of growing into middle age and still feeling the fire of youth, it's faded here. Never before has LCD Soundsystem sounded so workmanlike, creating songs that act more like punches on a timecard than ever. Or, maybe another way of putting it would be that it is hard to imagine anyone loving this album that didn't already love the band. It would be nearly impossible to find meaning here if you weren't on your hands and knees, digging desperately in the dirt for it. The fact that this is overrated at all is a testament to how great of a band they are, but there is no way that if they released another album of this quality in few years that it would get nearly the same positive reception.–Philip Cosores
Suggested underrated counterpart: Wild Pink, Wild Pink
Taylor Swift, Reputation
Kissing goodbye my chance to ever be one of the blessed few chosen to do a Taylor Swift interview is a tough thing, but not as tough as watching the mainstream music press pretend this album is even in the same realm as any of Taylor's other albums, let alone and/or including her initial massive pop breakout, 1989. Look, I will stan for her until my dying day, even if and when I disagree with her politics (or lack thereof) or her business practices (puzzling, but lucrative), because the music is just so damn good… except, this time, it wasn't. Personally, I respect 1989, Red and all the rest to pretend this isn't the case. And I fucking wanted to love this record, too!
It has its moments — "… Ready For It" is a fantastic opener, "Delicate" is icy-sweet and "King Of My Heart" is the best love song a robot has ever written (that's an Auotune joke, sorry). Finally, "Call It What You Want" and "New Year's Day" evoke the Taylor of old, pre-celebrity feud, but even on these highlights the lyrics are thin, the melodies overwrought, the sentiments forced. And, they don't erase the terrible, inane filler that exists in between. Someone has to tell her the truth, right? Isn't that real love, baby? My disappointment in the lack of lyricism, and the fact that she borrowed old school, tinny radio sounds instead of forging her own is based on one thing — how innovative, original, and poetic she has been in the past. Here's hoping her next record resurrects the old Taylor, and politely relegates this new one to a role as obsolete as voicemail.–Caitlin White
Suggested underrated counterpart: Julia Michaels, Nervous System
Logic, Everybody
At his core, Logic has attempted to fulfill a variety of difficult roles. Talented and personable, the Maryland rapper wanted to check off a number of boxes to match his diverse fan base. In 2017, where a wide-ranging number of acts touched not only the political spectrum but the wide-ranging racial dynamics of this country, Logic found another box to check off. Everybody, Logic's follow-up to The Incredible True Story and Under Pressure captured all of Logic's best features. Fast-paced rhymes, positivity spaced throughout and even a call to save lives in "1-800-273-8255" all won acclaim for him, and even grabbed a few Grammy noms.
However, Logic's attempts to dig into his upbringing and place as a biracial man who could claim both white and black heritage was clunky at best. The argument could even be made that for all of the success "1-800" had (and despite his protests otherwise), the song could be seen as little more than a cynical attempt to tap into others' tragedies for Logic's gain. If nothing else, it toes the line between heartfelt and corny a little too close for comfort. It's repetitive in spaces and stronger artists such as J. Cole, Black Thought and Killer Mike execute Logic's points better than he does. The 12-minute closer "AfricAryaN," is an oddly select bookend, an opus where Neil DeGrasse Tyson appears and Logic dives into all of his racial complexities to the point where it becomes sort of a bore. Logic made a good album in Everybody that lives up to its title: Appealing to many in parts… while off-putting in others.–Brandon Caldwell
Suggested underrated counterpart: Vic Mensa, The Autobiography
Priests, Nothing Feels Natural
If you stumbled upon Washington D.C. post-punk four-piece Priests on Bandcamp without any of the hype surrounding them, it might sound like an intriguing but cluttered bit of fiery aggression. But being hailed as one of the best albums of the year by many critics comes across as more baffling than anything, particularly when there are so many other bands making some variation on post-punk. If Priests ever stand out, it is because of Katie Alice Greer's unhinged vocals, but they just as often land on grating as they do on captivating. An infusion of jazzy horns at the end of opener "Lillian" feels more like a half-baked idea than an actually fully-formed statement, while the band's surf rock leanings feel out of place when placed next to their darker material.
And that's the thing about Priests: It feels more like the beginning of something than a finished product. It's nice to hear a band capturing the energy of a DIY club or the vibe of practicing in a basement on record, but it's not exactly a rarity. So the question that's hard to answer is what makes this band so special? If it is for their political messages, than admirable as they may be, that doesn't really make up for how meandering their music can be. The truth about the music world it is often just as much about relationships than it is about the tunes, and Priests certainly fall into this category. Regardless of the why, Nothing Feels Natural comes across as a lesser version of Savages on an album that might prove to be the precursor to something better, but hardly worth the attention it is getting on its own.–P.C.
Suggested underrated counterpart: Thelma, Thelma
XXXtentacion, 17
Noise.
That's probably the most accurate way to describe XXXTentacion's rambunctious debut album 17. For eleven brief tracks, XXX puts together a smorgasbord of noise, messy, unfiltered, unorganized noise. Whatever brief moments of melodic brilliance the troubled rapper has are almost always offset with an immediate off-kilter moment that just doesn't fit whatever puzzle he set out to make. The attempts to be genre-bending just come off as clunky, the oddly short songs come off as lazy rather than some sort of artistic decision. The singing is often off-key, the rapping often feels offbeat and just never seems to hit the mark.
Couple all of this with the fact that, out of all the troubled rappers in the current crop of troubled rappers, XXXTentacion is by far the most despicable, a young man who will use suicide as a promotional tactic and who reportedly (but with much evidence in the report) beat and entrapped a pregnant woman so badly she literally has to escape his clutches like a fugitive breaking out of a prison. There's no reason to listen to 17, not the music, not the man performing it. Nothing. Drown out any noise that might suggest otherwise.–Eddie Gonzalez
Suggested underrated counterpart: Aminé, Good For You
Lil B, Black Ken
The phenomenon that is Lil B continues to mystify. The 28-year-old rapper from Berkley, California has a decade in the game, and I have yet to figure out if it's all an elaborate troll or a highbrow deconstruction of rap tropes or what. While Lil B's endless positivity and magnanimous personality have continued to endear him to fans both online and in the real world (provided they aren't fans of James Harden or Lonzo Ball), his music has yet to live up to the lofty expectation and breathless hype heaped upon it by his most exuberant followers.
Case in point, Black Ken was met with a deluge of praise and apparent excitement when it was released to Soundcloud earlier this year, but I have yet to determine if it was just bandwagon meme-riding or genuine approval. If it was the latter, I wonder what those fans are hearing that I'm not. While some may point out that I gave an undue level of praise to Lil Yachty's debut this year, I think expectations for Lil Boat could be balanced against the fact that he was barely out of high school when he recorded the bulk of that material, and he was not by any means trying to prove himself as a lyricist. From what I can tell, Lil B fully expects to be taken seriously on Black Ken, with plenty of rhymes dedicated to telling us how good a rapper he is without really showing it.
Intent makes all the difference, and if Lil B is sincere in his intent to prove that he's a "real MC," he didn't put much effort into proving it, and that's a real shame. I want to like Lil B as a rapper as much as I appreciate him as a person, but that won't happen until he finally drops something that lives up to the hype.–Aaron Williams
Suggested underrated counterpart: Rapsody, Laila's Wisdom
Sam Smith, The Thrill Of It All
In Sam Smith's young career, the singer has proven one thing definitively and without doubt: He has an amazing voice. One of the best in the world, in fact. As many talented but failed American Idol contestants have learned after their time on the show, though, having strong pipes doesn't mean you're going to make a worthwhile album.
On Smith's sophomore effort, most of the album tracks fall into one of two categories: Types of songs that somebody else has already done better, or overwrought piano ballads that are little more than a showcase for Smith's (again, undeniably good) voice. "Too Good At Goodbyes" is only memorable for its awkward '90s R&B-style flourishes and "One Last Song" comes off as an Amy Winehouse demo that's near its final stage but not quite there yet. Meanwhile, tracks like "Pray" and "Burning" don't really have any distinguishing features in either their aesthetic or their songwriting.
Saying that an album "just falls flat" is a critical cop-out, but then again, that's what's going on here. Smith is a gifted singer and performer, for sure, but if this album is a journey at sea, Smith is best described in this scenario as a capable captain without a watertight ship.–Derrick Rossignol
Suggested underrated counterpart: Syd, Fin
DJ Khaled, Grateful
I'll tell you what DJ Khaled's most recent album needed, and it damn sure wasn't "another one." In fact, it was about 15 less. There is no reason on this planet why Khaled needed to string together a monstrosity of such epic proportions. 23 tracks? C'mon! The grab for streaming numbers here is so blatant as to be cringe-worthy. And yet, I can't 100% hate on a release that not only gave us the Rihanna-led, Santana-sampling "Wild Thoughts," but also helped Chance The Rapper notch his first-ever No. 1 single "I'm The One." Khaled clearly has an ear for hooks and a proclivity for getting big names all in a room together, it's just a shame that he can't seem to figure out when to stop, or how to get the best out of his collaborators. A release that contained a Jay-Z and Beyonce joint should have hit so much harder than this.–C.R.
Suggested underrated counterpart: Mike Will Made-It, Ransom 2
Margo Price, All American Made
I mentioned at the beginning of this list, some overrated designations have nothing to do with lack of quality in the artist. Margo Price is a great musician, and All American Made is a fine album, aside from the extremely played out title. What's frustrating about an artist like Price, is that about 25 others who are on her level routinely release albums in any given calendar year, but because of the way country music has been historically routed out of the "cool indie" category, all those women go unsung, and Price's fairly good album gets toted like it's something extraordinarily special. It's not.
Carly Pearce, Sunny Sweeney, LeeAnn Womack (tha God), Alison Krauss, Whitney Rose, RaeLynn, Becca Mancari, Tift Merrit, Natalie Hemby, Lindsay Ell, Kelsea Ballerini, Nikki Lane, Angaleena Presley, and probably about a dozen others, all put out albums that were on par with All American Made, if not astoundingly better. It is exceedingly frustrating to watch the mainstream seize upon a single woman and hoist her up, year after year, as if only one can succeed at a time. Especially when it seems the artists who are selected to fulfill this niche role are often valued more for their aesthetics than their music.
Even more annoying are the publications that clearly don't give a damn about country music as a whole, who latch onto these outliers, championing them because they're too uncreative to actually explore the genre, and sift through for the most talented. We saw this with Kacey Musgraves, and now we're seeing it again with Margo Price. I have absolutely nothing against either of these two women, they're both fabulous, but the indie tokenism will frustrate anyone who follows country music closely. And if I feel like that as a bystander, imagine how the artists themselves feel. They deserve better, and reader, so do you–C.W.
Suggested underrated counterpart: Nikki Lane, Highway Queen