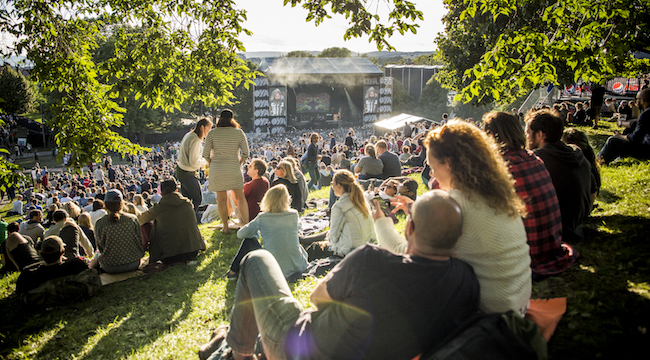 Øya Festival has been taking place yearly since 1999 in Oslo, Norway, and has quickly become one of the biggest cultural events in the country. Its current home in Tøyen Park has been the location for the festival since 2014, but even going back further to its more humble days, the fest has a reputation for booking the finest local and international touring acts available.
Early incarnations were almost all Scandinavian artists, but in the early aughts, acts like The New Pornographers, Blonde Redhead, and Air crept their way into the fold. And by the mid-aughts, the event was a major European festival player, with artists like Tool, Kanye West, PJ Harvey, Pavement, The National, Aphex Twin, Florence + The Machine, Outkast, and Bjork all performing landmark sets on its stages.
This year, in its twentieth installment, Øya will once again produce a festival that is hard to match. Headlining the event, which takes place next week from August 8-11, will be the likes of international superstars Kendrick Lamar, Arctic Monkeys, Arcade Fire, Lykke Li, Charlotte Gainsbourg, and St. Vincent. But even below the top line are a number of notable artists, both big and small, who will look to impress at the event, including Brockhampton, Fever Ray, Grizzly Bear, Phoebe Bridgers, Jenny Lewis, Jorja Smith, Yaeji, and Wolf Alice. And, of course, a couple of outright legends will also appear in the form of Patti Smith and Tangerine Dream.
Music isn't the only aspect of the festival that's notable. In addition to the stacked lineup, there is a film festival that runs in advance of the music program, which will be showing a number of music-related films, including the Imagine Dragons doc Believer and the MIA documentary Matangi/Maya/MIA. The festival also prides itself on being one of the greenest festivals in the world, taking its cue from its home country that is known for its gorgeous natural beauty. That extends to an organic food program that includes every vendor that sells food or drink at the event. In America, we're only starting to see festivals really make strides when it comes to their overall footprint, and Øya could serve as a shining example going forward.
But while all of this speaks my language as a festival veteran, Øya also serves as an opportunity to explore. There is an incredible Norwegian lineup of artists that will play shows of all sizes, from the big to the small stages. And after all, it is a Norwegian festival first and foremost, and failing to explore the rich musical offerings that this culture has to offer would feel like a massive missed opportunity To help navigate that, we spoke with Claes Olsen, the booker for the event who pointed out five of the Norwegian artists whom should be considered can't-miss, regardless of where you are coming from to see the festival.
Steamdome
Olsen: "The multi-instrumentalist Ola Kvernberg with his new massive band Steamdome released one of the best albums of 2017. Live they deliver a huge wall of percussion and organ-driven space rock within the jazz world. For fans of Kamasi Washington."
Band of Gold
Olsen: "They won the Nordic Music Prize on their debut album in 2016. Now they have released another amazing album with a blistering version of classic pop music."
Lindstrøm
Olsen: "As part of the Norwegian label Smalltown Supersound 25-year anniversary at the Øyafestival, the king of Oslo Disco, Lindstrøm, will do a career-spanning, unique set with a big production for the first time.
Sassy009
Olsen: "They did their first show less than a year ago. Now they have played at SXSW, Roskilde, and many other festivals around the world, and are ready for a big stage at Øya. They created their own unique sound based on the trios vocal harmonies and deep bass.
Fieh
Olsen: "Is she the next big star coming out of the Oslo music scene? She's been around for a few years, but is now ready to take some big steps with her mix of R&B, hip-hop, and jazz."
Øya Festival begins on August 3 with its film portion, while music begins on August 7 and goes into full steam with their Tøyen Park run from August 8-11. Tickets are sold out for all but Friday, but you can buy tickets for that day here. Check out the full schedule of artists and films here.