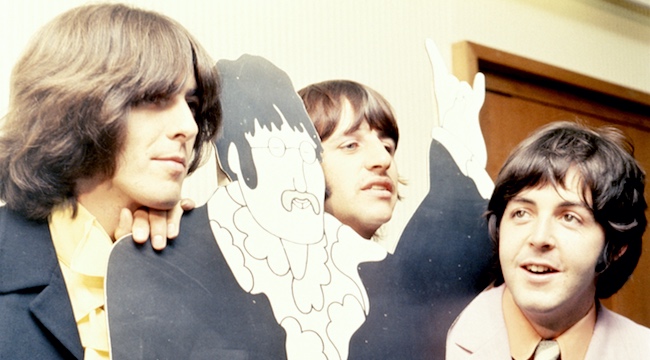 In 1965, Paul McCartney recorded an experimental Christmas album for his Beatles bandmates, although he describes the recording as more "like a radio show." Only three copies of the album were pressed onto acetate discs — one each for John Lennon, Ringo Starr, and George Harrison. It doesn't seem like these discs exist anymore (at least not in a playable state), but as Dangerous Minds notes, bootleg versions of the album have circulated. Now, the tape, called Unforgettable, has been uploaded to YouTube for more accessible listening.
McCartney described the recording in Richie Unterberger's book The Unreleased Beatles: Music And Film, calling the "left field" tape "just something for the mates":
"I had two Brenell tape recorders set up at home, on which I made experimental recordings and tape loops, like the ones in 'Tomorrow Never Knows.' And once I put together something crazy, something left field, just for the other Beatles, a fun thing which they could play late in the evening. It was just something for the mates, basically.

It was called Unforgettable and it started with Nat 'King' Cole singing 'Unforgettable,' then I came in over the top as the announcer, 'Yes, unforgettable, that's what you are! And today in Unforgettable…' It was like a magazine program: Full of weird interviews, experimental music, tape loops, some tracks I knew the others hadn't heard. It was just a compilation of odd things. I took the tape to Dick James' studio and they cut me three acetate discs. Unfortunately, the quality of these discs was such that they wore out as you played them for a couple of weeks, but then they must have worn out. There's probably a tape somewhere, though."
Listen to Unforgettable above.