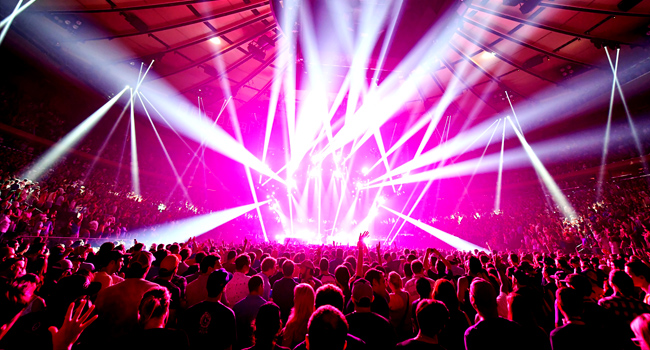 One of my favorite annual traditions is following our nation's preeminent jam band, Phish, on its annual summer and fall tours without leaving the comfort of home. (Though I like to head out and see shows in person when I can, too.) Thanks to the band's Live Phish app, I can stream a pristine recording of every concert within minutes of the final encore. Phish also offers live-streamed video of many gigs, including every night of the band's fantastic "Baker's Dozen" run of 13 concerts that extends through Sunday at Madison Square Garden in New York City.
So far, Phish's MSG run has rewarded faithful listeners with setlists that have yet to repeat a single song, along with numerous unexpected covers, theme nights, in-jokes, and the band's most adventurous improvisations in years. No two shows have been remotely similar. It's a whole new level of fan experience that most bands can't even approach.
I realize that the prospect of listening to Phish do an a cappella cover of Fleet Foxes' "White Winter Hymnal" or a mind-blowing 24-minute version of the '90s chestnut "Chalk Dust Torture" might seem like actual torture to many. But take Phish out of the equation: Don't you wish your favorite artist behaved this way? Wouldn't it be great to have access to a treasure trove of streamable live recordings that's instantly updated after every show? Why in the world don't more bands follow this example?
As streaming concerts becomes increasingly common, I suspect that Phish will eventually be viewed as an innovator. By now, even casual music fans have probably streamed live performances from major music festivals like Coachella and Pitchfork, or watched special live events hosted by Youtube. Artists such as Bruce Springsteen and Pearl Jam have also sold recordings of their concerts in the form of downloads and CDs. For the most part, however, the audience for live streams has been restricted to the jam-band niche — fans of groups like Dead And Company and Widespread Panic can pay a monthly subscription fee to access the live music archive on the Nugs.net app, or shell out pay-per-view fees to stream one-off concerts on Nugs TV. Phish meanwhile remains the rare band that makes every concert available either in the moment or shortly afterward via its own app.
Whenever I'm in the midst of following Phish on a "couch tour," I often find myself wishing that I could replicate this experience with other bands. I realize not every band I like has the means to record, engineer, and post live concerts on their own app. But surely there are several successful legacy acts who do robust live business — Wilco, My Morning Jacket, The National, and Ryan Adams come immediately to mind — that could conceivably stream their tours.
I suspect my wish has less to do with technology than philosophy — I wish more bands made it worthwhile to stream every show, by playing creative concerts that don't just repeat the same songs every night. Is that too much to ask? Live music is an art form that's just as valid as making an album, even if it's rarely discussed in those terms. But too many artists treat playing live merely as a promotional avenue for selling albums that relatively few people will buy, a point of view that seems increasingly out-of-sync with the times.
It makes sense that the jam-band scene is at the vanguard of this technology. Nowhere is live music valued more. In the '90s, Phish became an arena band in spite of never having a hit single or a chart-topping album because it always made its live show the focal point of its art. While Phish's albums are often spotty, the band's concerts have always bursted with playful energy and invention. Live shows simply matter more than albums when it comes to Phish, an inversion of how most bands operate, and how critics (who almost never factor in live performances or tour grosses when assessing an artist) contextualize popular music.
For many listeners, conversations about music are centered exclusively on recordings — who has the best singles, the best albums, and the best overall discographies. These are the stock debates that fans and critics wage on a nearly daily basis, perpetuating a bias for recorded music that is so ingrained that it's hardly ever questioned. And yet, many of those same people are also reluctant to actually spend money on recorded music. It's a weird paradigm, in which recorded music is valued above all else aesthetically while also having little worth monetarily. Live music, on the other hand, has high monetary value — consumers spend more annually on concert tickets than streaming — but is usually overlooked as an actual art form on par with laboring in the studio.
Here's a thought experiment: What if pop music operated on the jam-band model? The live show replaces the album as an artist's signature work. Albums are viewed as commercials for concerts. Instead of obsessing over albums sales and streaming statistics, music writers tally up the concert tickets sold in a given week to determine an artist's supremacy.
This alternate reality isn't all that different from how things actually are, at least in terms of how artists actually make a living. (Beyoncé, a dynamic performer who sells outs stadiums, comes out ahead in either scenario.) But a "live music first" world would mean greater mainstream acceptance for Phish, whose music only opens up once you go down the rabbit hole of the band's voluminous catalogue of live recordings, both officially sanctioned and bootlegs. I'm not suggesting that every band start playing 20-minute jams. But now that we're entering an age in which anyone can enjoy a concert from anywhere, it's time to re-evaluate what a live experience can and should be.
For more than 30 years, Phish has trained its fanbase to expect unpredictable shows, which in turn makes fans eager to hear every note the band plays on stage. The stereotypical Phish fan is a hippie bruh who is only interested in guitar solos and intoxication. But in my experience, the average Phan is more like a baseball nerd who is preoccupied with statistical minutia — songs played, gaps between when songs appear in setlists, "bust outs" for songs that have never appeared in setlists, and so on. The Live Phish app encourages this mentality, broadcasting nightly concerts like the local AM radio station broadcasting this evening's ballgame (though even a marathon Phish show is often shorter than an average baseball game).
I've often joked that admitting to being a Phish lover is like saying you collect Precious Moments figurines — it's a hobby that instantly alienates you from 99 percent of the population. But the experience of following this band, which stems largely from how Phish approaches its live shows, should be desirable for any music fan. This morning, I get to dive into last night's Baker's Dozen show, and I can choose to live-stream tonight's gig if I wish. In both instances, I don't know exactly what I'll hear, but I'm eager to find out. I love a lot of bands, but few are as much fun to love as Phish. More bands should aspire to that level of fun.