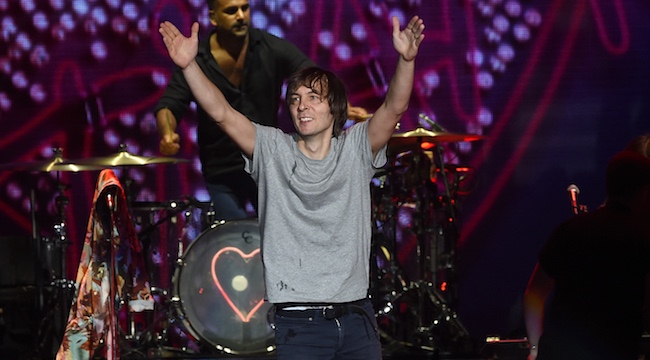 Ever since Phoenix broke out in the US with their fourth album, Wolfgang Amadeus Phoenix, in 2009, the French band has been one of the most consistent forces in indie music. Over the past decade, they've dropped three albums filled with unceasingly jubilant and exciting indie pop and indie rock that's both idiosyncratic and unmistakably comforting. The good news for their fans stateside is that they'll be returning to the US this summer, and they've just announced that part of that trek will include a residency in Los Angeles at the Fonda Theatre, on September 6, 7, 10, 11, and 12.
https://twitter.com/wearephoenix/status/978706461491544065/photo/1
The band is promising "a very 'speciale' night" — with "special" said "as pronounced in Italian: 'speh-chah-leh'" — that will include guests, exclusive merch, and of course, gelato. Here's a quick stab in the dark re: their special guests: Maybe we get an appearance from actor Jason Schwartzman, who is cousins with Phoenix frontman, lives in California, and used to be the drummer for Phantom Planet. Hey, far stranger things have happened.
Check out Phoenix's upcoming tour dates below, and revisit our review of their 2017 Hollywood Bowl performance here.

3/27 — Dublin, IE @ Olympia Theatre
4/21 — Seoul, KR @ Blue Square
4/23 — Tokyo, JP @ Toyosu Pit
4/24 — Tokyo, JP @ Toyosu Pit
4/26 — Osaka, JP @ Zepp Osaka Bayside
4/27 — Taipei, TW @ Legacy Max
4/30 — Beijing, CN @ Grammy Festival Beijing
5/25 — London, UK @ Victoria Park
5/26 — Paris, FR @ La Gaîté Lyrique
5/27 — Paris, FR @ La Gaîté Lyrique
5/29 — Paris, FR @ La Gaîté Lyrique
5/30 — Paris, FR @ La Gaîté Lyrique
5/31 — Paris, FR @ La Gaîté Lyrique
6/2 — Nîmes, FR @ This Is Not A Love Song
6/13 — Lyon, FR @ Les Nuits de Fourvière
6/15 — Bergen, NO @ Bergenfest
6/16 — Oslo, NO @ Piknik I Parken
7/3 — Boston, MA @ House of Blues
7/5 — Brooklyn, NY @ Brooklyn Steel
7/6 — Brooklyn, NY @ Brooklyn Steel
7/7 — Brooklyn, NY @ Brooklyn Steel
7/9 — Brooklyn, NY @ Brooklyn Steel
7/10 — Brooklyn, NY @ Brooklyn Steel
7/12 — Quebec, CAN @ Festival d'été de Québec
7/21 — Biarritz, FR @ Biarritz En Eté Festival
7/26 — Madrid, SP @ Noches del Botanico
7/27-29 — Benidorm, SP @ Low Festival
8/19 — Saint Malo, FR @ La Route Du Rock Festival
8/24 — Le Touquet, FR @ Touquet Music Beach Festival
8/25 — Charleville-Mézières, FR @ Cabaret Vert Festival
9/6 — Los Angeles, CA @ Fonda Theatre
9/7 — Los Angeles, CA @ Fonda Theatre
9/10 — Los Angeles, CA @ Fonda Theatre
9/11 — Los Angeles, CA @ Fonda Theatre
9/12 — Los Angeles, CA @ Fonda Theatre
9/14-16 — Denver, CO @ Grandoozy