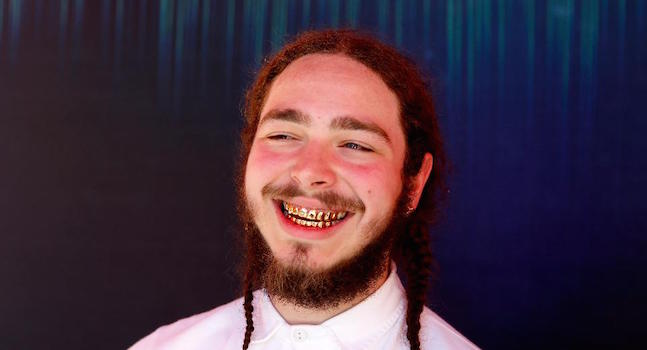 It's incredibly hard to go platinum today, with or without features. Regardless of the new streaming rules, it takes a lot of interest from a scattered music-buying public to hit that benchmark. So it's pretty surprising that Post Malone's Stoney was just certified by the RIAA as having sold 1 million units or its streaming equivalent.
According to a press release, the songs from Stoney have been streamed over a billion times. Who knows what else people you don't know are getting up to? But, in all honesty, both the mega-hit "White Iverson" and the Quavo-featuring "Congratulations" are jams so streaming numbers this high shouldn't be too shocking. And maybe this is just karma for being the hero that Coachella deserves and serving up thousands of dollars worth of Popeye's biscuits. Even the RIAA has to respect someone feeding the hungry hordes gathered in the California desert in a manner that can only be described as "Louisiana fast."
Go ahead and add a few more streams to Stoney, and check out our review of the long-delayed album while you're at it. Even if we've all heard "White Iverson" enough times to ensure that the track is platinum four times over, it's still pretty catchy.