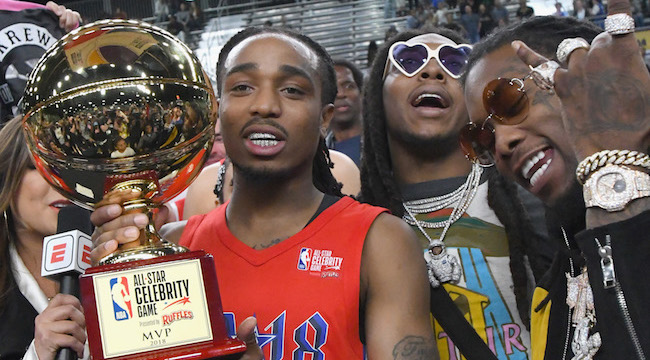 On top of the release of Culture II, Migos rapper Quavo has another achievement to celebrate: winning MVP at this year's NBA Celebrity All-Star Game.
The rapper led Team Clippers to a beautiful victory, scoring 19 points and snagging five crucial rebounds, including one premium dunk on Justin Bieber. Quavo's Team Clippers also included Arcade Fire frontman Win Butler and Jamie Foxx while Team Lakers boasted the talents of Nick Cannon, Red Hot Chili Peppers bassist Flea, and Justin Bieber. ESPN host Katie Nolan, NBA legend and Boston Celtics player Paul Pierce, and Common coached Team Clippers while Team Lakers had ESPN host Rachel Nichols, Tracy McGrady, and Black Panther villain Michael B. Jordan at the helm.
"It was alright," said Quavo of his achievement. "I tried to go for a 20-piece. But as long as I have the most points on the floor that's the way to go. That way!" Quavo accepted the trophy with the remaining two-thirds of Migos, Takeoff and Offset, by his side. "My boy, he gone show up every time," said Offset during the post-game interview. "That's the 'Cho, man. Huncho, he can pull up. Nineteen points, the leading scorer. You know what's going on."
Quavo recently collaborated with Travis Scott on their first record, Huncho Jack, Jack Huncho, which came out in December 2017. Watch a highlight reel of Quavo's finest moments on the court below.