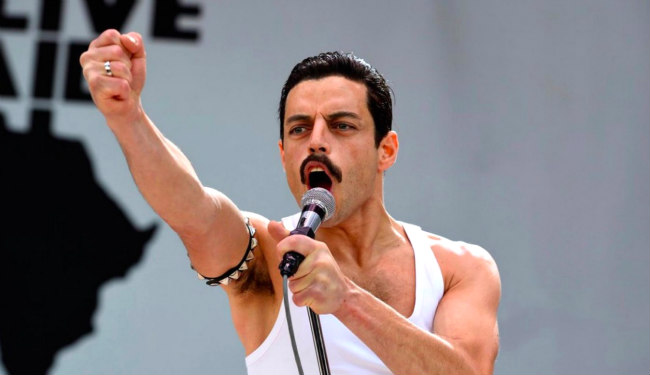 During the third week of its release, the Rami Malek-starring Queen biopic Bohemian Rhapsody did quite well, earning $15 million. That brings the movie's domestic total gross to $127 million, which is a lot, but especially in terms of music biopics: Bohemian Rhapsody is now the second-highest grossing music biopic of all time.
Only one film of its kind has done better, and that's Straight Outta Compton, the NWA biopic that hit theaters in the summer of 2015 and made $161 million domestically during its run. The previous silver medalist in this category was the 2005 Johnny Cash biopic Walk The Line, which stars Joaquin Phoenix and has a $119 million domestic box office total. That movie was the top-grossing music biopic for about a decade before Straight Outta Compton claimed the No. 1 spot.
In this week's box office, Bohemian Rhapsody finished third, behind Fantastic Beasts: The Crimes of Grindelwald and The Grinch, the latter of which has its own musical connection thanks to Tyler The Creator's involvement in the movie. Bohemian Rhapsody has earned an additional $256 million internationally, giving it a worldwide box office total of $384 million. Considering that the movie was made on a $52 million budget, it goes without saying that the film has been a success.