Punk rock from Oklahoma City rarely gets talked about, but the guys in Red City Radio have been around and kicking ass since 2007. The band has just put out their first release on Red Scare, which will be their second EP, to go along with two split EPs and a trio of full-length albums. The EP is available digitally, although the accompanying 12″ vinyl will not be out until May. Such is life.
The new RCR EP is called SkyTigers, and the cover art is simply … well, just look at it!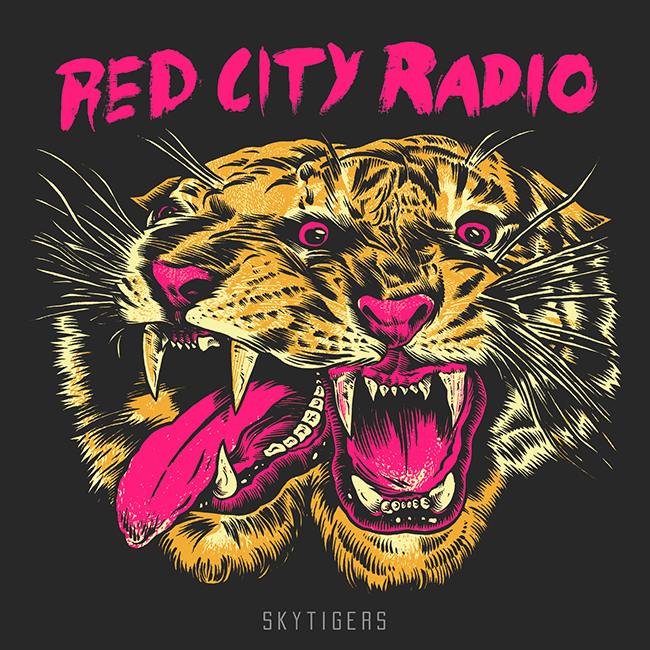 In celebration of the EP's release, the band put together a video for the lead single, "Rebels," and we're happy to premiere it here for you. We're also happy to report that the song absolutely bangs.
Bassist Jonathan Knight told us a bit about how the video came together. "We went out last fall with our buds in Less Than Jake, and brought our buddy Nick along with us to capture our little circus antics on the road. What resulted was a cool little glimpse into Red City Radio on tour, and a fun video for 'Rebels!'"
Garrett Dale, who provides those sweet vocals, wanted to talk about the video and the track as well. "Now, I'm not here to tell you what Rock & Roll is," said Dale. "But I can sure tell you what it isn't: and it has nothing to do with being a jerk or a bully.
"After watching an episode of Peaky Blinders I was inspired by something Cillian Murphy's character, Tommy Shelby, says: 'They're only Rebels 'cause they like the songs.' Ain't that the truth? Some people like to pretend to be tough for the sake of masking their own insecurities. Well, give it a rest. Sit back, listen to SkyTigers really loud, and be nice to one another. Now that's tough!"
That's the brand of toughness I can get into. And Peaky Blinders inspiring the song probably has something to do with all those hats.
You can pick up SkyTigers at Red Scare, and you can catch them on tour with the Lawrence Arms, who have a new release of their own.