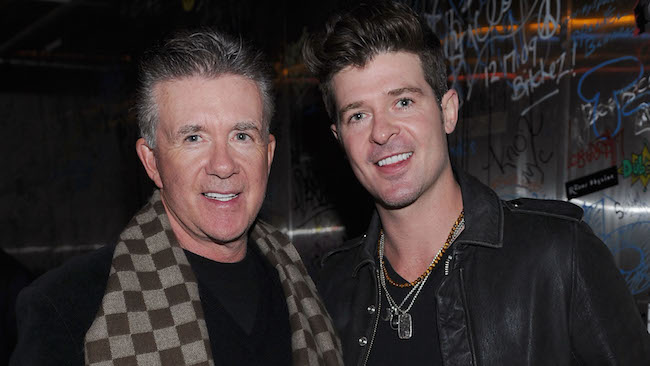 Tuesday night we learned the terrible news that actor Alan Thicke passed away unexpectedly after suffering a heart attack during a hockey game with his 19-year-old son Carter. Thicke's death is being felt by not just the entertainment world, but also by beloved fans who grew up watching the celebrated Canadian actor as Dr. Jason Seaver on the '80s sitcom Growing Pains. While he was a TV dad to millions, Thicke was also the real-life dad to musician Robin Thicke.
The Blurred Lines singer released a statement on social media hours after his famous dad's passing. Rather than mourn his death, Robin would much rather see his father's life be celebrated because he was "the best man" he ever knew.

"My father passed away today. He was the best man I ever knew [and] the best friend I ever had," Thicke wrote on Instagram overnight following his father's unexpected passing. The singer recalled his dad as being a source of happiness wherever he went, writing, "let's all rejoice and celebrate the joy he brought to every room he was in. We love you, Alan Thicke. Thank you for your love. Love, your grateful son."
Thicke shared his dad with a world of TV watchers who admired the elder Thicke and his words best summed up how many people feel today.