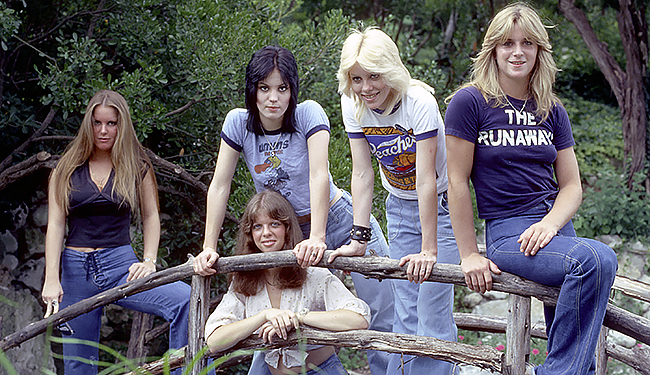 The Runaways are perhaps one of hard rock's most formative bands. As a launching pad for rockers like Joan Jett and Lita Ford, the group forged a huge path for so many more rock bands to come. There was even a biopic about the band in 2010 with Kristen Stewart, Alia Shawkat, and Dakota Fanning.
But, as with most rock and roll stories, everything wasn't perfect. The band dealt with members struggling with drugs and alcohol abuse, as well as infighting, but bassist Jackie Fox (seated in the photo above) has now dropped a bombshell that no one could have expected. In an extensive longform story about the band's history on the Huffington Post, the "Cherry Bomb" rocker said that she was raped by the group's manager, music svengali Kim Fowley, when she was only 16:
"Soon after Jackie arrived at the motel, a grown man she thinks was a roadie approached her with a Quaalude in his hand. He told her she needed to take it, no questions asked. And she did…At some point, Jackie says she had to lie down on a bed to rest. She was having trouble staying upright. When a roadie checked to see if she was OK, Fowley asked him if he was interested in having sex with her. 'She doesn't mind,' Fowley said. 'Do you?'

Jackie tried to protest, but she was frozen. 'You don't know what terror is until you realize something bad is about to happen to you and you can't move a muscle,' she says. 'I can't move. I can't speak. All I can do is look him in the eye and do the best I can do to communicate: Please say no. … I don't know what it looked like from the outside. But I know what was going on inside and it was horror.'
The piece also says that other band members were present and spoke up to stop him, but were ultimately powerless. Other stories have Fowley forcing the girls to watch him have sex to "teach you dogs how to f*ck."
As teen girls, the Runaways possibly felt paralyzed to speak up for themselves against someone in power who abused them. Now, in the current climate that we're in, hopefully like Bill Cosby's case, they can speak out and tell others who unfortunately experience the same crimes that they can be heard.
(Via Huffington Post)