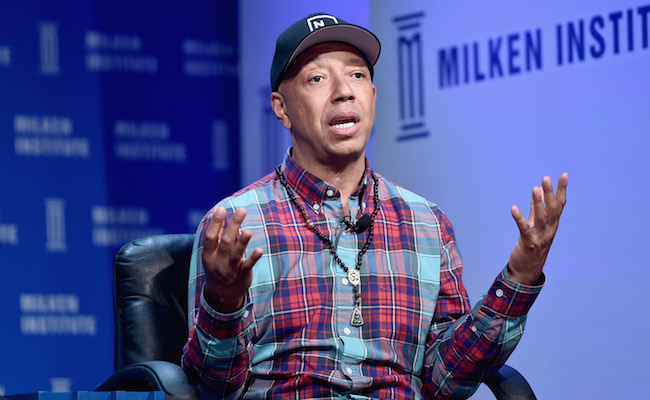 Russell Simmons has penned a statement denying allegations of sexual assault and misconduct that surfaced in the Los Angeles Times on Sunday.
In a letter published by The Hollywood Reporter, Simmons insists that the sex he had with 17-year-old model Keri Claussen Khalighi was entirely consensual. (Khalighi's account is very different.) Simmons' response to the allegation began with the Def Jam co-founder enthusiastically endorsing women speaking out about their abuse, although that would shift into Simmons stating he's learned recently that "some recollections can be cast in a light away from the actual facts."
"In my case, three witnesses [Anthony McNair and two anonymous witnesses] have signed statements that our experiences that weekend with Keri Claussen Khalighi 26 years ago were consensual," wrote Simmons linking to the referenced statements. "My longtime loathing of any form of violence and abuse has been woven into all of my personal interactions, as most who know me will attest."
Simmons suggested that their later interactions demonstrate proof of his innocence.
"In our meeting many years later, and subsequent conversations, Keri never accused me of what she has said publicly,' he wrote. "She insisted I was not violent. She did tell me her boyfriend and many others found out about our long weekend together and she said she was ashamed by that discovery. I am sorry for the embarrassment she recounted to me."
In his statement, Simmons offered an apology for "cavalier and thoughtless" remarks he's made that have offended women while stressing he is a "work in progress." Simmons' letter did not acknowledge director/producer Brett Ratner's alleged involvement in this encounter.
(Via The Hollywood Reporter)