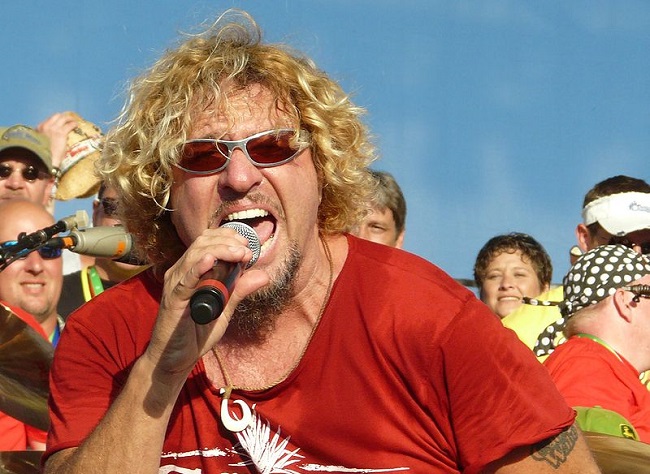 Wikipedia Creative Commons
Sammy Hagar, the man who famously refused to drive 55, has a new television show for some network called AXS named Rock & Roll Road Trip with Sammy Hagar. It's basically just Hagar, the former Van Halen lead singer, going around and hanging out with his friends. It's not as impressive as his appearance on The Simpsons, but having your own show is pretty good. However, whenever Hagar is in the news, that can only mean one thing. That's right, it's time to ask him about reuniting with Van Halen.
Perhaps this was inevitable, as former Van Halen bass player, and Hagar's good friend, Michael Anthony is appearing in the first episode of his show. Plus, people love Van Halen, and they love talking about various lead singers returning to Van Halen. When asked by the Inland Valley Daily Bulletin about Van Halen, Hagar's answer was, shall we say, clipped:
"My favorite thing to say without biting my own tongue is no comment. Every time I turned around, it was a no-win situation. If I say what I feel … I would always get 50 percent of the Van Halen fans saying, 'Right on, you rule.' Then the haters would dog me like, 'You're always dogging Van Halen.' I'm going to shut up. They get their wish. We'll see what happens when it happens — if it happens."
Hagar has not always been on the best of terms with Eddie Van Halen, the cornerstone of Van Halen, so don't count on the Hagar version of Van Halen returning to action anytime soon. On another note, when asked about his life's accomplishments, Hagar puts his tequila company Cabo Wabo above all else, saying, "It was life-changing mentally, physically, emotionally and prestige-wise." That's Sammy Hagar in a nutshell.