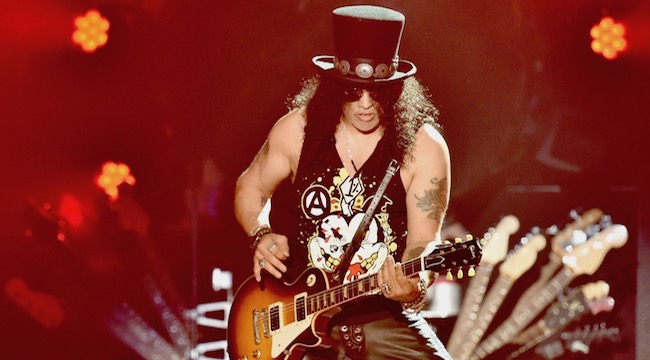 Guns 'N' Roses dubbed their most recent live run across the world the Not In This Lifetime tour. The reason behind the name was plain to anyone who's been following the late-1980s/early-'90s rockers for any length of time. Simply put, no one actually believed that guitarist Slash and front man Axl Rose would ever be able to patch thing up well enough to share a stage together again. Not only did the pair manage to put aside their past squabbles, for the last 18 months they have reigned as the most exhilarating arena rock band on the planet.
During a recent appearance on Nikki Sixx's Sixx Sense radio show, Slash opened up about how the reunion came to pass. "I was in Peru," Slash said about receiving that first phone call from Axl. "I remember it specifically. It was very cathartic to physically talk. 'Cause there's a bond that you have that's never [broken], and then what happens is the bond makes the negative side of that much worse, because you're forced out of it." He added, "There was so much stuff perpetuated in the media, and it was just blown out of proportion. So when he and I talked for the first time, it was really, really cool."
It's one thing to talk, and an entirely different matter to rehearse and perform. After so many years apart, the guitarist called their first show together at the Troubadour in Hollywood "very surreal," adding, "If you had talked to me 20 months ago, I would have said, 'No f*cking way. It's never gonna happen.' But it did, and it was f*cking awesome. There were these moments on stage where you sort of take stock of where you are at the moment and go, 'Wow, this is a trip.'
You can watch Slash's entire interview with Nikki Sixx below.