Three Up/Three Down is a catalog-oriented feature that seeks to highlight a given artist's best three albums and worst three albums.
Incredible as it may seem, Smashing Pumpkins has been been kicking around in one form or another for 30 years at this point. Roughly a decade of that time, the period between 1988 and 1999, encompassed the group's "classic lineup" era, featuring Billy Corgan on guitar and lead vocals, D'Arcy Wretzky on bass, Jimmy Chamberlain on drums and James Iha on guitar. It was during this period when they released some of their most beloved, genre-defining albums like the concise, hard-nosed debut Gish, or the titanic, two-hour long Mellon Collie And The Infinite Sadness. The other two decades, the Post-Zwan period if you will, saw Corgan taking over and releasing a number of spottier albums with a revolving group of different musicians around him.
With ten full-length albums, a whole bevy of EPs, and one multi-platinum certified B-sides collection that might as well be canon — 1994's Pisces Iscariot — to their name, there's quite a lot of material for casual Pumpkins fans and new arrivals to try and dig through. To help alleviate some of that burden for the curious, here below are the three albums you definitely should check out, and three more that you should avoid at all costs. I didn't include the whole Teargarden By Kaleidyscope project on this list, because, well, for one, it's not really an album per se, and two, it's way too complicated to pick apart. You can probably skip that one, for what it's worth.
Up
3. Gish (1991)
In 1991, a fledgling alt-rock group with a soon-to-be iconoclastic frontman went into the studio with producer Butch Vig to work on a new album. The narrative surely sounds familiar to anyone familiar with the story of Nirvana and their breakthrough record Nevermind, but Smashing Pumpkins made the move first, ensconcing themselves inside of Smart Studios in Madison, Wisconsin and coming out on the other side with their debut album Gish. In a lot of ways, Gish points in the direction the Pumpkins would go in subsequent years, rather than revealing a fully-formed band, aware and comfortable in its own predilections and abilities. They are almost Guns N' Roses-esque in some spots, especially through the warped, chugging guitars that define the opening track "I Am One" and "Bury." Then come more tender offerings like chorus-painted "Suffer" and the album-closer "Daydream," which is sung by Wretzky. Gish isn't the Pumpkins at their best, but a fascinating, and engaging portrait of a band still figuring itself out, and making some truly amazing music along the way.
2. Siamese Dream (1993)
Do not mistake its position as the penultimate entry in this list for weakness. Siamese Dream is about as close as a band can get to creating a perfect rock record. From the opening drum roll of "Cherub Rock" to Corgan's everlasting plea "I'm in love with you" the closes out "Luna," everything is immaculately conceived, and expertly executed. You know how films and documentaries play Creedence Clearwater Revival songs to try to bring to life the feeling of the Vietnam War and the late 1960s? You could easily do the same with the Clinton administration and early '90s by blasting either "Disarm" or "Today," both of which rank high on the list of the most uplifting and dramatic-in-a-good-way rock singles of all-time. As grand as those tracks are, it's the unfortunately titled "Mayonaise" that stands out as the best offering on Siamese Dream. For whatever reason, "Mayonaise" was never issued as a single in its own right, going to show once again that Billy Corgan might truly be the worst judge of his own music. From the harmonic guitar plinks, the howls of feedback through the main riff, the miasma of melancholy that's screamed away by Billy through the choruses; "Mayonaise" marked a high-point of single-song quality that the Pumpkins hardly ever managed to surpass.
1. Mellon Collie And The Infinite Sadness (1995)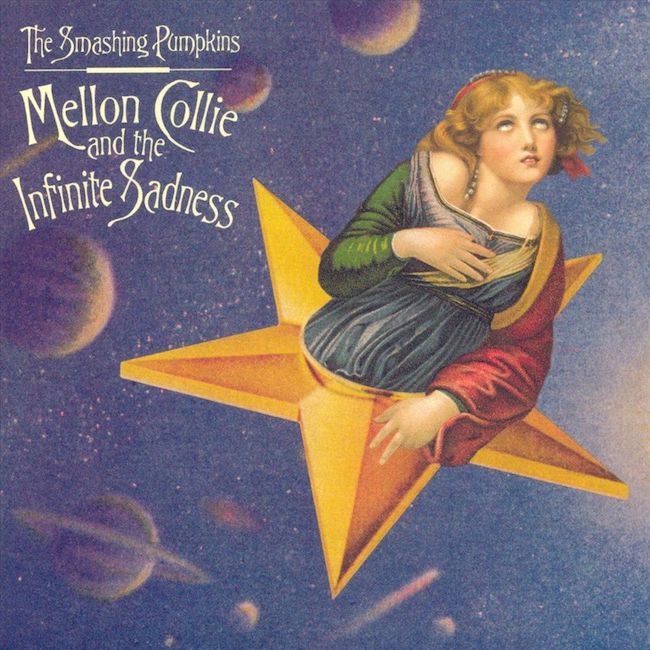 Mellon Collie And The Infinite Sadness is not a near-perfect record. Far from it in fact. It's overstuffed — over-two hours long — messy, and features a couple of honest-to-goodness clunkers like the overly-aggressive "Tales Of A Scorched Earth" and the aimless "Thru The Eyes Of Ruby." That being said, as a total document, it so totally represents who Smashing Pumpkins were as a band, you can't help but accept it as the ultimate offering from the Chicago rockers. More than that however, it features three of the best songs that Corgan, Iha, Wretzky and Chamberlain ever managed to cook up together: "Bullet With Butterfly Wings," "1979," and "Zero." While the former two far outstrip the latter in terms of popularity and general critical acclaim — "Butterfly" in particular neatly captures the entire disaffected posture of Generation-X with its clarion call of a chorus "Despite all my rage / I am still just a rat in a cage" — "Zero" actually takes the mantle of my favorite Pumpkins song. The tone of razor-sharp guitar through the eviscerating main riff, the evil in Corgan's voice when he asks, "Wanna go for a ride?" the three chops of Chamberlain's snare drum through the bridge; it's jam-packed and economical all at the same time. I still haven't even mentioned other incredible rock entries like "X.Y.U" which sounds like the band's play on a Soundgarden track, "Muzzle," or "Tonight, Tonight." If Siamese Dream is the album that cemented Smashing Pumpkins' status as bonafide rock stars, Mellon Collie And The Infinite Status marked their emergence as full-on Gods.
Down
3. Oceania (2012)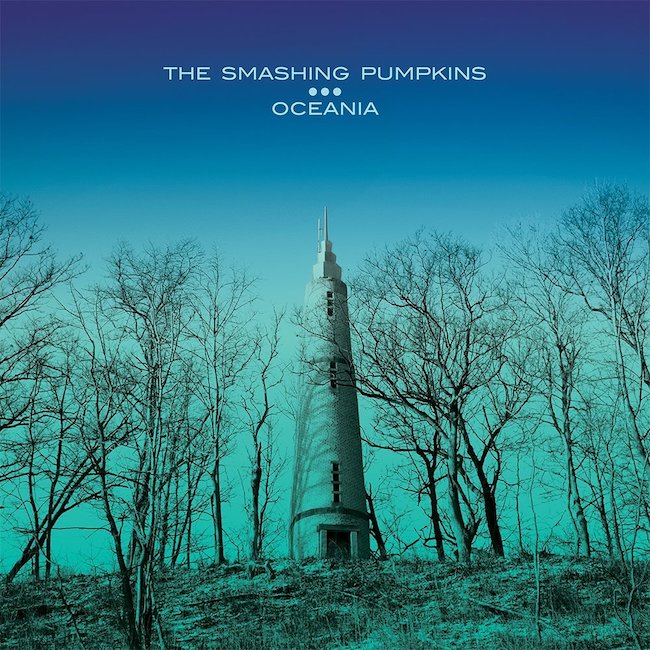 2012's Oceania, is the best of Smashing Pumpkins' worst, which, if I'm being 100% honest, isn't really all that bad. This was the first Smashing Pumpkins record that Corgan released after declaring the album itself a "dead" medium, while sharing an unceasing drib and drab of singles over the Internet throughout 2009 and into 2010. Corgan is the only member of the OG Pumpkins band on Oceania, and the collection of musicians he put together to complete the project — guitarist Jeff Schroeder, drummer Mike Byrne, and bassist Nicole Fiorentino — do their damndest to try and replicate the ferocity present on those initial records. "I'm alone, so alone, but better than I ever was," Billy declares on the title track. Yeah, I wouldn't go that far. Oceania sounds fine, if not a little formulaic. You get the tender strings and open-hearted Billy on "The Celestials" after being brutalized through the opening tracks "Quasar" — which sounds A LOT like "Cherub Rock — and "Panopticon." "My Love Is Winter" soars and comes with a delightfully odd, synth solo in the middle. If you're a Pumpkins fan, you'll probably like Oceania. If not, it's hard to consider it an "essential" entry into the canon.
2. Machina/The Machines Of God (2000)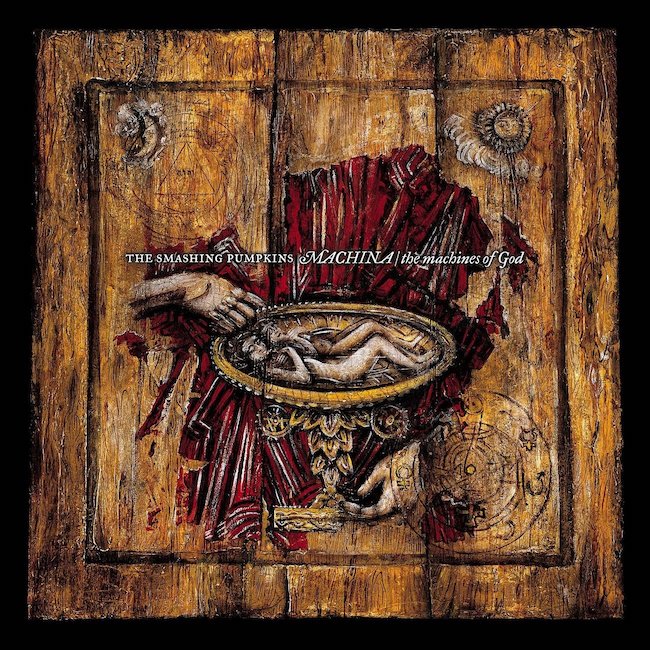 What a glorious, towering mess this album turned out to be. I almost have a hard time hating on it, just due to sheer amount of blood, sweat, and mania that Corgan poured into this particular project. Machina/The Machines Of God, along with the even longer, and actually better follow-up double-album Machina II/The Friends & Enemies Of Modern Music, represent the end of the line for the classic lineup of Smashing Pumpkins. It was supposed to be the band's "return to form" after a shift toward more maligned electronic sounds on their previous record Adore, but it really wasn't all that much different on a sonic level. That being said, it's the concept behind the music where things really go off the rails. "All the songs were written to be in a musical," Corgan told Palm Beach New Times. "It's really convoluted… but our fake personas would be the people that they thought we were. We would be caricatures of who we really were." Yes, I would agree that that does sound convoluted. "Heavy Metal Machine" is a gloopy, fuzzed-out mess with a vocal from Corgan that sounds like it was delivered through a pillow. "The Crying Tree Of Mercury" is melodramatic to the point of unintentional hilarity: "I've been waiting like a knife / To cut open your heart / And bleed my soul into you." And "Blue Skies Bring Tears" finds Corgan trying out his best Morrissey/Robert Smith impression to ill-result. "Stand Inside Your Love" and "Try Try Try" still bang though.
1. Zeitgeist (2007)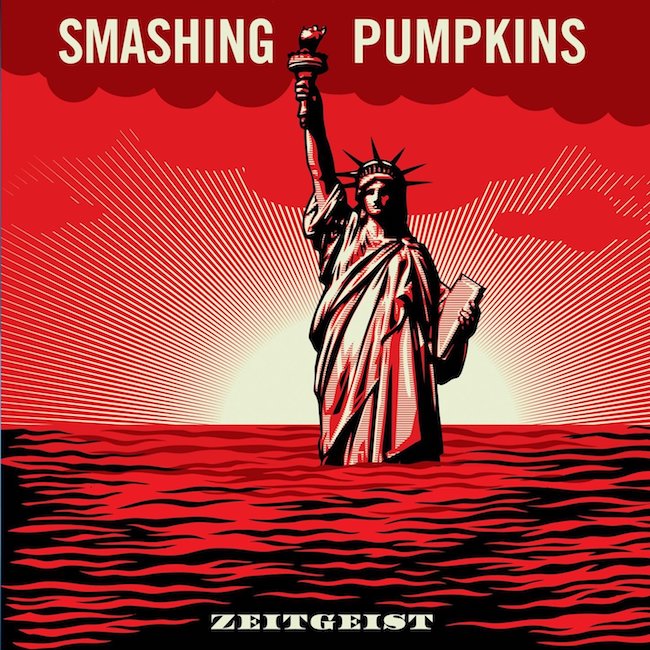 Billy Corgan couldn't just keep well enough alone could he? After producing one pretty good album with his post-Pumpkins project Zwan in 2003, Mary Star Of The Sea, the singer shacked up with drummer Jimmy Chamberlain in a house in Scottsdale, Arizona and plotted a new project under the nom de guerre of his old band. Even the irascible Corgan eventually came to regret the album, telling Alternative Nation years later that, "I kick myself that I didn't do a better job of translating what I wanted to translate." That's a generous way of saying, I made a bunch of ham-fisted metal tracks that people didn't like. Take the centerpiece of the album. It takes serious effort to create a song as embarrassing as "United States," a monumental, 10-minute long Tool soundalike about "Revolution!" or something that commits the worst mistake a song can make by not just being bad, but also being exceedingly bland as well. Zeitgeist was apparently Corgan's rejection of the fear and anxiety instilled by the cable news industry near the end of the George W. Bush administration. It would seem that he creates much, much better music when he leans into and feeds off of those twin emotions than he does when simply reacting against them.