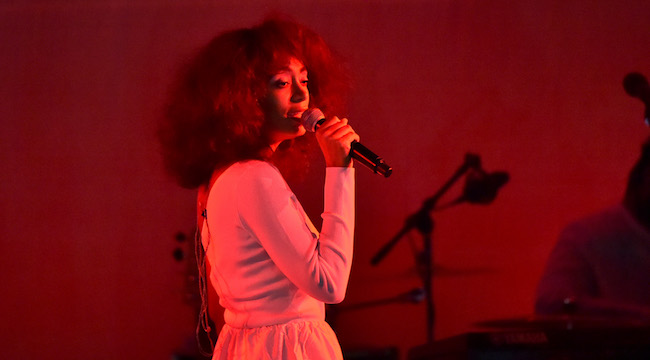 After winning a Grammy for "Cranes In The Sky," Solange has added another award to her shelf this year—but it's not just about her music. The Webby Awards named Solange "Artist Of The Year" yesterday, "in celebration of her remarkable use of the internet as a force for promoting community and diversity."
Further explaining the reason for her victory, the Webbys continued:
"Not only is Solange one of the greatest artists of our time, but she's also a true artist of the online generation. Solange has demonstrated her digital prowess in myriad ways, most notably with the her collaborative platform and online store for artists. Saint Heron is an unparalleled celebration of cultural diversity and the evolution of music; and it's through this platform that Solange has provided a completely new and unique space for collaboration between artists, as well as a large audience for creative expressions by artists of color. Of course, Saint Heron is a natural extension for Solange, who regularly uses her Twitter account of nearly 3 million followers to celebrate diversity, and to promote racial and social justice. For her unique understanding of the power of the collaborative nature of the internet, it's our privilege to honor Solange as the 2017 Artist of the Year."
Solange took to Twitter to express her gratitude for the award.
Kendrick Lamar also won a Webby for his "Swimming Pools (Drank)" remix, while Lady Gaga took two for her Lady Gaga + Intel Performance and Coldplay won another for their "Up&Up" music video. On streaming side of things, Spotify took away two Webbys.
The Webby Awards ceremony take place on Monday, May 15. Fans will be able to stream it on Tuesday, May 16 on the official Webby Awards YouTube channel.