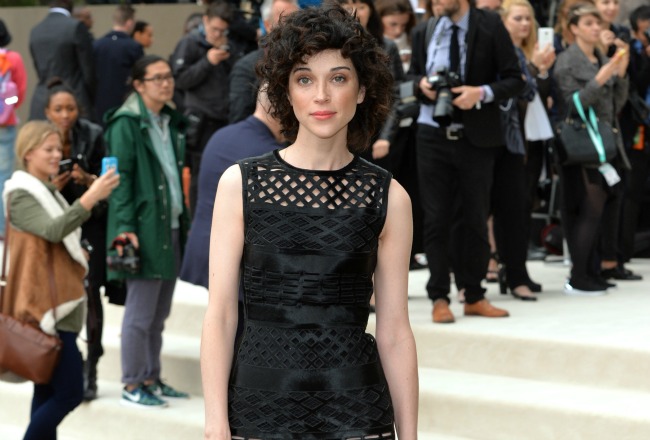 Leave it to someone like St. Vincent — who packs her songs with layers on layers of meaning and instrumentation — to get the most out of a single interview. The musician born Annie Clark has already made waves via her tongue-in-cheek cover shoot from her upcoming Guitar World feature. And now the news that she's working on a new album that she thinks will be the "boldest work [she's] ever done" is pushing her right back into the headlines before the magazine even hits shelves.
St. Vincent told the guitar mag that she's been able to take a break from the album-tour cycle since she released St. Vincent in 2014. And that, along with the current political moment, allowed her to come up with what she views as her biggest work yet.
"I've been able to step back and reflect and not just be in the tour, record, tour, record cycle that I've been in for about 10 years," she said. "I think it'll be the deepest, boldest work I've ever done. I feel the playing field is really open for creative people to do whatever you want, and that risk will be rewarded—especially now that we have such high stakes from a political and geo-political standpoint. The personal is political and therefore the political can't help but influence the art. And only music that has something pretty real to say is gonna cut the mustard."
Her last album featured the huge honking of "Digital Witness" and she already has songs like "Marrow" in the catalog, anything bolder will be a something to behold. But I'm personally hoping for an album full of tracks like "Krokodil." Annie Clark, punk rock god might be on the way. Get excited.