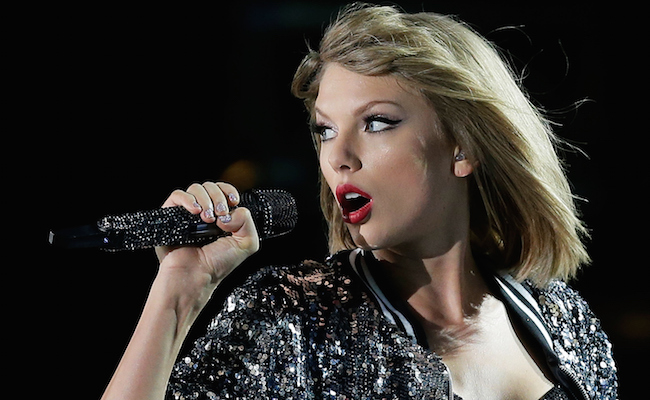 One of the dominate story lines of 2015 were the exploits and adventures of Ms. Taylor Swift as she criss-crossed America on her 1989 tour. It seemed like each stop on the tour featured a handful of special guests, ranging from members of Swift's #squad to television stars to fellow musicians. There were even a couple wildcards thrown in for good measure. Let's put it this way, if you were even the least bit famous and were in attendance at one of her shows, there was a good chance you'd be asked to come on up and strut your stuff (sometimes literally, as the stage featured a runway).
Swift recently released a concert video from the tour exclusively on Apple Music. At the same time, the good people of Slate put together a highlight reel of all the guests who joined Swift onstage. But let's see how closely you paid attention to the 1989 tour throughout the summer and into the fall.
Uproxx's How Well Do You Remember Taylor Swift's 1989 Tour Quiz
(answers below)

1. At which show did the U.S. Women's National Team join Swift onstage?
A.) Chicago
B.) East Rutherford, New Jersey
C.) Detroit
D.) Los Angeles
2. Which actress from Orange Is the New Black came onstage at two shows: Los Angeles, East Rutherford?
A.) Taryn Manning
B.) Laura Prepon
C.) Laverne Cox
D.) Uzo Aduba
3. How many actors from Friends did Swift invite onstage?
A.) 2
B.) 3
C.) 1
D.) None
4. Who presented Swift with a banner that congratulated her on being the artist with the most sold-out concerts at the Staples Center in Los Angeles?
A.) Magic Johnson
B.) Kobe Bryant
C.) Bill Simmons
D.) Justin Timberlake
5. Which cast member from True Grit joined Swift at the show in East Rutherford?
A.) Matt Damon
B.) Josh Brolin
C.) Hailee Steinfeld
D.) Jeff Bridges
6. Name the two legendary rock singers who performed with Swift in Nashville?
A.) Steven Tyler
B.) Mick Jagger
C.) Roger Daltrey
D.) Tom Petty
7. How many shows did #squad member Gigi Hadad appear at?
A.) every damn one
B.) 6
C.) 3
D.) 10
8. Who presented Swift with a custom Miami Heat jersey when she played Miami?
A.) Chris Bosh
B.) Alonzo Mourning
C.) Dwayne Wade
D.) Pitbull
9. Which cast member from Law & Order: Special Victims Unit appeared at both of Swift's Philadelphia shows?
A.) Ice-T
B.) Mariska Hargitay
C.) Christopher Meloni
D.) None of the Above
10. Which two shows did #squad member Cara Delevingne appear at?
A.) Philadelphia, London
B.) Miami, London
C.) East Rutherford, Chicago
D.) Washington D.C., Los Angeles
11. What NFL player appeared in both Super Bowl 49 and a 1989 tour stop?
A.) Malcom Butler
B.) Marshawn Lynch
C.) Tom Brady
D.) Russell Wilson
12. Name two rappers who joined Swift onstage?
A.) Nelly
B.) Eminem
C.) Fetty Wap
D.) Vince Staples
13. Who was the one former Saturday Night Live cast member to be invited onstage?
A.) Chris Rock
B.) Kristen Wiig
C.) David Spade
A.) Will Ferrell
14. Which member of the Kardashian family walked the runaway at a 1989 show?
A.) Kris Jenner
B.) Kim Kardashian West
C.) Kendall Jenner
D.) Kylie Jenner
15.) Who sat in on guitar at one of Swift's Los Angeles shows?
A.) Richie Sambora
B.) Ed Sheeran
C.) Ryan Adams
D.) St. Vincent

So, how did you do?
Answers: 1) A, 2) D, 3) A, 4) B, 5) C, 6) A,B, 7) C, 8) C, 9) B, 10) A, 11) D, 12) A,C, 13) A, 14) C, 15) D