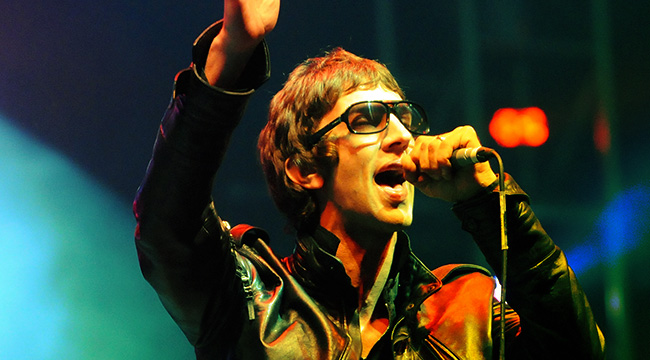 Richard Ashcroft, the lead singer of tumultuous '90s rock savants, The Verve, recently released his new solo album These People. It's his first effort since 2010's United Nations Of Sound and his fifth solo album overall.
Many may not be familiar with Ashcroft's solo work and consider The Verve to be a one hit wonder citing the ubiquitous "Bitter Sweet Symphony" from 1997.  They might be surprised to learn that Urban Hymns, the album from which "Bitter Sweet Symphony" was taken, sold over 10 million records worldwide.  It also spawned two other U.K. top 10 singles, "The Drugs Don't Work" and "Lucky Man" although neither cracked the U.S. Billboard Top 100.
In addition to Urban Hymns, The Verve have three studio albums. A Storm in Heaven (1993), A Northern Soul (1995) and Forth which was released in 2008 after the band took a nine year hiatus. Unfortunately, and despite the superlatives that fans and critics throw around about each, these albums and the tracks contained therein don't get enough credit because they lack a song like "Bitter Sweet Symphony" to get people's attention, though. And that's a wrong we'd like to help right by offering our take on the 10 best tracks from The Verve (off their four studio albums) that you probably didn't hear on the radio. Songs that may make you a convert.

10.  "Valium Skies" (Track 8, Forth, 2008)
This song, which was never released as a single, lives up to its title. It expertly, slowly and sluggishly lulls you and brings you in until it builds to a rapturous finale. According to Ashcroft, the term Valium Skies is a metaphor for depression. It's also about the highs and lows Kate Radley has to deal with being married to the volatile singer:
She got all I need
The air I breathe
When it comes to my valium skies
She don't mind if I cry
9. "Space and Time" (Track 7, Urban Hymns, 1997)
A song that truly showcases Ashcroft's range as a singer as he goes from thoughtful to beautifully booming "I just can't make it alone." "Space and Time" is a shining example as to why The Verve were easily the best balladeers of all the bands that were deemed "Britpop."