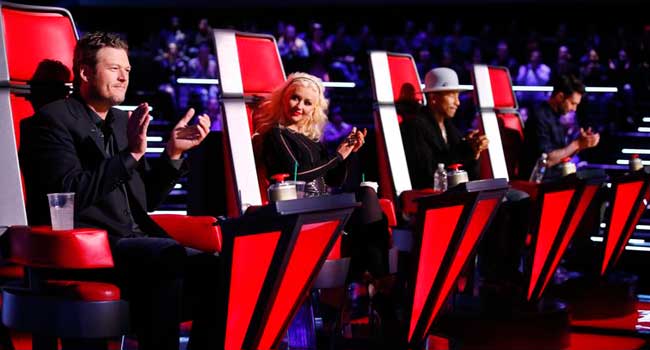 When The Voice premiered in 2011, it had all the makings of an American Idol antidote. At the very least, it promised to take a more refreshing and unique approach to the somewhat tired idea of "music competition" TV shows. "Forget the bright lights and glitzy glamour! We don't care for quirky costumes and looks! We're only after one thing!" the show seemed to proudly declare.
The program's original judges — a star-studded panel of Cee Lo Green, Maroon 5's Adam Levine, Christina Aguilera, and Blake Shelton — sat cozied up in big red chairs with their backs to the main stage, a posturing that by all accounts indicated that contestants would be assessed purely by the sound of their voices. Finally, a singing contest whose singular focus would be the ability to sing, many optimistic viewers (myself included) thought.
Ambitious, yes. Admirable, sure, especially given the fact that other like-minded programming too often felt littered with gimmicks (MTV's Making the Band, anyone?) or drawn-out tryout periods that, in themselves, played out like mini TV dramas (do people really want to see weeks of auditions, American Idol? I know I don't.). Still, a troubling pattern began to emerge.
As the series progressed, the emphasis on the so-called "voice" stars of the show seemed to become more of an afterthought to the celebrities who rested in those red swiveling thrones. It might be a reach to call them "kings," but in a way that's the narrative The Voice was peddling. Instead of molding rookie musicians into distinct, individual artists, the show made it so that groups of contestants were lumped together and labeled "Team Christina" or "Team Adam," depending on which pop star decided to take them under his/her wing.
Oftentimes, the judges took attention away from the contenders themselves. By the end of each show, it's not uncommon for one to better remember what pseudo self-loathing comments Levine had said in an effort to seem cute, or what insane outfit Cee Lo wore ,than any of the actual songs that were performed and, ya know, needed to be voted on.
If the judges themselves weren't stealing enough of the spotlight, not to worry; NBC flexed its financial muscle left and right, booking high-profile artists to not only come in and help the judges mentor their respective "teams," but also oh hey! look at that! perform their latest single. Taylor Swift, Coldplay's Chris Martin, Fleetwood Mac's Stevie Nicks, No Doubt's Gwen Stefani, One Republic's Ryan Tedder, Fall Out Boy's Patrick Stump, and Meghan Trainor are just some of the many that passed through the program's revolving doors conveniently around the time each was about to put out a new album or song.
The show's ties to the professional music industry are not unknown; after all, each season's winner is awarded with a record deal with some Universal label affiliate. Even so, it didn't take very long before The Voice started to feel like The Judges And All Their Famous Friends. The Voice stopped caring about its voices.
This might not matter much to the viewers who tune in to see one-season judge Shakira slink across the stage and prove that her hips still don't lie, or to witness Shelton flash his charming grin and sing high praises for wife Miranda Lambert (who, naturally, also made cameos on the show). However, the idea that the contestants eventually came second to the judges sure as hell hurt the process — the essence — of a music-based competition.
The Voice's audience loyalties aligned with those judges they loved. For people like me, who genuinely want to see the right talents be recognized, the show usually feels like a big joke, or a ploy to get eyeballs glued to NBC and whatever hotshot artist they're promoting.
Unsurprisingly, this sort of "competition" does next to nothing for its contestants. Yes, even the so-called victors lose in the end. How many Voice winners can you name? Could you pick out any by their pictures? Their original songs? Of course, there are a few that prevailed and made some headway in the music world, but for the most part many leave the show, only to become a distant memory just a few months later.
For comparison, within the first eight years of American Idol's run, it had produced major stars in Kelly Clarkson, Carrie Underwood, and Jordin Sparks. Even a handful of losers went on to find great success (Clay Aiken, Jennifer Hudson, Chris Daughtry, Adam Lambert). Despite repeatedly pulling in millions of viewers each week and blasting its prime time competition out of the water, The Voice's winners sadly fade away, remembered only in passing, or when they're attached to the flashy names of Maroon 5 and No Doubt. The show's impressive ratings don't translate after the fact because … well, the show isn't about its contestants.
So, where are those winners now? And what does the future hold for the newly crowned Season 8 victor Sawyer Fredericks? Judging by The Voice's forgotten ghosts, it's tough to be optimistic. Let's take a look at where they are now.
Javier Colon (Season 1: "Team Adam")
After walking away with the inaugural Voice crown, the "acoustic-soul" singer released Come Through You in 2011. Despite some special guests and a handful of singles, the record reportedly sold a meager 46,000 copies. Shortly after its release, Colon announced he'd parted ways with Universal, claiming that the disappointing sales could partially be attributed to the label's overall lack of support. He's currently found a new home with Concord Music Group and is working on his next album.
Jermaine Paul (Season 2: "Team Blake")
Prior to his Voice stint, the R&B singer already had some success of his own working as a backup singer for Alicia Keys and Mary J. Blige; in fact, his and Keys' cover of "If This World Were Mine" was nominated for a Grammy. After besting all other Season 2 contestants, however, his career's been stuck in a rut. His single "I Believe In This Life" wasn't popular, and his joint track with former mentor Shelton didn't even crack the Billboard 100. Paul's yet to put out a proper album, though, one aptly called Finally is supposedly on the way. There were rumors that the show's executives were not happy about Paul's win because he was vocally and stylistically too similar to Colon.
Cassadee Pope (Season 3: "Team Blake")
Long before she first appeared on the Voice, Pope had already built a following fronting Hey Monday, a pop-punk band that's shared the stage with the likes of Fall Out Boy, Cobra Starship, and Yellowcard. She continued to gain more fans on NBC, with many enjoying her spunky take on pop-punk-meets-country. Since taking home the prize, she put out an album called Frame By Frame, which debuted at No. 9 on the charts, and its lead single "Wasting All These Tears" has gone platinum, selling over one million copies. She's toured alongside Darius Rucker, Tim McGraw, and Dierks Bentley, and starred in her own CMT documentary series.
Danielle Bradbery (Season 4: "Team Blake")
At 16, Bradbery became the youngest contestant to ever win The Voice. Shortly after the Season 4 finale, the country music newcomer released a handful of cover songs that proved to be a hit with her fans. Her self-titled debut album peaked at No. 19; one of its singles, "The Heart of Dixie," eventually went on to sell nearly 380,000 units. She's since performed as part of the Grand Ole Opry in Nashville, toured with Brad Paisley and Hunter Hayes, and had one of her songs, "Her Day," featured as part of NBC's Sochi 2014 Winter Olympics coverage. Her more recent singles, however, have not been as well-received.
Tessanne Chin (Season 5: "Team Adam")
Much like Paul, Chin had carved out her own niche in the music world prior to hitting the NBC stage. Hailing from Jamaica, she got her start in the pop/reggae scene, and has teamed up with reggae icon Jimmy Cliff and Shaggy (remember him?). But while she had a strong run on the show, her success did not follow her post-Voice. She's performed with Patti LaBelle and Aretha Franklin as part of the prestigious "In Performance at the White House" series, but sales for her 2014 major label debut, Count on My Love, were low and none of her singles charted. In fact, records show that her first-week album numbers were the lowest of any past winner. As Colon did, fans blamed label Universal Republic for not promoting it enough.
Josh Kaufman (Season 6: "Team Usher")
Kaufman shined throughout much of his stint on The Voice. Still, his victory turned heads in that he was the show's first white male to go all the way, as well as the oldest participant to do so. Although many of his predecessors went on to release albums with their newfound Universal labels, the singer-songwriter set out on a different route: he took his talents to Broadway and starred in the Tony-winning revival of Pippin. Given that most of the Voice alumni haven't been all that lucky in the studio, Kaufman might just have the right idea.
Craig Wayne Boyd (Season 7: "Team Blake")
The Texas-born Boyd was crowned just a few months ago, so it's still a tad too early to tell whether he'll become a Top 40 star or yet another lukewarm Voice export. That being said, prior to his NBC airtime, the country singer spent many years writing songs while under a publishing contract at EMI and has two solo albums to his name, 2008's self-titled release and 2013's I Ain't No Quitter. Perhaps that experience will carry over onto his major label debut that's due out later this year?