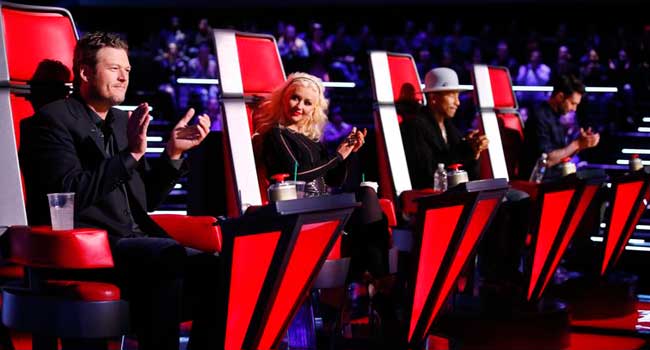 When The Voice premiered in 2011, it had all the makings of an American Idol antidote. At the very least, it promised to take a more refreshing and unique approach to the somewhat tired idea of "music competition" TV shows. "Forget the bright lights and glitzy glamour! We don't care for quirky costumes and looks! We're only after one thing!" the show seemed to proudly declare.
The program's original judges — a star-studded panel of Cee Lo Green, Maroon 5's Adam Levine, Christina Aguilera, and Blake Shelton — sat cozied up in big red chairs with their backs to the main stage, a posturing that by all accounts indicated that contestants would be assessed purely by the sound of their voices. Finally, a singing contest whose singular focus would be the ability to sing, many optimistic viewers (myself included) thought.
Ambitious, yes. Admirable, sure, especially given the fact that other like-minded programming too often felt littered with gimmicks (MTV's Making the Band, anyone?) or drawn-out tryout periods that, in themselves, played out like mini TV dramas (do people really want to see weeks of auditions, American Idol? I know I don't.). Still, a troubling pattern began to emerge.
As the series progressed, the emphasis on the so-called "voice" stars of the show seemed to become more of an afterthought to the celebrities who rested in those red swiveling thrones. It might be a reach to call them "kings," but in a way that's the narrative The Voice was peddling. Instead of molding rookie musicians into distinct, individual artists, the show made it so that groups of contestants were lumped together and labeled "Team Christina" or "Team Adam," depending on which pop star decided to take them under his/her wing.
Oftentimes, the judges took attention away from the contenders themselves. By the end of each show, it's not uncommon for one to better remember what pseudo self-loathing comments Levine had said in an effort to seem cute, or what insane outfit Cee Lo wore ,than any of the actual songs that were performed and, ya know, needed to be voted on.
If the judges themselves weren't stealing enough of the spotlight, not to worry; NBC flexed its financial muscle left and right, booking high-profile artists to not only come in and help the judges mentor their respective "teams," but also oh hey! look at that! perform their latest single. Taylor Swift, Coldplay's Chris Martin, Fleetwood Mac's Stevie Nicks, No Doubt's Gwen Stefani, One Republic's Ryan Tedder, Fall Out Boy's Patrick Stump, and Meghan Trainor are just some of the many that passed through the program's revolving doors conveniently around the time each was about to put out a new album or song.
The show's ties to the professional music industry are not unknown; after all, each season's winner is awarded with a record deal with some Universal label affiliate. Even so, it didn't take very long before The Voice started to feel like The Judges And All Their Famous Friends. The Voice stopped caring about its voices.