Welcome back to Uncharted, an Uproxx original series highlighting the best artists you haven't heard of, yet. With the support of our friends at Honda, we are following some of the best emerging talent as they follow their dreams and make great music.
On the list of things that might preclude a person from being a rapper, having a language learning disability has to be pretty high on the list.
After all, words are rappers' stock in trade. It's the lone genre where what you say is so undeniably in the spotlight, without the aid of bandmates playing, pulsing instrumentals, or a wonderful singing voice to mask sub-par lyrical construction. But for 17-year-old Ben Goldberg, it was just the first in a series of obstacles to overcome.
On top of being at a disadvantage due to disability, Goldberg had to deal with severe anxiety and, as a white Jewish kid from outside of Boston, falling well outside the typical demo of rappers. His stage name, Token, was born from this.
"The first times I was writing, I wrote about feeling different, feeling like I was in my own section," he said. "Token can mean the only one. A token white person is the only white person. A token Jew is the only Jew."
Goldberg started out writing poetry to deal with his issues, but soon turned to hip-hop.
"What helped me deal with [my anxiety] was writing. When I was young, I didn't want to talk about it because I worried people wouldn't take me seriously," he said. "It didn't start as rap but a diary that was more poetry than diary."
Having been introduced to hip-hop at a "wicked young" age by his sister, it didn't take long for those diaries to become something else. By 10 years old, Goldberg was setting his writing to beats and recording the results. Far from a hobby or some minor dalliance, Ben became obsessed with making music. And it's no wonder — Ben sees writing raps as a compulsion, something he has to do.
"A switch goes off and I need to get something out," he said, adding that being able to turn the feelings into songs people can enjoy is particularly sweet. "The idea of people liking my stuff is like a 'haha' to all the people who didn't take me seriously or thought I was just some troublemaker."
By middle school, Ben was producing his own mixtapes and falling in with local producers. After years of grinding and writing raps, eventually some big names started to notice this young kid who was rapping his ass off.
His first video under the name Token caught the attention of T-Pain and from there it was all up. After T-Pain shared a video of Token rapping, the views on all his videos began to skyrocket.
"I was building a lot. I had a fanbase, but at that point it just took it to the next level. I hit a million views in a month… if not less," he said.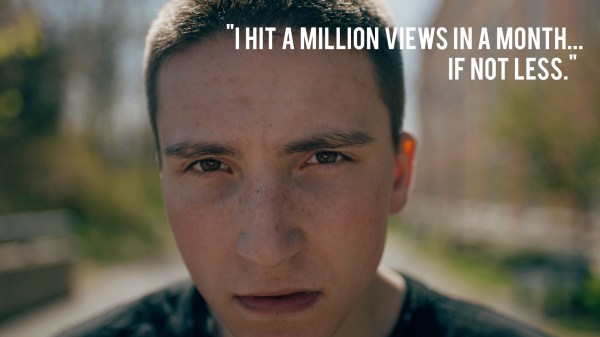 Several celebrities took an interest in Token, including fellow Massachusetts rapper and current A-list actor Mark Wahlberg.
"One day I'm in school and my phone rings. I let it go to voicemail and forgot about it. A week later, I check it and it's Mark Wahlberg," he said. "I'm like 'I ruined that' because it's a week later. He's probably like 'Who's this Token kid who thinks he's too busy for me?'"
However, when Token did reach out he found that Wahlberg was more than happy to help with Token's career in any way he could. The connections Token was making at this time were absolutely vital to his budding career and they eventually led to Mecca for aspiring lyricists, a cypher on Sway In The Morning.
Token came with his best and it more than showed, bringing one of the show's hosts to tears.
"Being next to Sway it was so surreal, I felt like I wasn't even there. And then the beat came on and I blacked out even more," he said. "When the co-host said that she cried during my verse, it doesn't hit me. That was a complete dream come true."
The video of Token's cypher exploded, gaining many millions of views and generating so much buzz that Token was able to hold a successful European tour. In the wake of all this, after seven years of recording and touring, Token is ready to release his first album.
Given the upward trajectory of his last couple of years, Token expects nothing less than the best for his first release.
"I think in my mind, failure is something I really fear," he said. "That's why I work so hard and put so much time in… because I can't let that happen."