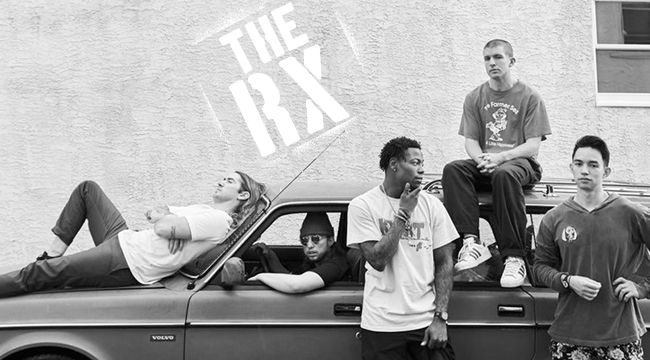 The RX is Uproxx Music's stamp of approval for the best albums, songs, and music stories throughout the year. Inclusion in this category is the highest distinction we can bestow, and signals the most important music being released throughout the year. The RX is the music you need, right now.
Every generation has its own version of what I like to call "stoned in the backseat" music. These are the songs that you hear in high school whenever you're buzzed and driving around aimlessly in your friend's car. You might not know exactly who performs these songs — they belong on CDs you don't own and playlists you didn't program. But your soul unthinkingly absorbs them anyway, and over time this music inspires Pavlovian associations with the guileless good times of youth.
My version of "stoned in the backseat" music was performed by aggressive yet thoughtful dudes with an aversion to shirts and an equally strong penchant for blending punk, metal, psychedelia, and funk-oriented grooves. Pantera, Sepultura, Operation Ivy, early Rancid, Badmotorfinger, Master Of Puppets
— even now I can't hear this intensely physical music without instantly feeling the buzz of cheap schwag and overheated subwoofers being pushed to the brink by detuned guitars and hyper-syncopated drums.
I knew I was in love with Time & Space, the joyously fun new album by Baltimore's preeminent experimental hardcore band Turnstile, when I felt that same buzz the moment the pile-driving opener "Real Thing" kicked in. Powered by a filthy bassline, groove-metal guitar heroics that simultaneously reference Bad Brains and Dimebag Darrell, relentless drum rolls, and a screaming singer who denounces inauthenticity while in search of that night's six-pack, "Real Thing" delivers the goods as both a scrappy juvenile-delinquent anthem and a Trojan horse for a surprisingly complex set of music ideas. And it does all of those things in just 117 seconds.
Clocking in overall at just 26 minutes, Time & Space is the first rock record I've heard in far too long that functions as a party-starter and party-ender. Most tracks come and go in the space of two minutes, and yet there's usually time for some punk-rock caterwauls, a weird psych-metal interlude, an epic thrash climax, and a spacey robo-R&B coda that resembles an outtake from Prince's mid-'80s Around the World In A Day era. (Cameos by Diplo and Sheer Mag's Tina Halladay testify to the album's broadness.) The result is a modern masterpiece of "stoned in the backseat" music, made for blasting while exiting your parents driveway, dancing, making out, fighting, hugging it out, and then screaming along with on the drive back home.
A misconception about aggressive music is that it has to be divisive or alienating. But Time & Space exudes warmth and inclusiveness. Above all, it sounds like friendship — the most crucial aspect of "stoned in the backseat" music.
It makes sense that friendship was the main topic of conversation when I phoned Turnstile's 28-year-old frontman Brendan Yates last month. In photos, Yates fits the mold of "absurdly muscular and perpetually shirtless singer" that was a mainstay of so many of the bands who pounded their way into my heart back when I was a teenager. But in conversation, he's quiet, polite, and deferential, softly mumbling his answers to my questions on the other end of the line.
In hardcore circles, Yates was already a known commodity when Turnstile formed in 2010, from his time as a drummer in the popular underground band Trapped Under Ice. For his new group, Yates huddled in with some life-long friends. At 11, he met guitarist Brady Ebert, then a 7-year-old six-string whiz from the neighborhood who could already rip solos from behind his back. The two kids began jamming together almost immediately. Later on in his teens, Yates met drummer Daniel Fang and bassist Franz Lyons, eventually recruiting the latter to help out on tour with Trapped Under Ice. When it was time to start Turnstile, Yates encouraged Lyons, a novice on bass, to learn the instrument so they could continue hanging out together. (A second guitarist. Pat McCrory, joined in 2016, the year after Turnstile released its debut album, Nonstop Feeling.)
Hardcore orthodoxy is notoriously limiting for bands inclined to be musically adventurous, but Turnstile has never been averse to upsetting purists. While Time & Space tracks like "Big Smile," "High Pressure," and "Can't Get Away" bring the fury at breakneck space, Turnstile is far too melodic and big-eared to ever fit comfortably in the hardcore niche. The band's ability to turn on a dime from punk rages to metal-tinged stomps with funky finesse would almost seem proggy if any of the songs ever dared to sprawl.
While Yates has acknowledged the influence of '90s alt-rock radio on Turnstile, he is quicker to rave about the more soulful sounds of Sade, Prince, Earth, Wind & Fire, and "the crazy electro-R&B stuff that Franz plays in the van." Turnstile's strongest attribute is its ability to play the kind of hard grooves that can make unruly mosh pits move in unison — which has garnered numerous comparisons to Rage Against The Machine, though Turnstile never indulges in heavy-handed polemics.
Helping Turnstile to push further beyond the downtrodden sonic cliches of hardcore on Time & Space is Will Yip, a producer from Philadelphia best known for making beautiful, dreamy-sounding emo records by bands like Title Fight, The Menzingers, and Turnover. Working with Yip was a luxury afforded by Turnstile's recent deal with Roadrunner Records — an all-time provider of "stoned the backseat" music if ever there was one — which allowed the band to spend more far more time in the studio on its second record than it ever had before.
"Every time I've ever recorded a record, it's 'time is money,' so we have to be in and out," he said. "The coolest thing about (being on Roadrunner) is being able to have more time."
In the end, however, it all comes back to the bros in the band. The obvious enjoyment the guys in Turnstile get out of playing together is what makes Time & Space such a consistent pleasure.
"If we weren't friends, we'd never be a band," Yates insisted. "I've toured with bands that didn't talk to each other, where it's like a job. I don't think that's ever something Turnstile would ever do. What makes us want to do it is, it's a platform for us to create and do something that makes us feel good, and also it's an excuse for us to travel with each other. I can write a bunch of songs, but they don't come to life until we play them together."