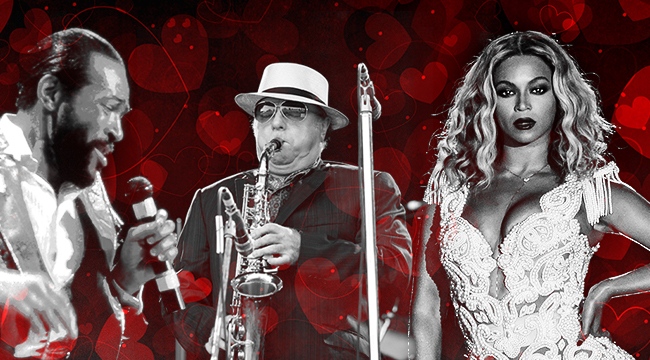 It's February 14th, which can only mean one thing. Love is in the air people! It's Valentine's Day. All across the country, couples are planning to spend some quality time together basking in each other's company and reaffirming their mutual devotion. Whether that means you're in the car on a nice long drive to the beach, countryside, special getaway spot; sharing a nice meal and a bottle of wine; or some other "extracurricular activities" you're no doubt going to want a few tunes to help set the right vibe.
Building an appropriate love-inspired playlist is no joke. I'd go ahead and venture that roughly half of every song ever written was either about being in love, falling in love, pining for love, or recovering from love. It might actually be closer to two-thirds. All that's to say that picking the right assemblage of tracks is like drinking from a firehose. If you're having trouble figuring out where to start, I got you covered.
First, you can't really go wrong with the classics. Start out with something that everyone knows. In this case, I picked out Marvin Gaye's timeless coital anthem "Let's Get It On." It's just earnest and over-the-top enough to maybe elicit a chuckle in the mid-afternoon, but also maybe bring out that special glint in your loved one's eye. But of course, you don't want to get too mired in the past right? Next up, hit them with a little Beyonce. I went with "Drunk In Love," but you could also do "Crazy In Love," perhaps. I would avoid pretty much anything on Lemonade.
After that the options are endless. I tried to go across a wide variety of different genres in a bid to be all-inclusive. For hip-hop heads I've got you locked down with some Drake — "Best I Ever Had" — and Kanye West's "Bound 2." Please don't attempt to recreate Kimye's viral music video on an active motorcycle. For rock fans, you can't go wrong with Led Zeppelin's tender ballad "Thank You," or the Beach Boys majestic "God Only Knows." We've also got Van Morrison's "Moondance" and Neil Young's "Helpless." For the standards fans, you gotta have a little bit of "Ol' Blue Eyes" Frank Sinatra. I went with "The Way You Look Tonight."
In the world of country, I went classic with Dolly Parton's "I Will Always Love You," and fresh with Jason Isbell's gut-wrenching "If We Were Vampires." For indie-rock fans, you could do well with Father John Misty's entire I Love You, Honeybear album, but I singled out the title track here. And I'm not sure I'm even legally allowed to build a love song playlist without the addition of Stevie Wonder, and nothing sets the mood better than "My Cherie Amour."
Of course, this playlist is meant to be just a starting point; a template to build your own personalized sonic love letter. Feel free to make swaps, deletions, additions at your heart's content. And hey, Happy Valentine's day. Keep it classy!