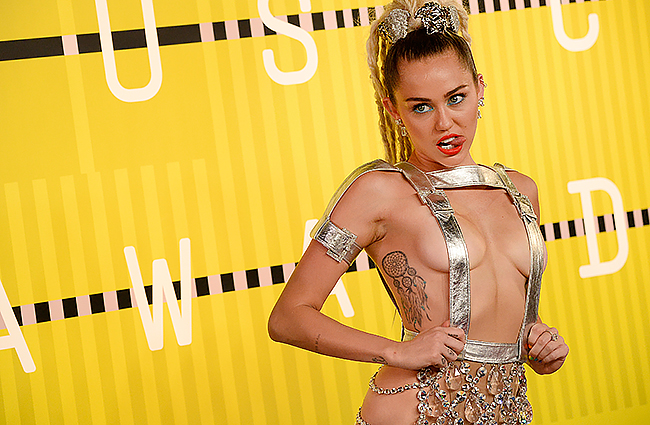 From the moment Miley Cyrus was announced as the host of this year's VMAs, we've been wondering what on earth she would do on live television and with a platform to be as weird as she wants. Well, we have to wait no longer: the 2015 MTV Video Music Awards are here.
We've already looked back at the VMAs' most 'WTF' moments, examined the spotty history of the Best New Artist award, remembered Nirvana's ugly 1992 VMAs, explored the first VMAs ever and how they saved MTV from death, and predicted who would win this year's awards (along with who we'd give the awards to). Now it's time to sit back and watch how the 2015 VMAs unfold, and see whether or not they provide a moment that can make history, as so many moments from past VMAs have. There will certainly be opportunities.
On top of an unfiltered Miley leading the event, we'll also get to see Kanye West accept a Video Vanguard Award, and who knows what he has planned for the acceptance speech. In addition, there'll be performances from Justin Bieber, The Weeknd, Nicki Minaj, and more.
In case you can't watch live (or in case you can, but still want a handy guide to follow along with), we've got your back. Below, you can find an easy guide to all the winners, performances, and moments you have to see. If you're watching along with us, feel free to share your thoughts in the comments.
Winners
(Winners in each category will be bolded as each award is announced.)
VIDEO OF THE YEAR
Beyoncé – "7/11″
Ed Sheeran – "Thinking Out Loud"
Taylor Swift ft. Kendrick Lamar – "Bad Blood"
Mark Ronson ft. Bruno Mars – "Uptown Funk"
Kendrick Lamar – "Alright"
BEST MALE VIDEO
Ed Sheeran – "Thinking Out Loud"
Mark Ronson ft. Bruno Mars – "Uptown Funk"
Kendrick Lamar – "Alright"
The Weeknd – "Earned It"
Nick Jonas – "Chains"
BEST FEMALE VIDEO
Beyoncé – "7/11″
Taylor Swift – "Blank Space"
Nicki Minaj – "Anaconda"
Sia – "Elastic Heart"
Ellie Goulding – "Love Me Like You Do"
BEST HIP HOP VIDEO
Fetty Wap – "Trap Queen"
Nicki Minaj – "Anaconda"
Kendrick Lamar – "Alright"
Wiz Khalifa ft. Charlie Puth – "See You Again"
Big Sean ft. E-40 – "I Don't F–k With You"
BEST POP VIDEO
Beyoncé – "7/11″
Ed Sheeran – "Thinking Out Loud"
Taylor Swift – "Blank Space"
Mark Ronson ft. Bruno Mars – "Uptown Funk"
Maroon 5 – "Sugar"
BEST ROCK VIDEO
Hozier – "Take Me To Church"
Fall Out Boy – "Uma Thurman"
Florence + the Machine – "Ship To Wreck"
Walk the Moon – "Shut Up and Dance"
Arctic Monkeys – "Why'd You Only Call Me When You're High?"
ARTIST TO WATCH
Fetty Wap – "Trap Queen"
Vance Joy – "Riptide"
George Ezra – "Budapest"
James Bay – "Hold Back The River"
FKA Twigs – "Pendulum"
BEST COLLABORATION
Taylor Swift ft. Kendrick Lamar – "Bad Blood"
Mark Ronson ft. Bruno Mars – "Uptown Funk"
Wiz Khalifa ft. Charlie Puth – "See You Again"
Ariana Grande & The Weeknd – "Love Me Harder"
Jessie J + Ariana Grande + Nicki Minaj – "Bang Bang"
SONG OF THE SUMMER
5 Seconds of Summer — "She's Kinda Hot"
Fetty Wap — "My Way"
Fifth Harmony — "Worth It"
Selena Gomez (featuring ASAP Rocky) — "Good for You"
David Guetta (featuring Nicki Minaj) — "Hey Mama"
Demi Lovato — "Cool for the Summer"
Major Lazer — "Lean On"
OMI — "Cheerleader"
Silento — "Watch Me (Whip/Nae Nae)"
Skrillex and Diplo (featuring Justin Bieber) — "Where Are U Now"
Taylor Swift — "Bad Blood"
The Weeknd — "Can't Feel My Face"
VIDEO WITH A SOCIAL MESSAGE
Jennifer Hudson – "I Still Love You"
Colbie Caillat – "Try"
Big Sean ft. Kanye West and John Legend – "One Man Can Change the World"
Rihanna – "American Oxygen"
Wale – "The White Shoes"
BEST ART DIRECTION
Taylor Swift ft. Kendrick Lamar – "Bad Blood" (Charles Infante)
Snoop Dogg – "So Many Pros" (François Rousselet, Jason Fijal)
Jack White – "Would You Fight For My Love" (Jack White, Jeff Peterson)
The Chemical Brothers – "Go" (Michel Gondry)
Skrillex & Diplo – "Where Are U Now" with Justin Bieber (Brewer)
BEST CHOREOGRAPHY
Beyoncé – "7/11″ (Beyoncé, Chris Grant, Additional choreography: Gabriel Valenciano)
OK Go – "I Won't Let You Down" (OK Go, air:man and Mori Harano)
Chet Faker – "Gold" (Ryan Heffington)
Ed Sheeran – "Don't" (Nappy Tabs)
Flying Lotus ft. Kendrick Lamar – "Never Catch Me" (Keone and Mari Madrid)
BEST CINEMATOGRAPHY
Flying Lotus ft. Kendrick Lamar – "Never Catch Me" (Larkin Sieple)
Ed Sheeran – "Thinking Out Loud" (Daniel Pearl)
Taylor Swift ft. Kendrick Lamar – "Bad Blood" (Christopher Probst)
FKA Twigs – "Two Weeks" (Justin Brown)
Alt-J – "Left Hand Free" (Mike Simpson)
BEST DIRECTION
Taylor Swift ft. Kendrick Lamar – "Bad Blood" (Joseph Kahn)
Mark Ronson ft. Bruno Mars – "Uptown Funk" (Bruno Mars and Cameron Duddy)
Kendrick Lamar – "Alright" (Colin Tilley & The Little Homies)
Hozier – "Take Me To Church" (Brendan Canty and Conal Thomson of Feel Good Lost)
Childish Gambino – "Sober" (Hiro Murai)
BEST EDITING
Beyoncé – "7/11″ (Beyoncé, Ed Burke, Jonathan Wing)
Ed Sheeran – "Don't" (Jacquelyn London)
Taylor Swift ft. Kendrick Lamar – "Bad Blood" (Chancler Haynes at Cosmo Street)
A$AP Rocky – "L$D" (Dexter Navy)
Skrillex & Diplo "Where Are U Now" with Justin Bieber (Brewer)
BEST VISUAL EFFECTS
Taylor Swift ft. Kendrick Lamar – "Bad Blood" (Ingenuity Studios)
FKA Twigs – "Two Weeks" (Gloria FX, Tomash Kuzmytskyi, and Max Chyzhevskyy)
Childish Gambino – "Telegraph Ave." (Gloria FX)
Skrillex & Diplo "Where Are U Now" with Justin Bieber (Brewer, Gloria FX, and Max Chyzhevskyy)
Tyler, The Creator – "F****** Young/Death Camp" (Gloria FX)
Performances
Highlights