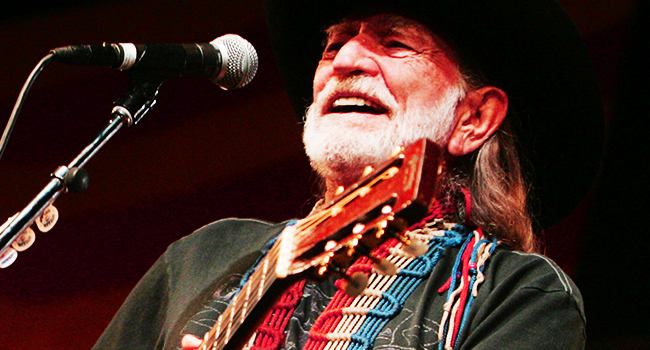 Today, Willie Nelson releases his 67th studio album, Last Man Standing. Which is incredible, though it's literally only half the story. Factoring in collaborative albums, live records, compilations, and various other releases, Nelson has actually put out around 150 albums since 1962's …And Then I Wrote. That averages out to about three albums per year for 56 years. He's been as prolific as Robert Pollard for about as long as Robert Pollard has been alive.
On Sunday, Nelson turns 85. A few weeks after that, assuming he isn't troubled by the same illnesses and breathing problems that forced him to cancel dates earlier this year, he'll be back on the road, playing amphitheaters in the south and midwest. Nelson is currently scheduled to perform dozens of concerts through the end of November. If his health holds, there will surely be dozens more shows in 2019, along with at least one new album, possibly more.
These are the ways that we measure Willie Nelson's incredible, indomitable longevity. Numbers try to tell the tale that superlatives and adjectives no longer can — biographer Joe Nick Patoski referred to Willie's existence as an An Epic Life in 2008, and Willie himself said It's A Long Story in 2015, when he published the fourth book about his own life. But the story just keeps getting longer and more epic.
Willie Nelson has been around for so long that he's outlived any attempt to put a cap on his career. The Grammys gave Willie a Lifetime Achievement Award back in 1999, the same year that the current crop of college freshmen was born. The Country Music Association actually named its lifetime achievement award after Willie Nelson in 2012, and a few years later gave it to Willie's old friend and fellow Highwayman Johnny Cash, more than a decade after The Man In Black died. But Willie keeps moving forward, impervious to those who try to freeze him amber.
So, it's back to numbers: 25 No. 1 country hits. Eleven No. 1 country albums, including two this decade. He has starred in about three-dozen films and many more television shows, working with directors such as Michael Mann, Barry Levinson, Sydney Pollack, and whoever made Beerfest and The Country Bears.
The point is, Willie Nelson is immense. The cliché about his legacy is that Willie Nelson is the only thing left in American life that feels universal. But just because we've run out of original ways to contextualize Willie Nelson's hallowed place in contemporary culture don't make the cliches any less true. He really is the sole link between so many disparate worlds — Toby Keith and Snoop Dogg, Bob Dylan and Julio Iglesias, Kacey Musgraves and Kermit The Frog, Patsy Cline and Pearl Jam, Django Reinhardt and the Pet Shop Boys. Once Willie goes, so goes the common thread.
But if you really want to get to the bottom of how Willie Nelson got here — and why here is never there for this guy for very long — I think it comes down to something you can't quantify, which is will.
It's what pulls you from despair when your mother high-tails it out of town when you're only six months old, leaving you and sister Bobbie to be raised by grandparents. It motivates you as a man in your 20s, already married with children, to cycle through a series of odd jobs (disc jockey, gas station attendant, door-to-door hawker of vacuums and encyclopedias) while you muddle through at night as an aspiring honky-tonk singer. It inspires you in your late 30s, now with a second wife, to leave a successful life as a songwriter in Nashville in order to reboot your recording career in the hippie wilds of Austin, Texas. It carries you through tremendous success and so many crushing setbacks: three divorces, harassment by the IRS, his son Billy's suicide, and all of the extraordinary wear and tear that comes from living like Willie Nelson for the better part of a century.
It's called will. You can't spell Willie without it.
Last Saturday was the first warm day of the year where I live. Instinctively, I cued up the soundtrack for Willie's sorta autobiographical road movie, 1980's Honeysuckle Rose. The movie's pedigree — the director of Cool Hand Luke, shot by the guy who later did Paris, Texas — is impeccable, but in every other respect, it's pretty much a mess.
Willie plays Buck Bonham, a free-spirited country singer caught in a love triangle with his devoted wife, Viv (Dyan Cannon), and his 22-year-old guitarist, Lily (Amy Irving). I would criticize Honeysuckle Rose for implausibly pairing the 47-year-old Nelson with a love interest half his age, except Nelson and Irving actually did hook up on the set in spite of Nelson's third wife, Connie. (They divorced in 1988, ending a 17-year marriage that began inauspiciously after Nelson left his second wife, Shirley, when she discovered via a hospital bill that he had fathered an out-of-wedlock child with Connie.) For all its flimsy plotting, Honeysuckle Rose is a surprisingly candid depiction of Nelson's restlessness, and how it has influenced his doggish tendencies with women. (For the record, Nelson has been settled in apparent marital bliss with wife number four, Annie, since 1991.) The film is especially frank for Nelson, who is invariably described by reporters as guarded and reticent in interviews.
The other reason to recommend the film, of course, is the music. Honeysuckle Rose came at the tail end of an incredible run of albums that began with 1971's Yesterday's Wine, a deeply weird and philosophical song-cycle about God, "imperfect man," and the never-ending pursuit of personal redemption. Nelson made Yesterday's Wine after his record label demanded that he return to Nashville to make a record. But Nelson didn't have any new songs — his house had just burned down, and he lost almost everything, save for an enormous stash of weed that he rescued from the flames. So, supposedly, he took some speed, and stayed up until he had composed an entire album about "before life and after life."
As the '70s unfolded, Nelson produced classic album after classic album, each one singularly ambitious and outside of the norm: the Dead-like country-rock of Shotgun Willie, the he-said-she-said breakup opus Phases And Stages, the cinematic Red Headed Stranger, the uplifting gospel of The Troublemaker, the purist country throwback To Lefty From Willie, the interpretive genius of Stardust.
The Honeysuckle Rose soundtrack is not in the same class as those masterworks. It's a record you put on when you want to have a Bloody Mary morning that spills over into the afternoon and early evening. Essentially a live album with memorable guest spots by Emmylou Harris and western-swing great Johnny Gimble, Honeysuckle Rose is preferable to the good but too-frenetic 1978 double-album Willie And Family Live, in which the band plays everything at velocities approaching speed-metal. (Willie's longtime harmonica player Mickey Raphael later admitted that much of the band was abusing cocaine at the time.)
I often reach for some Willie Nelson when the weather gets nice again. He makes you feel good. He soothes the soul. His music can enhance an already happy mood, or turn around a bad day. In contrast with brooding, macho contemporaries like Johnny Cash and Waylon Jennings, Willie Nelson has an inherently lighter, gentler, and more feminine sensibility. He doesn't have to prove how tough he is by wallowing with his demons. He would rather motor on past them. "Now is the most important time, at least to me," he said in 1998, the year he turned 65, the unofficial retirement age. "If I start worrying about yesterday or tomorrow, I'll get cancer and die."
I became a Willie Nelson fan when I was 26 and going through the worst six-month period of my life. The details are not important; as Dr. Willie advises, lingering on the past will make you sick. Let's just say that my heartache required a steady treatment of Willie's finest weepies: "Hello Walls," "Funny How Time Slips Away," "Blue Eyes Crying In The Rain," "Always On My Mind," and, my favorite of them all, "Angel Flying Too Close To The Ground," from Honeysuckle Rose.
I can honesty say that Willie was one of my best friends during the loneliest 180 days I ever endured. He was the kind of confidant you need during dark times — he was not only empathetic, he seemed to absorb my pain through the speakers while showing me how it was possible to one day rise above it. His voice on "Angel" is fragile and vulnerable, but also calm and unwavering, like an old tree bracing against the wind. He sounds like he could have perished after his angel healed up and left him, but he chose instead to accept her departure and die some other day. If I can only fake a little of Wille Nelson's soulful dignity, I thought, I might get through my own loss.
I witnessed Willie perform another miracle of the spirit in the summer of 2017, when I saw him headline the Outlaw Music Festival in Milwaukee. Fans lately have whispered that Nelson's concerts in the '10s aren't up to snuff, that his voice is weakened and his wondrous guitar-playing compromised by arthritis. Willie has talked occasionally about not touring so much in his twilight years; in a 2014 Rolling Stone profile, he imagines a future in which he only plays Texas. But it's four years later and he still hasn't abandoned his many fans in the rest of the country, who will always pay to see Willie Nelson just to be assured that there's still one thing about America that hasn't gone to seed.
For the first 20 or so minutes of that Milwaukee concert, I feared that Willie had lost it, that this man who had uplifted me so many times might now depress me at the sight of an icon struggling to get through an 80-minute set. But then Willie started to settle in. His voice gained strength, his fingers loosened up. His guitar solos in the second half of the set can only be described as heroic. He proved once again that in life, what matters most is not stopping.
Honeysuckle Rose also includes what could be called Willie's signature song, "On The Road Again." Contrary to what I once believed, not everyone loves "On The Road Again." The author Zoë Keller, who wrote a wonderful profile of Nelson for The Guardian in 2015, winced when Willie mentioned "On The Road Again" as one of his favorite tunes. How could Nelson liken a simple and seemingly tossed-off track like "On The Road Again" — which Keller dismisses as a "banal anthem" — with a more artful and writerly composition like "Funny How Time Slips Away"?
It's true that Nelson hasn't always been very discerning when it comes to his own music. I've often argued that nobody has put out more good albums than Nelson, a backhanded compliment that acknowledges that few artists have as many albums period as Nelson. You could also argue that nobody has as many mediocre albums, plain old bad albums, or just-okay albums.
Keller notes Nelson's laissez-faire approach to record-making, which he describes in his 2006 book The Tao Of Willie: "If I like a song, I'll record it and that's pretty much it. If I'm happy with it after a couple of takes, I leave the studio. It's a little late to worry about it afterwards." Record-making is another extension of Nelson's lifestyle — he's constantly on the road again, making music with his friends, and never dwelling on what's left in his wake.
The upside of Willie Nelson's "record first, ask questions later" approach is that he has put out essential music in every decade since the '60s. After his peerless run in the '70s, he made a great '80s pop album (1982's Always On My Mind), a few great '90s gothic folk albums (1996's Spirit and 1998's Teatro), and a great '00 Dead-style country album in the Shotgun >Williemold (2006's Songbird).
In the '10s, Willie has made an unexpected return as a songwriter, working closely with producer and co-writer Buddy Cannon on 2017's very good God's Problem Child and the even better Last Man Standing. Nelson these days writes about his own mortality with a sharp wit and a kind of folksy fatalism. In the self-explanatory "Still Not Dead" from God's Problem Child, Nelson brags, with justification, that "my pace would kill a normal man." (The punchline is "I've never been accused of bein' normal anyway.") The best songs on Last Man Standing carry on along these same lines, with Nelson delivering self-effacing zingers over music that emulates the warm, uncluttered sound of his '70s records. "Bad breath is better than breath at all," he sings in the charming "Bad Breath," the most affecting entry in the micro sub-genre of songs about halitosis.
This is far, far removed from Johnny Cash solemnly intoning Nine Inch Nails songs near the end of his life. If Willie feels sorrow over the many friends he's lost, or fear for what awaits him, his zen-like serenity betrays nothing but genial bemusement. He remains situated solidly in the moment, though he's not delusional about what lies ahead. "One thing I've leared about running the road," he utters on the rollicking title track, "is forever don't apply to life"
But for now, the road is what we have. For those of us that have leaned on Willie Nelson during our lowest moments, and continue to look to him for clues on how to live, the restorative power of perpetual motion amounts to the meaning of life. "If I stay off the road too long, it's not good for me. I get depressed," he admitted in 2015. "The truth is, when I'm not working, I'm not having that great a time."
Happy birthday, Willie. Keep leading us down that road.
Last Man Standing is out now via Sony Music Entertainment. Get it here.