Oh thank god, college football is back. This is great news for all of us who turn into utter lunatics on Saturdays from noon ET (or 11 a.m., depending on how much the Big Ten hates you on a given week) (the Big Ten always hates you) until like 2 a.m., when the Pac-12 wraps up its weekly exercise in making point totals irrelevant.
It's also great news for those of us who still love the Heisman Trophy. For whatever reason, there's something about this specific award that makes it so special — it possesses a gravity that no other MVP award boasts. There's something about watching all the previous winners of the trophy welcome some starry-eyed 20something into their exclusive club that is really cool. There's probably something to this that can be tied into how college football embraces its past more than any other American sport, but to alter the immortal words of Cardale Jones, I ain't come to analyze the history of the sport.
Instead, we're here to do a weekly look at how the Heisman Trophy race is shaping up. I am not a Heisman voter or anything like that, I am just some doofus who watches college football and is generally able to discern when someone is good at the sport, so each week, you'll get my hypothetical Heisman ballot as it stands on that given week.
Before we dive into the first Heisman Watch of the year, an important disclaimer: Nothing on earth is dumber than listing how the Heisman race is shaping out for the first, like, month and a half of the season. Last year, by the end of September, Saquon Barkley had the Heisman wrapped up. He might have even had it through midseason. Ultimately, though, Barkley didn't even get an invite to New York, and Baker Mayfield lifted the trophy.
There are plenty of examples of the curse of The September Heisman™ — peace and blessings to former Texas A&M legend Kenny Hill — so take all of this with a gigantic grain of salt up until, like, mid-October. Unless, of course, this is exactly how the Heisman race shakes out. Which won't happen. I think.
With all that said, let's dive into our first Heisman Watch of the 2018 college football season.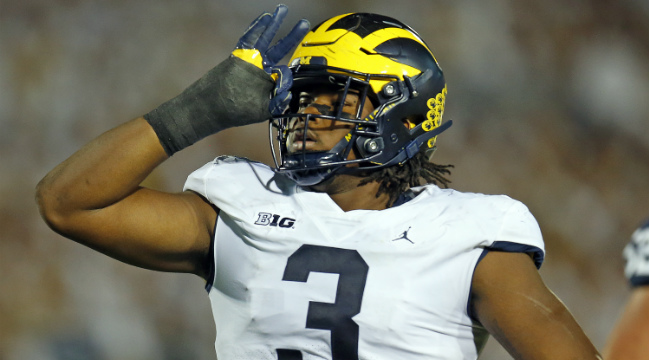 5. A defensive lineman
This is a bit open ended because there are approximately 10,000 good defensive linemen in college football this season. It's almost impossible to imagine a scenario in which a lineman wins the award, just because so many things need to go right for that to happen. However, in the event that does happen, these are the potential guys to watch:
Ed Oliver, DT, Houston: Coming into this season, Oliver might have the most hype of any defensive player in America. He's the reigning Outland Trophy winner and has been unblockable ever since he first suited up for the Cougars as a freshman in 2016. Perhaps the favorite to go No. 1 overall in the 2019 NFL Draft, Oliver is as dominant of a defensive player as the sport has seen in the last decade.
Nick Bosa, DE, Ohio State: Might be the best Bosa to ever suit up for the Buckeyes, which is quite the bar to clear considering his older brother, Joey, was an absolute star. He will eat opposing tackles with his special mix of strength and speed, and opposing offenses will have to choose between letting him get his, or trying to slow him down and freeing things up for the rest of the Buckeye defense. Also: There's no guarantee that second thing works. He's very good.
Rashan Gary, DL, Michigan: The Wolverines might have the best defense in the nation, and Gary might be the unit's best player. He can line up anywhere along Michigan's line — he's big (6'5, 287 pounds) and strong enough to battle interior linemen, but athletic enough to terrorize tackles. He might end up being the best defensive lineman in America by the end of the year. The question for a Heisman candidacy is if he'll have the eye-popping stats to earn him consideration from the masses.
Someone from Clemson: Clelin Ferrell? Christian Wilkins? Dexter Lawrence? Austin Bryant? Who knows! Any of those guys would be the best defensive linemen at basically any other school in America. Instead, they all play for the Tigers. It is an embarrassment of riches for Clemson defensive coordinator Brent Venables, and that might be what keeps all of them from reaching New York.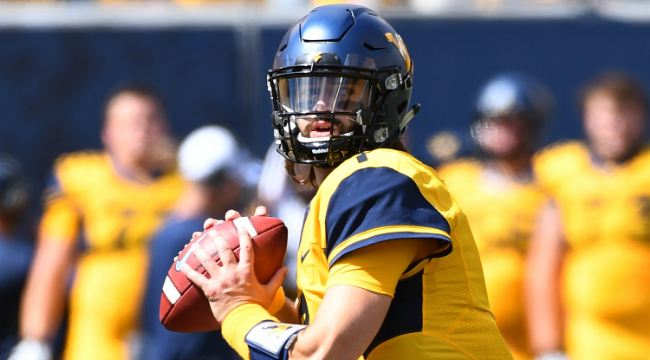 4. Will Grier, QB, West Virginia
We've seen West Virginia quarterbacks put up crazy numbers in the past, only to fall off as the team goes 8-4 or something. Remember that time Geno Smith completed nearly 90 percent of his passes en route to throwing for 656 passing yards, eight touchdowns, and no picks against Baylor? That ruled.
Grier is the best pure passer that the Mountaineers have had during Dana Holgorsen's Red Bull-fueled tenure in Morgantown. The former Florida quarterback can absolutely spin it, and he has one of the best 1-2 receiver punches in the nation in Gary Jennings and David Sills. The former caught 97 balls for 1,096 yards in 2017, while the latter hauled in 18 touchdown receptions last season.
Looking at the Mountaineer schedule, Grier has the chance to put up some crazy numbers through the first eight weeks of the year. West Virginia avoids ranked teams through October, and while trips to NC State and Iowa State are tricky, the path to Grier leading an 8-0 or 7-1 WVU squad into November isn't the craziest thought in the world.
Of course, this is still West Virginia, so if things come off the rails, they'll come off all at once. This year, that would happen in November, as the team goes to Texas, then hosts TCU, then goes to Oklahoma State, then hosts Oklahoma to close out the year. That's an absolutely brutal stretch, and it's not hard to see WVU going winless or ending November with a 1-3 mark.
Still, if the Mountaineers can limit the damage in November and Grier can continue to perform at a high level, it's not crazy to see him in New York in December. At the very least, he's going to chuck the dang football around no matter what, which is good.

3. Trace McSorley, QB, Penn State
Trace McSorley is perfect in every way and I love him dearly. Go State.
It says a lot about McSorley that he's considered a Heisman hopeful despite the Nittany Lions losing Barkley, their top receiver (DaeSean Hamilton), their matchup nightmare tight end (Mike Gesicki), and one of the best playcallers in the nation (offensive coordinator Joe Moorhead, now the head coach at Mississippi State). In his two years as the starting quarterback for Penn State, McSorley has accrued a 22-5 record, with four of those losses coming by a combined 10 points. He also has a Big Ten title and a Fiesta Bowl victory under his belt.
Despite its losses, Penn State still has gobs of talent on the offensive side of the ball. The offensive line is potentially going to be good for the first time in a while in Happy Valley, and while there are plenty of skill position losses, James Franklin has brought in plenty of 4- and 5-star talent to fill in the gaps. The Nittany Lions also bring back matchup nightmare wide out Juwan Johnson (54 receptions, 701 yards last year), while Barkley is replaced by Miles Sanders, a former 5-star recruit who toted the rock 31 times for 191 yards in 2017.
Still, everything comes back to whether McSorley will live up to his reputation of being a winner. While Penn State's schedule — especially in Big Ten play — is terrifying, Ohio State, Michigan State, Iowa, and Wisconsin all travel to Happy Valley, where McSorley has never lost. A midseason trip to Michigan looms large, while an early-season night game in Pittsburgh against the rival Panthers could be awfully tricky.
Moxie McSorley should be able to put up numbers regardless, and if Penn State is able to have a season in which it contends for a conference title and a Playoff spot, he'll likely be the main reason why. While Barkley missed out on a trip to New York last year, McSorley could end up winning the award that evaded the team's star running back one year later.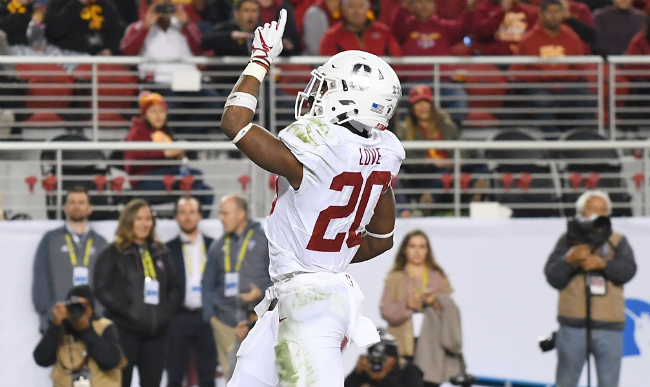 2. Bryce Love, RB, Stanford
The Heisman is a quarterback award, yes, I know. The path to running backs winning the Heisman in recent years has been a combination of a stellar season and a down year of quarterback play, and it feels like it'll take something catastrophic for that second thing to happen in 2018.
However, Bryce Love is a monster, and is the only person who finished in the top-5 of voting last year to still be in college this season. Watching him run the football is a blessing — sure, Stanford's offensive line is always going to maul opponents and open up gigantic holes, but Love's ability to make plays far beyond the line of scrimmage is what makes him so special.
Love mixes track star speed with the ability to make guys miss and the type of vision that can't be taught. If he gets a head of steam, it's over, as evidenced by the fact that he recorded 13(!!!) touchdown runs of 50+ yards in 2017. In all, Love ran the ball 263 times for 2,119 yards and 19 touchdowns. He is, in every sense of the word, a special talent.
Players on the west coast oftentimes run into the problem of not being able to generate enough hype (more on this in a second), but Love has two things working in his favor: 1. He's entering 2018 as the reigning Heisman runner-up, which gives him an edge over every other player in America and, 2. Stanford will play a number of games that very well could have College Football Playoff implications with favorable kick times.
The Cardinal enter the year ranked 13th, and so far, two of its ranked matchups have kick times — their Sept. 8 showdown with No. 15 USC kicks at 8:30 p.m., and their Sept. 29 trip to South Bend against No. 12 Notre Dame starts at 7:30 p.m. While start times for ranked trips to Oregon and Washington are still TBA, Love will have at least two primetime chances early on to run away with the award.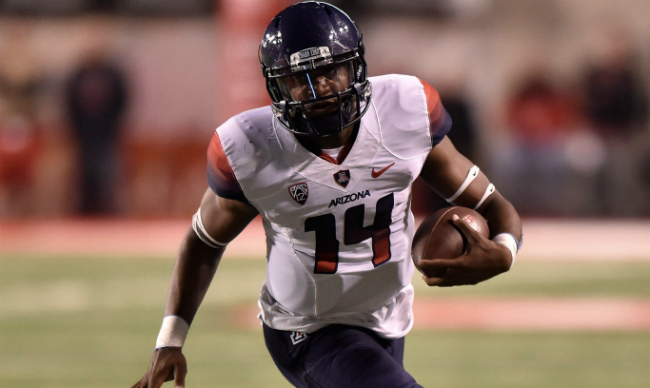 1. Khalil Tate, QB, Arizona
Your favorite football player last season, Khalil Tate is back to continue ruining defenses, especially on the ground. This year, there's a fun wrinkle added to the Khalil Tate experience: Rich Rodriguez is gone, and in his place is Kevin Sumlin, Texas A&M's former coach who is probably salivating over the opportunity to coach up a player like Tate. The last time Sumlin was a first-year coach, some freshman quarterback named Johnny Manziel won the Heisman.
Now, Sumlin is paired up with Tate, who put forth some of the most ludicrous box scores you'll ever see out of a quarterback last season. His game against Colorado is still breathtaking to look back on, and while teams started figuring him out as a runner last season, he ended 2017 by throwing for five touchdowns against Purdue in the Wildcats' bowl game.
Tate has some room to grow as a passer — he threw for 14 touchdowns and nine interceptions last season — but if he can keep teams honest with his legs and his decision making improves now that he has a full offseason as a QB1 under his belt, that should take care of himself.
Finishing above USC in the Pac-12 South might be tough, but Tate is so much fun that a Robert Griffin III-type season — one in which he wins the Heisman by putting up insane numbers for a lesser-heralded program for a team that doesn't win its conference (or, in this case, division) — might be in the cards. Or maybe Tate is literally magic, USC slips in its trip to Tucson on Sept. 29, and Arizona wins the South. Who knows?