Aaron Donald is the best football player on the planet. Even in a sport where each position is so highly specialized, Donald has found a way to be a legitimately transcendent talent along the defensive line for the Los Angeles Rams. In turn, Donald has received a number of honors this offseason: He's one of four players to receive a 99 overall rating on Madden NFL 20, and in the NFL's list of the top-100 players in the sport as voted on by his peers, Donald came in at No. 1.
Still, Donald is not one to rest on his laurels. While appreciative of all the praise he's received, Donald knows that all of this positive attention leads to being the focus of offensive gameplans. This, in turn, makes life a whole lot harder for him, which means Donald has to find ways to deal with two or three blockers with some frequency.
The good news for the Rams — and for football fans who enjoy watching defensive linemen blow up whatever opposing offense try to do — is that it's awfully hard to slow the All-Pro down to the point that his impact won't be felt on a game. Whether he's attracting the attention of multiple defenders and freeing things up for his teammates, something Donald admits can be "frustrating," or getting 1-on-1s and living in backfields, every Rams game doubles as an opportunity for Donald to show why he's earned all of the praise that comes his way.
Donald spoke to Uproxx Sports as part of his involvement with Pizza Hut's Hut Hut Win sweepstakes, touching on his work this offseason, his nephew who doubles as a blue chip defensive line recruit in the class of 2021, and why his alma mater and my alma mater should play football against one another every year.
How did it feel to get back on the field on Sunday?
It felt good. It felt good to get them first game jitters out, and get to be out there with your guys playing at 100 percent. We had to find ways to pull out a win, and we did that. So, it felt real good.
The first game of the season is a way to kind of measure what you did during the offseason. For you, what was the big thing that you worked on over the last however many months since the 2018 season ended?
Just trying to find ways to be more productive, trying to find ways that … knowing what the other team is going to give me a lot of different looks with slide protection, double-teams and triple-teams, just trying to find ways to train myself up to still be able to be productive and help my team win. It's frustrating at times with the attention you're going to get, but at the end of the day, you get opportunities for other guys around me to have some success. You come to a point where those guys are going keeping having success, and keep having success to the point where they just can't try to slide their protection every time to me, to the point I'm going to get my opportunities for 1-on-1s. I just gotta there and keep playing and keep working and it's going to come when it comes.
I'm glad you mentioned the attention that you get because you've had honors piled on you this past offseason: top player in the NFL, 99 rating on Madden. What does getting all of that do to you? Is it something that you take as an honor and you take a second to reflect on? Or is it something that makes you hungrier and make you want to work a little bit harder?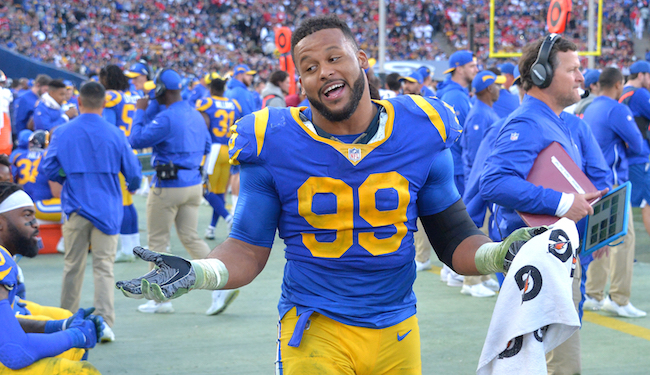 It's a blessing. I think, for me, it motivates me. Anytime you're awarded for the success you have in a season, it just pushes you to want to do even more. And then knowing that people will continue to show you more attention now. The more success you have, the more attention you're going to get, so the harder my job gets, so I've got to find ways to get better. I can't allow myself to be just happy with what I did last year. I can't live off what I did last year. Last year is last year. We had a great season. But this year, I've got to make a name for myself this season. That's the way I go about it.
It's a brand new slate. I've got to make a name for myself this season. I can't live off what I did in the past. For me to stay productive and keep having success, I've got to try to find ways to see different things that I'm getting thrown my way, and I will. You've got to keep working and trust the process. I know the work that I've put in this offseason is going to pay off. I just got to not let myself get frustrated, and know teams may not let me get too many 1-on-1s. So the times I do get my 1-on-1s, I've got to defeat them quick, and try to find ways to get to the quarterback or, in the run game, try to find ways to get in the backfield and make negative plays.
I hate to go back to last year, but we saw last offseason a way that you worked on getting better was the really unique workout, where you're fighting someone off as they have knives. How did you come up with that, and did you do that again this year?
Well that was just something different my trainer, Dwayne Brown, with two guys that I've been working on since high school. It was just something different to work your hands, reactions, and things like that, so it was pretty cool. I did it a little bit this year as well, working with my hands, and it's just more reacting to you see something coming towards you, like a knife, and it's just a natural reaction to make you move a little faster. It was something different I wanted to try and something that I continue to do this offseason. That's just the way I am, just trying to find ways to do anything I can to try and improve my game, or just improve the way I react to certain things, the hand movement, and things like that.
One thing that I think people don't know about you yet, but they're going to learn about you real quick, is that you got a nephew named Elliot who is one hell of a young football player, he's a really highly regarded prospect. Are you guiding him and giving him advice?
Yes for sure. The college decision, that's his decision. You've got to choose a college that best fit him and he can have success. If his parents or him is calling me, asking me certain things, trying to learn, I always tell him: you can't try to copy everything you see me do. We're two different body types. I'm a little bit more twitchy than you, you're not as quick, but you've got to understand that your best move is your best move. That's what you work, and once you've mastered your best move, you learn different things outside the box.
He's a big guy. He's a hard worker. He's non-stop, workaholic, always trying to find ways to surpass what I accomplished. We always talk about that. His mindset is he wants to be great, man. As long as he keeps working and keeps working on his craft, he's getting a lot of hype right now with all the college scholarships and all the news clippings. You just can't read that and not let himself … don't let himself get comfortable and feel like he arrived. If he just keeps working, he'll be fine.
So I know you're here with Pizza Hut. What do you got going on with them?
I'm here on behalf of Pizza Hut, just teamed up with them. I'm excited about being a part of the team. You can take Pizza Hut's Hut Hut Win, that's a sweepstakes for a chance to win a ping pong pizza party with me. Or you can win many other cool prizes all season long. And for every five dollars Hut Reward Members spend at Pizza Hut, you earn a chance to win instant prizes. You can sign up at HutHutWin.com. For me to have the opportunity to work with Pizza Hut, grew up as a kid loving Pizza Hut. For me to be a part of the team now, it's definitely a blessing. I'm happy to be teamed up with them.
So what's Aaron Donald's order when he's ordering a pizza?
My pizza is usually pepperoni, sausage, and banana peppers. And I won't put sauce on my pizza though. That's the pizza that I love.
My last question: Your alma mater, Pittsburgh, has a pretty big football game this weekend against my alma mater, Penn State. You didn't get a chance to play in that game and it's something that I think you and I can agree, it's a huge deal across the state. It's not going to happen again anytime in the foreseeable future, but in your eyes, what is it that makes that rivalry so special and something that should happen every year?
I think it's just because it's PA, it's a big PA game. A lot of Pittsburgh kids are at Penn State, too, and it's just so close. I think that's the history of the Penn State-Pitt game from the past rivalry, when it used to be a real huge rivalry, then going to what it is now. I know a lot of kids that played in Pittsburgh went to Penn State, and so a lot of the kids from Pitt and Penn State, they know each other, so they trash talk you, and it just makes it that much more fun. Just competitive and then trying to see who the big dogs of PA is, I guess you can say.