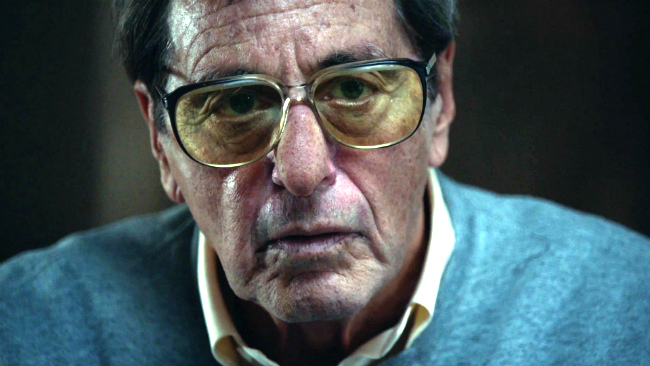 Have you sat down and thought to yourself "Man, I really want to watch an HBO movie about the aftermath of the Jerry Sandusky scandal through the lens of the internal conflict of Joe Paterno, who is played by Al Pacino in said movie"? Well if you have, good news, because HBO's Paterno, directed by Barry Levinson and starring Pacino as the former Penn State head football coach, is coming out sometime this spring.
There aren't too many details right now — a cursory glance at the film's website gives it a release date of Spring 2018, and the IMDb page, which is still operating under the film's original title Happy Valley, has a full cast list that includes characters like "Penn State Student" and "Wealthy Donor." Riley Keough is in it, too.
On Friday, HBO gave us a glimpse into what we can expect by dropping a teaser trailer for the film. It appears that the movie will include some footage from back in November of 2011, when the Sandusky scandal took over State College, Pa.

So here's the deal: I was a Penn State student from 2010-14, and spent Nov. 2011 at a satellite campus about 45 minutes away from University Park. I also currently live in State College. There is a lot going on here, and this is only a 48-second teaser trailer that stops showing footage at the 31-second mark.
But the big thing I want to talk about here happens around the 16-second mark, when Pacino busts out what is easily the worst impression of Paterno that I have heard in my entire life. Seeing as how Paterno impressions in State College are (well, were) as common as Harry Caray impressions in Chicago, that says a lot. Paterno, prior to his passing in 2012, was known for having a high-pitched, almost squeaky, and mild-mannered voice.
So when Pacino is out here sounding like this, it is absolutely incredible. It is honestly like he decided he could get away with being the exact same character that he was in Any Given Sunday, only two decades older, because Any Given Sunday came out in 1999. He sounds more like Mike Francesa with a mouthful of marbles than Paterno, and it makes me think the only reason they cast him in this role was that they figured both were older men of Italian/Sicilian descent.
I dunno, I think this movie is going to be a spectacle. Good? Bad? Who knows! But at the very least, I am excited to listen to Al Pacino do a Joe Paterno impression and miss by like five octaves.