When All Elite Wrestling got its start last year, a lot of fans pinned their hopes on the upstart company, especially those fans who'd been frequently disappointed with WWE's dated and uninspiring notions about wrestling (and, to be clear, most other things). "Here at last," people thought, "is a company run by young people, with a young vibe. Maybe even, dare we hope, progressive."
To some degree, those hopes were well-founded. AEW might not be an unabashedly left-wing promotion, but its politics aren't as blatantly noxious as WWE's. It crowned a transgender Women's Champion — a black and indigenous woman of color, no less — and that's no small thing in today's climate. It certainly has some work to do with regard to race in its men's main event scene, but those of us who've been watching AEW Dark are hoping to see Scorpio Sky pushed in that direction, at the very least.
The one area where AEW has fallen down again and again is in booking their women's division, and indeed in treating women's wrestling like an important part of the product. The COVID-19 pandemic has made things much worse, but the problem was already there. The pandemic just brought it into sharper relief.
Before the pandemic, AEW had about four women it treated like stars: Riho, Nyla Rose, Hikaru Shida, and Doctor Britt Baker DMD. It had started building up a second tier of women, including Kris Statlander, Big Swole, and Shanna. Yuka Sakazaki had recently returned, and gave the impression she'd be making more appearances. Sadie Gibbs had been off TV, but was teasing a return, possibly with a new gimmick.
Then the novel coronavirus hit, and all the women who lived outside the U.S. became unable to appear. That means no Riho, no Shanna, no Sakazaki or Gibbs. Emi Sakura or Bea Priestley are sidelined, too. The pandemic and the travel ban were unpredictable events, but it still says something about AEW's priorities that such a high percentage of its regular women's roster members didn't even live in the country where AEW runs shows.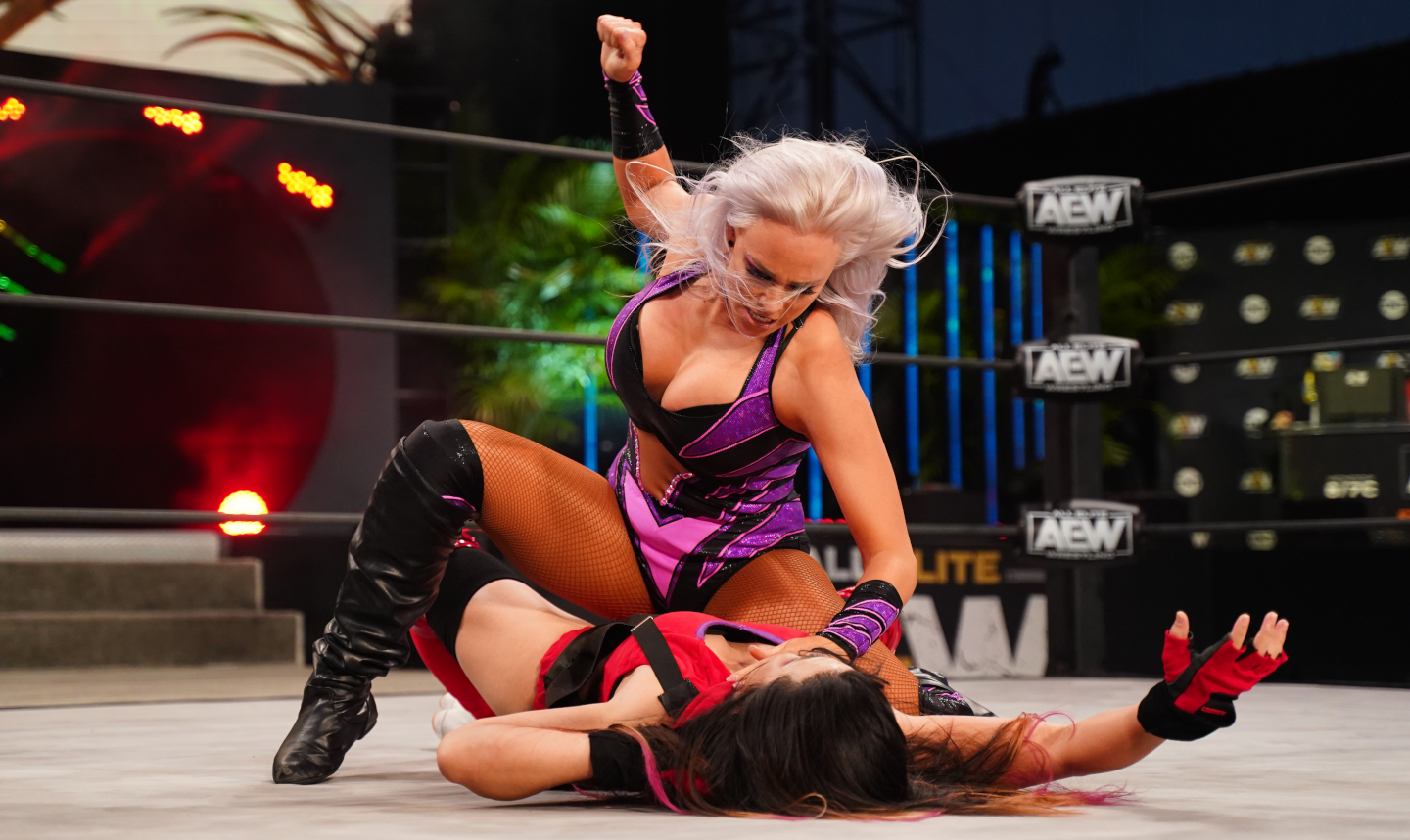 As such, AEW was left with Nyla Rose, Hikaru Shida, Kris Statlander, and Big Swole, along with Penelope Ford, Allie, and Brandi Rhodes, who had all been doing non-wrestling stuff but were brought back into the ring by the pandemic. It also recruited Anna Jay and Abadon, as well as a bunch of trainees and guests from the indies, as it tried to keep the division running with so little regular talent. Things got even worse when Baker and Statlander were both injured, removing them from competition for the time being.
Again and again however, AEW has failed to fully take advantage of the women it has, regardless of how many or how few there are. Please forgive me the indulgence of some rhetorical questions:
Why was Allie in a non-wrestling role to begin with? She's a solid worker, and was one of Impact Wrestling's biggest female stars for a couple of years.
Whatever happened to Mel, the woman who shaved her head to join Brandi's now-defunct cult? She's still listed on the official roster, but when was the last time she had a match?
How come it took weeks to get the slightest follow up about the Dark Order recruiting Anna Jay, and we still don't know the whole deal?
What's Abadon up to? I get that she can't have constant matches and retain her creepy mystique, but is there any reason she can't be sneaking up on people backstage in the dark from time to time?
How come we've gotten videos from male wrestlers who were unable to make the shows due to pandemic or injury — like MJF, PAC, and Darby Allin — but we've never seen the slightest hint of any of the missing women?
After Baker's injury, AEW made the smart choice to keep her on TV and continue her feud with Big Swole, which led to some really fun segments, but now it's given Swole a kayfabe suspension, which removes yet another woman from the ring. Last week, AEW Dynamite was so bereft of relevant women and women's storylines that the one women's match was between Ivelisse and Diamante, neither of whom are signed with AEW. Diamante even returned this week to face Hikaru Shida, but there was still no announcement that she's joining the roster. She (and by extension Ivelisse) were apparently just around to fill time, not to build for the future.
Even if AEW doesn't have access to the female talent they'd like to book right now, there are still ways they can demonstrate a commitment to women's wrestling. Just booking two women's matches on one episode of Dynamite would feel like a huge step, especially if both of those matches had storylines to go with them. There's also nothing stopping them from building up a women's match to be the main event of a show. Treat women's wrestling like it's important, and it becomes important.
The rumor has always been that Kenny Omega books the AEW women's division, and his defensiveness on social media backs up that theory. The biggest problem with that is that he's a full-time wrestler, and clearly has a lot of things on his plate. The best thing that could happen for the women's division would be if AEW hired a veteran female wrestler and put her in charge of the division.
When Nyla Rose announced she was going to have a manager, I briefly hoped that might turn out to be the leader the division needs. Of course, then it was revealed to be Vicki Guerrero, who brings a lot to the table as a heat-seeking manager, but isn't known as a wrestler or a booker.
Meanwhile, WWE has basically been carried by its women's division during this pandemic. Even with Becky Lynch and Charlotte Flair taking time away, Bayley, Sasha Banks, and Asuka have created some of the company's most memorable moments of the last few months. In NXT as well, champion Io Shirai just faced Tegan Nox, with Dakota Kai and Candice LeRae looming large, and indie breakouts like Shotzi Blackheart and Mercedes Martinez on the rise. For all the problems WWE has had with women's wrestling over the years (and all the problems it still has), it's more likely to satisfy a fan of women's wrestling right now than AEW, the company that was supposed to show them how it's done.
Even Impact Wrestling, a company that's all-too-often regarded as a throwback and even a laughing stock, currently has Deonna Purrazzo as Women's Champion, with ongoing secondary storylines for Taya Valkyrie and Rosemary, Kiera Hogan and Tasha Steelz, Kylie Rae and Susie, and so on. When it comes to women's booking, AEW is solidly in third place among the three televised wrestling companies.
Hope is an important part of being a wrestling fan. Hoping the babyface will one day get their win, hoping to see the heel get their comeuppance, and hoping that the company to which you devote so much energy will pay you back in joy. So with the lessons of the pandemic learned, here's hoping the AEW Women's Division only gets stronger and more spotlighted as the company continues to evolve. The recent announcement of a women's tag tournament seems encouraging, while rumors that the whole thing will happen online instead of on TV are discouraging but hopefully untrue. Time will tell where all of that leads, but as we approach the first anniversary of AEW Dynamite's TV debut, it would be nice to see the women's division finally find its footing.