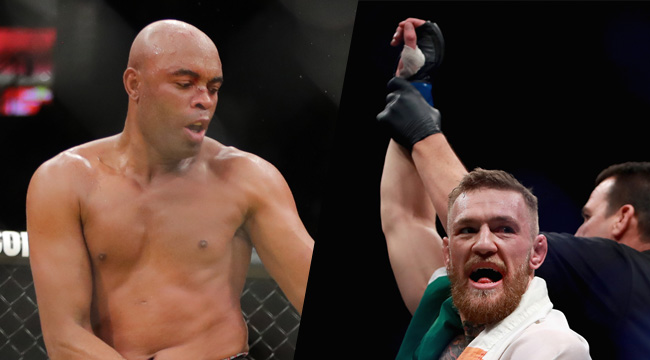 It seems like everyone wants a piece of Conor McGregor. For many of the fighters in the UFC, you can't blame them. A fight with McGregor is the famed 'red panty night', a guaranteed payout that takes you from the hard working but underpaid ranks of the roster and puts you in a position to never have to worry about money again. But now even the top guys who are up there with McGregor for pay are calling McGregor out. In the latest example of this, Anderson Silva says he wants a piece of the Irish fighter.
Silva has just stepped back into the spotlight due to his last minute addition to February's UFC 209 card, which needed some starpower to add to its inaugural women's featherweight fight between Holly Holm and Germaine De Randamie. Anderson called the UFC up when Jon Jones was pulled off UFC 200, and who knows … maybe he called them up and offered his services for UFC 209 as well. Now he's offering to fight McGregor as well.
"Now that I'm old, I'm beginning to challenge everyone," Silva told Brazilian outlet Globo. "I want to beat this dwarf … what's the boy's name again? McGregor. It is not provocation. It's just that I forget, I'm old. Old men know what it's like. I have this urge to test myself against him. I think he's a guy who has an unusual ability. I do not know if he would reach a weight of 178 pounds, which is the weight I can get to, but it's a guy I'd like to test myself before I end my career."
That's 8 pounds heavier than the weight McGregor fought Nate Diaz at, and as many have noted, Diaz is regularly a lightweight fighter while Anderson Silva has jumped between middleweight and light heavyweight over the course of his career. He's a guy that welterweight slab of muscle Georges St. Pierre never had the stones to fight on account of his superior size, and now he's challenging the UFC lightweight champion?
Still, as crazy as it sounds, nothing is impossible when it comes to Conor McGregor. Just throwing your name into the McGregor conversation isn't a bad idea, because his opponents have a bad habit of pulling out last second and he's always on the lookout for the biggest money / hype replacement fight. McGregor may love the fight just because it is so crazy. Legacy wise, what could be better than taking out the consensus pound for pound great of the last decade, nearly three classes up from the featherweight division McGregor started in?