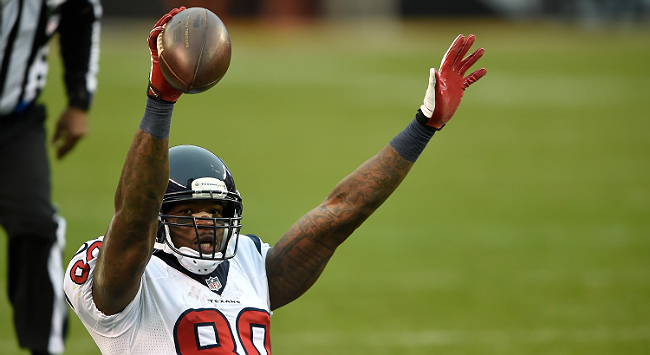 From 2006-2014, there haven't been many wide receivers in the NFL better than Houston's Andre Johnson. In that nine year span, Johnson had 100 or more receptions five times. In 2014, Johnson's "down year" included 85 catches for 936 yards. He's still a plus receiver, he's still a guy you can target 130 times a season.
But sadly the Texans didn't want that. Sadly the Texans want to move on from the Andre Johnson era. Here's just some of the ugly back and forth that went on these last few weeks as the Texans gave permission for Johnson to seek a trade.
Johnson elaborated in an interview with The Houston Chronicle.
"I don't know how you tell a guy who catches 85 balls that he'll only probably catch 40. I feel like the role they were trying to put me in I'd be held back from maximizing my talents. I feel like that was the best thing for both sides.

"Why sit there and be miserable when I can go somewhere else and be able to show my talents."
Johnson posted this on his Instagram account, thanking the fans of Houston for 12 seasons there.
He's not officially done in Houston but from the sounds of it, both feet are already out the door.