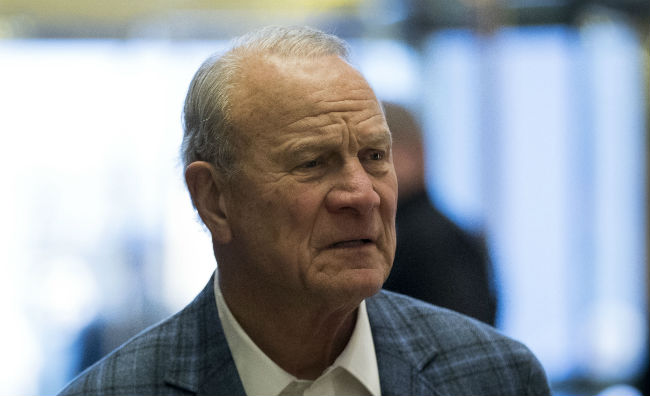 Barry Switzer is mad people are making Baker Mayfield's crotch grab a big deal. The Oklahoma legend defended the current starting quarterback and Heisman favorite in an interview on Saturday, evoking famous groin grabbers from the past in a stirring argument against criticizing Mayfield's competitiveness and general demeanor on the field.
Mayfield was benched briefly against West Virginia on Saturday and not allowed to come to the coin toss ceremony as a captain after an incident last week against Kansas which began when the Jayhawks refused to shake his hand during the coin toss. Mayfield later was caught on camera adjusting his privates in an aggressive manner while shouting, presumably at some Jayhawks with the win well in hand.
But Switzer thinks this is all a much ado about nothing because pop stars from the 1980s did the same thing.
https://twitter.com/brettcope/status/934498522258444288
Switzer was asked about Mayfield and the crotch grabbing incident and talked about the heat of the moment and how it's tough to consider the weight of your actions on the field.
"You know people that haven't been in competition, team competition, before don't realize that when there's an action there's always a reaction," Switzer said. "You don't have time to think, you don't have time to go 'Oh, should I do this? What are the consequences?'"
OK. That's a fairly reasonable argument. But then Switzer kept talking until Michael Jackson and Madonna were at fault.
"I blame it on Madonna and Michael Jackson. They started all that grabbing the crotch years ago. It's been on social media. Everybody sees it in the movies. You see it every day out there. So all of a sudden everybody gives me this 'It's insulting, they aught to fire him, they aught to kick him off the team.' They're idiots. Thank God they're not the coach of the Oklahoma Sooners."
Yes, I see now: It's the culture that's the problem here, not Baker Mayfield.
First of all, it's amazing that Switzer pulled music references from 30 years ago. Switzer had a good point about the competitiveness of an athlete and how those situations can often be overblown by those not on the field of play. But Mayfield is going to attract attention when he's planting flags at the Horseshoe and talking trash before games. That kind of thing might happen all the time when cameras are not around, but Mayfield is getting good at getting these spectacles caught on film.