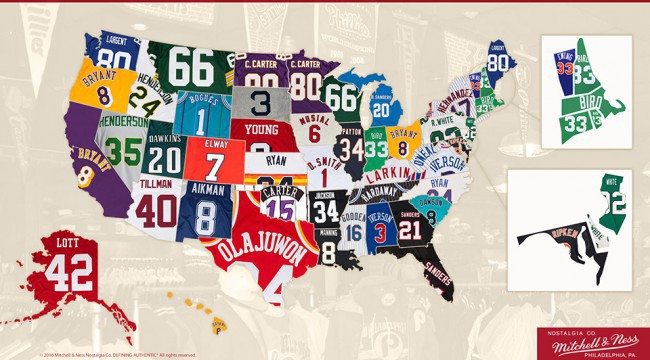 In the early 2000s, throwback jerseys could be seen from sea to shining sea. The horrific Tampa Bay Buccaneer creamsicle jersey appeared regularly in music videos and courtside at NBA games. At least three different Allen Iverson throwbacks were circulating simultaneously. It was a nobler time, when sports nostalgia could be worn to any occasion. The throwback is no longer a daily staple for most sports fans, but they're still being purchased at a high rate. Mitchell & Ness, a clothing company based out of Philadelphia, released their top jersey sales for 2015 by arranging them into an interactive map of America.
Larry Bird edged out the Kobe Bryant throwback five states to four. Bird, it appears, is still the king of New England. The map paints an interesting composition of America. Muggsy Bouges has a huge following in Wyoming for whatever reason. Maybe they loved him in Space Jam? South Dakota has a strong affinity for the Babe Ruth throwback and the good people of Alaska love Ronnie Lott. The large number 66 Green Bay Packer jersey in both Montana and Wisconsin belongs to Packer legend Ray Nitschke.
Bird may have collected more states, but the Kobe throwback raked in the highest sales during 2015. If Kobe wants to be throwback president, he'll have to campaign harder in the midwest.
(Via Mitchell & Ness)