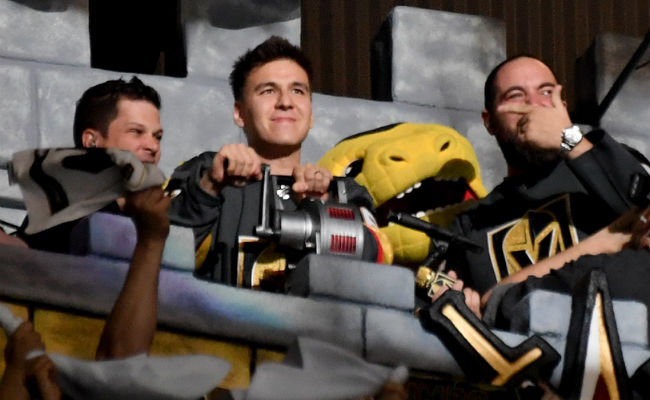 James Holzhauer has a lot of money these days, and he's done some charitable good with the winnings he's scooped up on 22 games and counting of obliterating the Jeopardy! record books.
But money isn't anything new for the pro sports bettor from Las Vegas. He's in the business of winning, and he's bet big on himself on other game shows, in online poker, and in-game sports betting to beat the odds and reap the benefits.
One thing money can't buy, however, is a lifelong dream job. But it appears that might not be so far off for Holzhauer either. The 22-day champion put on hiatus because of the show's Teacher's Tournament has said in that past that he wanted to work for a Major League Baseball team. But as it turns out, if he does some inquiring and spruces up his resume to include "broke Jeopardy!" he just might have his pick of jobs.
Holzhauer, who is a big Chicago Cubs fan who now resides in Vegas, appeared on MLB Network on Tuesday in a Cubs shirt and was asked about his Major League ambitions.
https://twitter.com/MLBNetwork/status/1126102699886272513
And what followed on Wednesday is an article in the Washington Post that included some interviews with executives from two teams, the Oakland Athletics and Boston Red Sox, who both said they'd love to have Holzhauer on their team.
"My first thought when I saw him," said Beane, the A's executive vice president of baseball operations, "was: We have to get this guy in baseball."

"Absolutely, yes," said Boston Red Sox president and chief executive officer Sam Kennedy, when asked about Holzhauer's prospects in baseball. "We put a huge premium on analytical abilities both on the baseball side and business side. Without question, when we interview young professionals coming out of college, that skill set is hugely important."
As the article points out, a brain like Holzhauer getting hired for baseball purposes isn't exactly new. The assistant general manager of the Orioles, for example, is a former biomathematician for NASA who became an analyst for the Cardinals and later helped bring a World Series to Houston with the Astros. He called Holzhauer "very intriguing," by the way.
"Absolutely. He's very intriguing," Baltimore Orioles vice president and assistant general manager Sig Mejdal, when asked about Holzhauer's suitability for a baseball job. But in a nod to Holzhauer's reigning-champion status on "Jeopardy!", he added, "It looks like his days are still pretty busy."
Still, Holzhauer has a job for the moment, one that starts back up in less than a fortnight. It's still fascinating to think about his potential future, especially working for a sports franchise. He's spent years making money off the results of sporting events, how much could he do as someone working to impact the decisions a franchise makes?