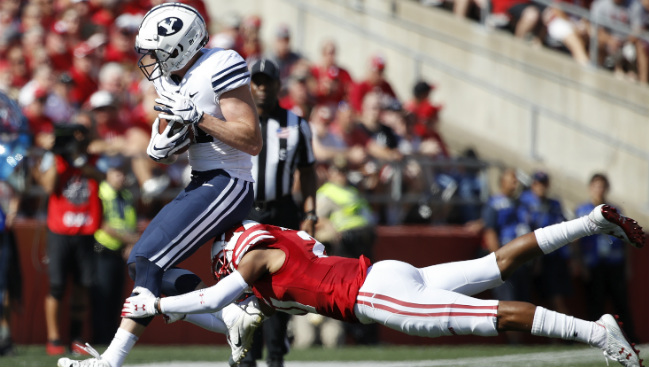 College football has its first major upset of the 2018 season. On Saturday afternoon, the BYU Cougars marched into Camp Randall to take on sixth-ranked Wisconsin in a matchup of two big, physical football teams. Oddsmakers thought this was going to be a relatively easy one for the Badgers, as they entered the game as a 21-point favorite in their own building.
What ended up happening was the biggest update of the season so far, as BYU became the first unranked team to pick up a win over a top-10 opponent in 2018. The Cougars rode senior running back Squally Canada and a stout defensive performance to win, 24-21. It marks the first time since 2003 that an unranked team went into Madison and knocked off the Badgers.
The two teams went into the break tied at 14, but on Wisconsin's first drive of the second half, junior signal caller Alex Hornibrook threw a pick. This led to BYU getting the ball on the Badger 27, and six plays, later, Canada punched it in from two yards out. Despite the fact that Wisconsin scored shortly after the break, BYU took a lead into the fourth and were obviously feeling themselves.

The Cougars kicked a field goal with just under 10 minutes left in the frame, and from there, their defense took over. Wisconsin had the ball late, though, and managed to march down the field thanks to a series of conservative but accurate throws by Hornibrook. Ultimately, the ball was set for senior kicker Rafael Gaglianone from 42 yards out, but the near-automatic kicker pushed it wide.
It was a major loss to Wisconsin, because while it can still win the Big Ten West and, potentially, the conference, it's a setback on a road that some believed could have ended with a berth in the College Football Playoff. As for BYU, which moves to 2-1 on the year, it's the signature win that has evaded Kalani Sitake through this point in his tenure. Time will tell if they'll ride this to a bowl appearance following last year's 4-9 campaign, but this is a major step forward.